Technology and electronics will demand more and more ways to handle how they transmit and manage heat as they evolve.
Traditional PCBs can only do so much when it comes to these newer electronics. Traditional PCBs can only withstand so much heat before their performance is affected.
High-temperature PCBs are the best choice for any electronic device that requires a lot of heat, and the possibility of developing them in the future is very high.
There are a lot of things that you should know about high-temperature PCBs if you plan to use them when designing your electronics moving forward.
1、What is a High-Temperature PCB?
The epoxy glass contains polymers, which are melded down to create the base of many circuit boards.
During this process, a certain temperature is recorded. This temperature is called "glass transition temperature," also known as Tg levels.
Different Tg levels are assigned to different epoxy glass laminates, and this all depends on how much heat an electronic device transfers throughout its circuits.
Any electronic device that transfers more than 130 degrees celsius of heat within its circuits will require materials for circuit boards that can withstand higher Tg levels.
In this theory, high-temperature PCBs are any PCB containing materials that can withstand 170 degrees celsius of transferred heat.
If you try to assemble boards from materials that can't withstand higher Tg levels, they'll begin to melt over time. It can cause electrical and mechanical properties to decline.
High-temperature PCBs are in high demand because higher Tg levels in high-temperature PCBs allow electronics to be much more effective than electronics with traditional PCBs installed.
Many electronics manufacturers are beginning to understand that high-temperature PCBs can cost just as much as traditional PCBs, and therefore learning about high-temperature PCBs is very useful.
Before learning about high-temperature PCBs themselves, it is also useful to understand the role of heat itself in a PCB.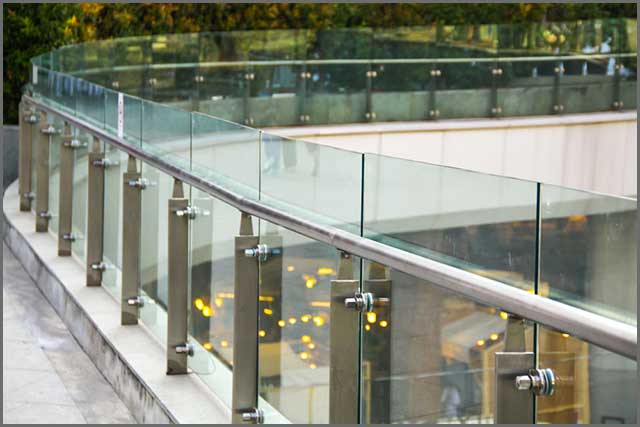 Image 1: Epoxy glass. Nearly all printed circuit boards, even high-temperature ones, are created from epoxy glass.
2、Circuit Boards and Heat
Knowing about the different kinds of ways that heat is transferred and regulated in a circuit board is useful because true to their name, high-temperature PCBs involve high amounts of heat.
Because heat levels get more unstable as they increase, you'll want to know how heat gets transferred and dissipated in a PCB.
Heat gets transferred and dissipated in any given PCB by three methods: Radiation, convection, and conduction.
Radiation is the process where heat moves in the form of electromagnetic waves. The heat moves passively, meaning it is usually supported by other processes that actively transfer heat.
Convection is where heat moves to a fluid. The fluid absorbs the heat, which then rises to a heat sink to become denser to "store" more energy so that it can move to the fluid again. Convection also takes place whenever a fan or a pump is generating heat.
Conduction takes place when the heat is transferred directly between the source and the sink. It is what happens in an electrical current, which is a part of many PCBs.
Generally, all three of these are happening inside of a PCB at some point. It can create a very precarious dynamic, especially if you do not use a PCB made of high-temperature-resistant materials.
This phenomenon is why high-temperature PCBs are in high demand. As most electronics' circuitry is transferring more heat, circuit boards that can withstand higher heat levels will eventually be necessary.
Fortunately, it is unnecessary to replace all your materials and components to be compatible with high-temperature PCBs.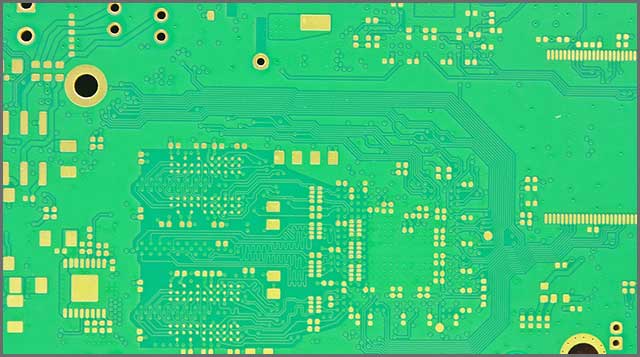 Image 2: Thermal pads on a circuit board. For understanding the nature of high-temperature PCBs, it is necessary to know where heat transfer is throughout the board.
3、Choosing and Modifying Materials for High-Temperature PCBs
FR-4 and polyimide are the two most common materials that PCBs use to base their other components.
When dealing with higher temperatures, PCBs created from these two base materials will not last. They are certainly not optimal for any device that contains more currents that warrant a PCB that can resist higher temperatures.
It raises the question: How can materials like these be upgraded to withstand the amount of heat that high-temperature PCBs can withstand?
And a better question is this: How can these materials be acquired without using too many resources?
It is what you should be thinking about when coming up with materials for high-temperature PCBs.
Unless you have the kind of budget where you can purchase new materials to create high-temperature PCBs, you'll want to explore ways to customize your current materials to where they can be compatible with high-temperature PCBs.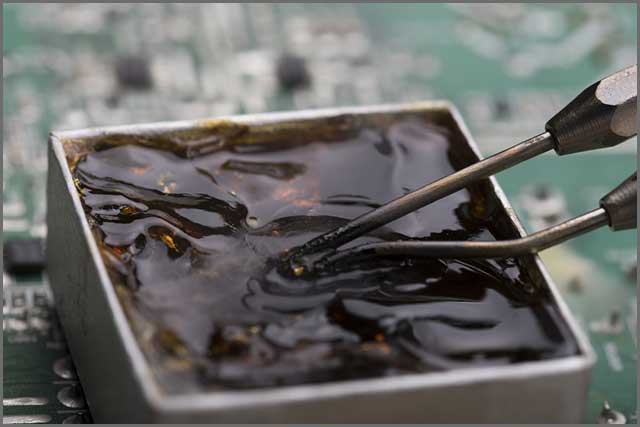 Image 3: Solder paste. The lead content of the solder paste used in PCBs greatly affects the kinds of temperatures it can withstand.
Solder paste holds everything on a circuit board together. If it melts, very bad things will happen: Components can fall off of the board.
The lead content of solder paste is one thing that affects the maximum temperatures by which the paste will melt.
Most leaded solder paste will melt at around 160 degrees celsius. If used to assemble a circuit board, the board itself will not be suitable for high temperatures.
Getting your solder paste ready for high-temperature PCBs is a quick fix: All you need to do is assemble your circuit boards with unleaded solder paste or at least solder paste that does not contain a lot of lead.
Another thing you can do to modify materials to make them ready for high-temperature environments is to alter the design.
To do this, you'll need to keep a lot more distance between your heat, creating components on your board than usual. It is another quick solution that can use.
Aside from making adjustments in design, it is also good to know the details of heat management for any given circuit board.
4、Why Heat Management is Necessary for Any Circuit Board
The only real difference between PCBs that can handle high temperatures and those that do not is that heat is managed much more in a high-temperature PCB.
It is common knowledge that heat causes things to expand. However, many do not know that all of the small parts in a circuit board expand from heat.
If these parts expand too much, they will fail.
The problem here is how this heat can be managed to prevent a circuit board's components from expanding too much or too quickly.
Knowing this is useful because if it is possible to manage this kind of heat, it may not be necessary to seek out circuit board materials and components that need to withstand such extreme temperatures in the first place. You might be able to make a few adjustments.
Oxidation is something that can affect PCB temperatures. The majority of PCB assemblers greatly overlook this and if the oxidation can be micromanagement, so is heating.
Most PCBs contain dielectric materials that are covered by copper laminate. It prevents oxidation from rising temperatures. If the worn or dielectric material does not cover the copper laminate, the dielectric materials will oxidize much faster from the heating process.
It is one example of practicing good heat management and precautions when assembling a circuit board. Sometimes basic heat management in your design can get PCBs ready for high temperatures.
Another form of heat management in PCBs is understanding how to measure heat expansion in PCBs' materials and components.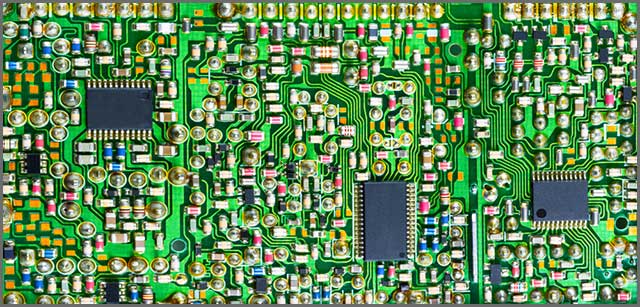 Image 4: Components on a circuit board. All of these expand when their dielectric layers are heated.
5、The Coefficient of Thermal Expansion and How it Relates to High-Temperature PCBs
There is no avoiding the thermal expansion that takes place when components and materials in PCBs experience rising temperatures.
However, it is possible to measure thermal expansion. It is carried out using the coefficient of thermal expansion (also known as CTE). The CTE can determine the rate of thermal expansion for PCB materials and components.
The Celsius temperature scale, the coefficient of thermal expansion expressed in parts per million.
The physical equations involving the CTE are extremely complex, far too complex to express in one article. However, this video explains the physics behind the CTE:
Knowing the exact calculations of these parts per million has its place. But knowing the following rule of thumb regarding CTE is just as useful.
Ideally, your CTE calculations for your circuit board's dielectric layers should arrive at the same calculations of the laminated copper. This way, both of these expand together instead of pulling against each other.
When these two pull against each other, it could overheat certain parts of the board.
You know this will help when adjusting your PCB materials and components to withstand higher temperatures.
Image 5: Copper laminate. Make sure your CTE calculations of this match the calculations you get when measuring your dielectric layers.
6、Conclusion
The time will come where you will need to modify your current materials to be compatible with high-temperature PCBs.
You have two choices when pursuing high-temperature PCBs.
You can spend a lot of money to buy the necessary materials and components directly, or modify existing materials and components to prepare for high-temperature PCB assembly.
The choice is yours, but the choice that will save your budget is sending out your materials and components so that we can work on them to improve their temperature capacities.
If you are ready to get your current standard PCB materials and components modified to be compatible with high-temperature PCBs, fill out the form on the side. You'll get a quote from us instantly.