If your Raspberry Pi 4 doesn't feature enough storage, HAT can help extend the Pi storage using SATA port HDD. Besides, you only need the Raspberry Pi and HDD powering for a 3.5-inch HDD setup. As a result, your PSU will provide over 65W power with just a 2X3.5-inch HDD. There is so much the Raspberry Pi SATA HAT can help you accomplish. Therefore, we will learn more about it, including its assorted models.  
NAS Solutions: Rock Pi SATA HAT
ROCK Pi SATA HAT is a hat for Raspberry Pi /Rock Pi 4. It features high performance with high-speed USB3.0 buses and SATA slots. Raspberry Pi 4 and Rock Pi 4 are useful Single-board computers in many applications.  
Similarly, the Radxa SATA HAT-like solution features a series of SATA expansions targeting the NAS complete solution for ROCK Pi 4 / Raspberry Pi 4. Besides, it comes in three modules, namely;
Penta SATA HAT; Usually intended only for ROCK Pi 4 and connected over PCIe bus
Dual/Quad SATA HAT; usually intended for ROCK Pi 4 / Raspberry Pi 4. It can operate with both boards and connect over two USB 3.0 flash drives.
ROCK Pi SATA HAT: Penta SATA HAT
To ensure it expands up to 5X SATA ports, the Penta SATA HAT employs the M.2/PCIe on ROCK Pi 4. Thus, for the users who may want to use the external disks, the devices adapt one eSATA and four internal SATA making the linking flexible.  
Penta SATA HAT
Source: wiki.Pradaxa  
Features
Support HDD interrupt mode
Standard ATX(External) power supply for HDD and ROCK Pi 4
Optional OLED display for data and IP Storage
4x SATA + 1x eSATA with power
Optional PWM regulator ventilator for transmitting HDD heat
Up to 100T storage
Support 3.5-inch or 2.5-inch SSD and also up to 5x HDD/SSD
Supports software RAID 0/1/5
12V DC power input support for ROCK Pi 4 and 2.5-inch HDD
On ROCK Pi 4, it employs two lanes PCle 2.1 buses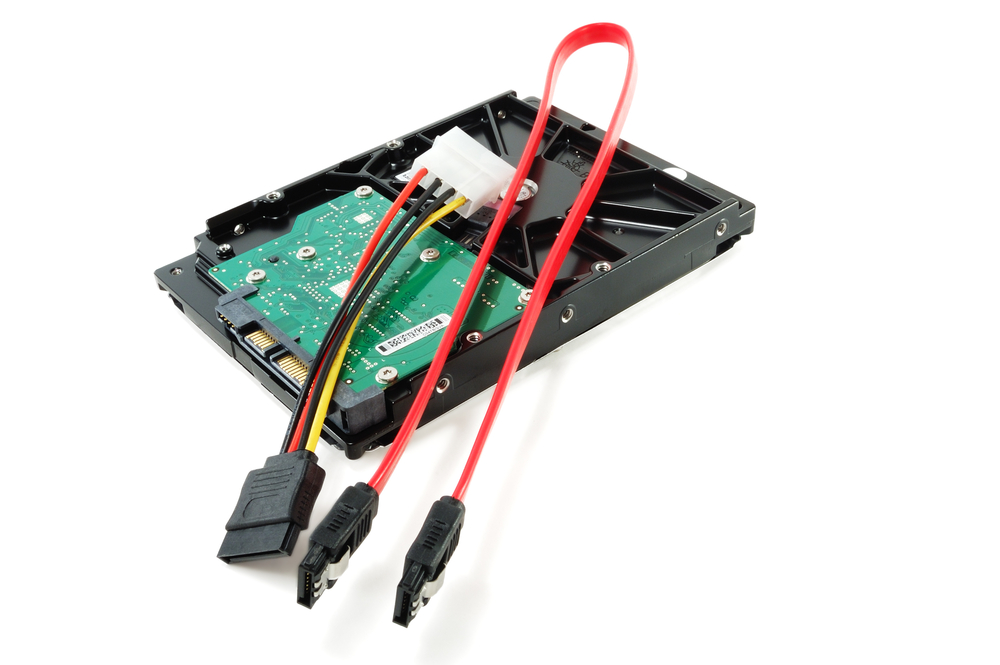 HDD drive with SATA cable
Performance
JMB585 powers the Penta SATA HAT for rock with double paths 5Gbs buses utilizing 10 Gbps bandwidth. In addition, it can achieve 803MB/s speed once the 5 SSDs are configured in Radio mode.  
Raspberry Pi SATA HAT: Dual/Quad SATA HAT
For the ROCK Pi 4 or Raspberry Pi 4, the Dual/Quad SATA HAT top board uses high-speed USB3.0 buses.  
Features
Support HDD interrupt mode
Optional OLED display for IP storage and Address data
Uses dual independent USB3.0 buses
12V DC power input for Raspberry Pi 4 and 2.5 and 3.5 HDD
Up to 4X HDD/SSD, 3.5inch or 2.5inch SSD
Heatsink and air cooler for Raspberry Pi 4 CPU cooling
Type C USB PD/QC power input support for Raspberry Pi 4 as well as 2.5 inches SSD
Optional PWM air cooler regulator for executing HDD heat
Support USB Attached SCSI Protocol
Support software RAID 0/1/5
USB connector
Performance
USB-powered dual SATA HAT top board exploits high-performing dualistic JMS561. As a result, its four disks in the RAIDO approach offer up to 400MB/s of writing/reading performance.  
Pinout
Case and Software Support for Raspberry Pi SATA HAT
The Case
The optional hat top board comprises a fully metallic case with Raspberry Pi OS, making it attractive. Besides, it supports the upper panels, including four 2.5-inch HDDs.  
Software Support
Powered SATA HAT features a Debian package for observing and regulating. Likewise, with a simple command, anyone using ROCK Pi 4 or Raspberry Pi 4 can connect the bundle.  
Summary
HAT for Raspberry Pi 4 helps to extend Pi storage even up to PD 65W power consumption. Besides, with a USB/QC power jack adapter, you can power both the Raspberry Pi 4 and the disk drives. Therefore, there is no need to worry about having a Raspberry Pi lacking sufficient storage.