The basic structure of all electronic components is a printed circuit board (PCB). Also, if you have closely looked at a PCB board, you might have realized some conformal coatings. A glue or adhesive is primarily the material that aids in attaching parts to the PCB board. In our article, we'll discuss the critical applications of PCB glue at length. Also, we'll pay attention to the various types of adhesives for circuit boards. Therefore, for a detailed exposition of the use of PCB glue in the electronics industry, read on. 
What is PCB Glue?
Glue is Necessary for Electronic Assembly
It is an adhesive central to attaching electronic components to a PCB board. There are two common types of PCB glue include the RTV super glue, which essentially does not release an acid during curing. Also, cyanoacrylate super glue (CA) is helpful in instant gluing applications. 
Typical Applications of PCB Glue
A Technician Applying Glue
The various critical applications of PCB glue include the following: 
Surface Mount Components Bonding
Automotive Printed Circuit Boards with Surface Mounted Components
When attaching surface mount devices (SMDs), the primary step is placing them on beads of uncured adhesive. The next significant step is curing the glue via ultraviolet radiation or heating. You might find others referring to the process as chip bonding. 
The essence of the curing process is to facilitate firm attachment of the SMDs. Essentially, there are two essential uses of surface mount adhesives. They include:
Acting as a processing aid

Helpful in enhancing stress relief to the solder attachments. Ideally, the process is significant in preventing a possible failure of the electrical connections. 
Your favorite glue should have an extended shelf life. Also, it's advisable to ensure that the excess adhesive does not affect the sensitive components. The following are some of the preconditions for effective adhesive solutions with SMDs:
Also, the glue for circuit boards should have rapid curing properties
Ideally, it should be non-stringing.

During coating circuit boards, the adhesive should feature high wet strength.

Also, the bond should have excellent electrical properties after curing. 

It should be flexible and of high power.
Wire Tacking
Electronics Repair
The tacking process is straightforward to carry out as long as you have PCB glue. First, ensure that you have stripped the insulation coating when attaching components. Next, solder the ends to the component leads. Additionally, you'll require to bond the wires using adhesive materials to the board substrate.
You can use a wide range of glues during this process. For instance, you can use cyanoacrylates or epoxy glue. Alternatively, you can use light-curing adhesives or acrylics. When using the former, combining it with an ideal activator is advisable. It facilitates fast curing times to as little as 30 seconds. 
Potting and Encapsulating Electronic Components
A Manufacturing Circuit Board
During potting, you apply the glue to small spaces on the PCB board. The rationale of this process is to limit physical and environmental damage. Additionally, the method improves the insulation capability of the surface. 
When choosing potting glue for PCB, ensure it has good chemical properties. Also, ensure that it has efficient adhesion to metals and plastics. The most common bond for PCB that you can use during potting includes epoxies, silicons, acryls, and polyurethane. 
Conformal Coatings
An Adhesive
First, note that conformal coatings are not exclusively due to the adhesive bonding process. Nonetheless, note that adhesive resins are still pertinent in enabling conformal coating. Thus, you can use epoxies, silicones, acrylics, and polyurethanes in this process. 
Essentially, the critical significance of a conformal coating is board protection from environmental factors. They include short circuits and moisture from the surrounding. The layers will also prevent the corroding of solder joints. Additionally, a board with the coating is safe from service temperature changes. 
Types of Glue for Circuit Boards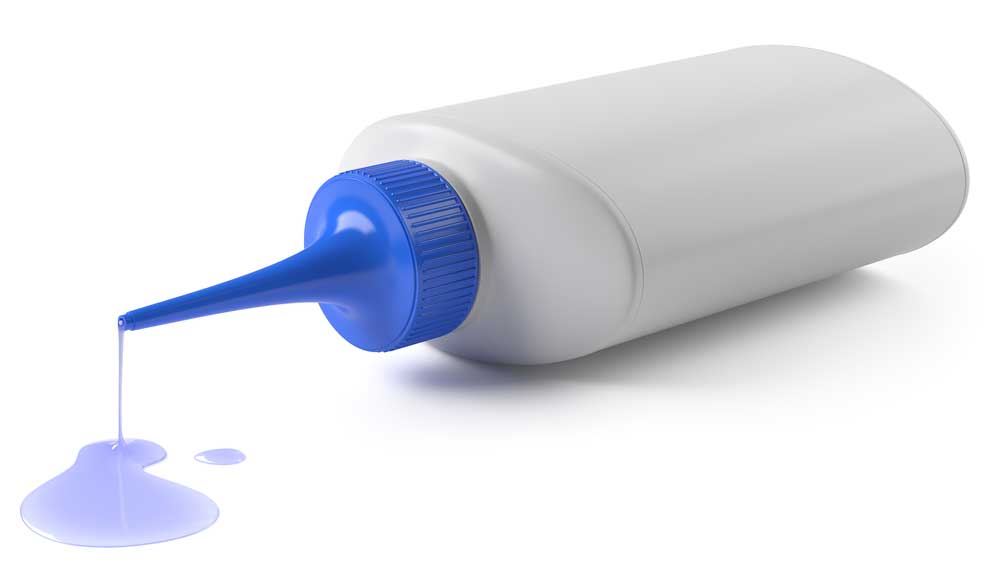 Glue Dripping From a Bottle
When choosing suitable glue, you need to consider three main stages. They include the solid phase, the transition stage, and lastly, the liquid-resin stage.
Let's now look at the several kinds of glue for circuit boards. 
Ultraviolet Curing Glues
Super Glue
As the name suggests, these glues are light-curing. Several types include encapsulants, adhesives, and coatings. Note that bonds are common in electronics since they are compatible with the materials. 
Additionally, these glues are easy to relieve and do not require temperature relief. 
When using these glues, you'll realize that many feature acrylic-based details. Also, they have photograph initiators, which are easy to actuate using bright radiation. However, you cannot apply a thick coat. Essentially, UV will not penetrate very thick coats of the glue. 
Thermally Conductive Glues
A Circuit Board with Numerous Components
Think of a scenario when you want to secure heat sinks to electronic components. Ideally, you will require a glue that can effectively provide a heat-directing path in such a case. Such kind of an adhesive is hot glue. Otherwise, heat can be damaging to the working of electronic components. 
You can mix electrically conductive and insulating powders with the glue during application. Consequently, the glue will have a higher thickness with high thermal conductivity properties. Therefore, the sealants are essential in creating thermal conducting bonds. 
There are several hot glue PCB formulas. Nonetheless, you can create one by mixing epoxy with acrylics and silicon. 
Conductive PCB Adhesive
Super Glue
Most of the standard glues are not electrically conductive. Consequently, this creates a problem, especially when attaching surface-mount gadgets and coordinated circuits. 
The two applications will require the use of an electrically conductive adhesive. Luckily, some particular unique glues will efficiently conduct electricity. They include anisotropic sealants and isotropic kinds. 
The former are capable of forming joints that are conductive in all directions. On the flip side, isotropic glues will only conduct in a unidirectional mode. 
Other Types of Glues
Types of Glue Illustration
Others include the following: 
Polyimides
The polyimides can withstand up to 300ºC of heat. Thus, they are common in high technology hardware applications where high temperatures are inevitable. 
Silicone Resins
Primarily, silicone resins operate as sealants rather than glues. Hence, they are commonplace in conformal coverings as encapsulants. One key upside of the resins is their low and high-temperature resilience. They will be in top state at temperatures between – 60ºC to +200ºC. 
Cyanoacrylates
They are common in attaching wires to a PCB board or other external components. Essentially, they are single-part glues that quickly dry on application. However, it is essential to couple their use with activators for improved drying. 
Conclusion
In a nutshell, a PCB circuit board is the fundamental structure block for all electronic components. However, to make it worthwhile, the use of the PCB glues we've just covered is unavoidable. We've also elaborated on the significance of several kinds of PCB glues in operating a circuit board. Further, we have analyzed the different types of PCB glues. Nonetheless, reach out to us if you have some clarifications you'd like to make.