RS485 connection is a standard definition for serial interface electrical features used in serial communication systems. However, RS485 serial interfaces aren't created equal, but they have to fit the bill of industrial robustness and high speed. For instance, to the engineers who want to advance from quadrant incremental sensors to absolute encoders with serial interfaces, then RS-485 is an ideal rotary encoder. It might sound complicated, but we will cover its features, applications, tools, and how it works.
What is RS485 Connection?
RS-485 is a binate telecom system where several devices communicate on the same system in both directions. Furthermore, even in electrically noisy environments, the RS485 interface allows long cabling distances and supports multiple devices. In addition, many computer automation systems use RS-485 since it's easy to understand its use in the proprietary automation protocols. Besides, you will find it in the theatre application layer, where a wide range of devices spread within an enormous distance.
Engineers not only use it for cabling long distances but also implements it in multiple application bulletin. Using it at high transmission speed in electrically noisy environments makes it a smart implementation for many applications. Besides, the ability to use it with multiple slave devices and over a long cabling length makes it appropriate for the serial wire interface.
RS485 Connector Pinout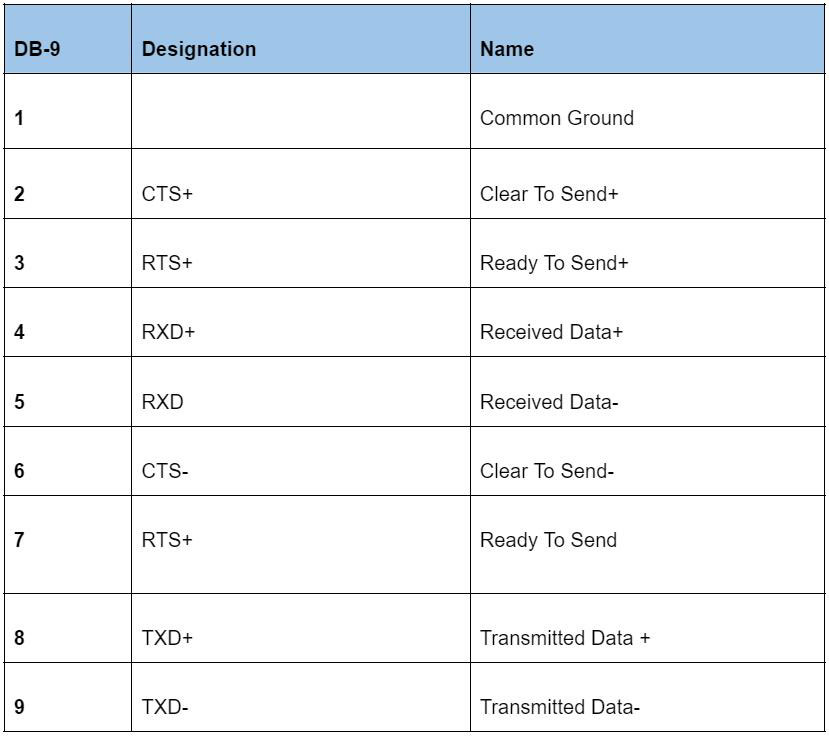 RS485 vs. RS232
Among many potential differences between RS485 and RS232, the major one is that its signals are transmittable faster. Besides, it features a multipoint connection where 32 slaves on maximum connect to the communication bus. Nevertheless, you can address each slave with its ID.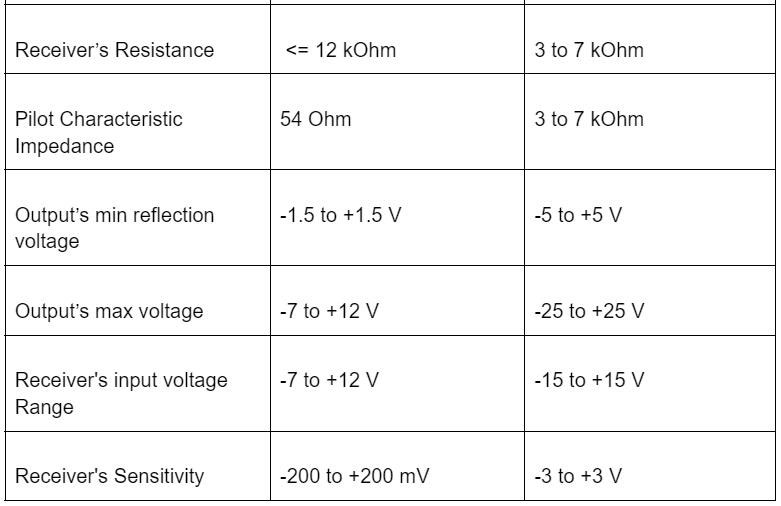 How Does RS485 work?
In RS485, data transmit through the "Twisted Pair Cable," known as two wires twisted together. Likewise, the twisted differential pair of wires provides immunity against electrical noise, making it workable in electrical noise settings.
Cable twisted pair 
In addition, its core has a 2-wire RS-485 common-mode voltage that permits half-duplex data transmission. Means, that it transmits data from slave devices in both directions, one direction at a time. Likewise, adding two extra wires makes it a four-wires system allowing reliable data transmission in various directions. Hence, such transmission is a full-duplex setup. Nevertheless, within the full-duplex setting, it limits slave and master communication. Therefore, the slave doesn't converse with each other.
4 Full Duplex System
RX refers to received signal lines, while TX refers to transmitted signals represented by triangles orientation. Besides, for reliable data transmission, both TX and RX feature two separable chassis ground wires. Therefore, it transmits the received data between remote devices.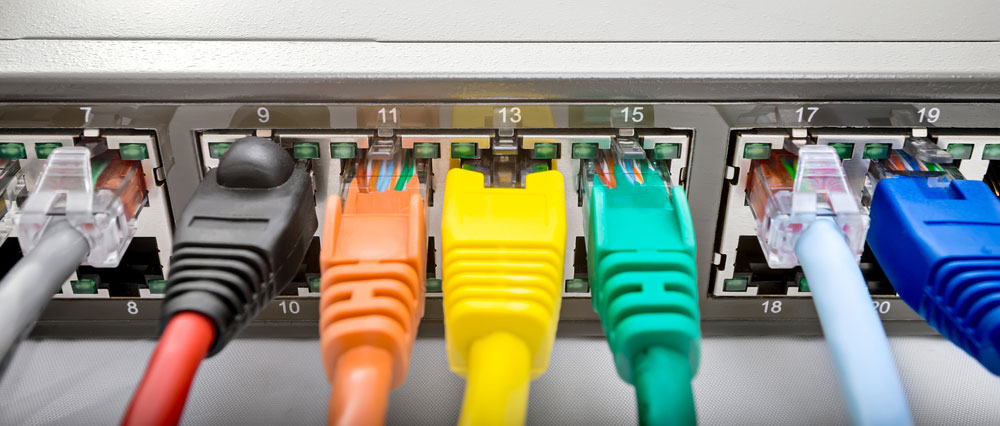 Network Switch with cables
2 Wire Half Duplex System
Similarly, RX refers to received signal lines, while TX refers to transmitted signals represented by triangles orientation. Nevertheless, in this setup, both differential signals share single pair of wires. Hence, it limits half-duplex reliable data transmission since it can't transmit data back and forth simultaneously on every master device.
Half-duplex
Source: Wikipedia
RS485 Applications
Data wiring and reading in PLC machines
Household electrical interface appliances control from a central setting
Instituting communications in LED displays
Applicable in multiple applications
 Data transfer on the microchip
RS485 Tools
The work of the RS485 device, as mentioned, is to link slave devices port rather than using other means since it offers significant benefits. On the other hand, it only supports USB-supported devices. Thus, what happens if you want to use the RS-485 interface in your projects? Fret not. There are various tools you can use to transfigure USB ports to RS485 driver, including:
Industrial USB to RS485 Converter
It's a converter converting a USB port to work with the RS-485 system. In addition, it's ideal for industrial equipment use, featuring embedded circuit ground protection, including ESD protection, resettable fuse, lightning proofing, and TV's diode. Also, it allows for automatic transceiving hence providing expediency.
USB TO RS232 / RS485 / TTL Industrial Isolated Converter
Similarly, a converter makes the USB serial port more versatile by converting them to RS-485 network, TTL, and RS232. Furthermore, featuring embedded circuit ground protection such as ADI magnetically isolation, power isolation, and TV's diode, it's an ideal choice for industrial environment use.
USB to Isolated RS-232-422-485 Converter 
Source: Wikimedia Commons.
Industrial EC & TDS Sensor B MODBUS-RTU RS485
A sensor collects data for TDS (Total Dissolved Solids) and EC (Electrical Conductivity) in liquids. Likewise, to provide precise reading, it comes with temperature compensation, which reimburses for temperature changes. Besides, its industrial standard design comes with a water-resistant aeronautics circular connector, ensuring elements don't affect the connections.
Close-up view of industrial converters at the factory
Industrial IP68 Modbus RS485 1-to-4 Splitter/Hub
Despite its ability to support up to 32 various RS485 sensors, it connects only a 4-wire system. Besides, it's intended to be used with SenserCAP Sensor Hub, where the splitter splits one MODBUS RS485 device into 4. In addition, comes with four female wire interfaces linking to the sensors and male interfaces connecting to the Sensor Hub.
SenseCAP Industrial-grade 4G Data Logger with MODBUS-RTU RS485 protocol
A product series from Seeed'sCAP, it's an Industrial-grade 4G Data longer connecting up to 32 RS-485 standard sensors. Consequently, it's dustproof, waterproof, and IP66 rated, making it ideal for monitoring indoor and outdoor remote severe environments. Besides, after collecting data, you can send them to your server through cellular 2G/3G/4G.
Network server room routers and fiber optical cables
Summary
RS485 fits industrial applications where connected devices require interconnection for the system. Also, Raspberry Pi and Arduino hobbyists use it in their projects when they want to link multiple peripherals to the board. Besides, in places where an electrically noisy environment hinders the project's success, RS485 can be the optimal choice. Its rich features make it suitable for industrial control systems and similar applications.