In the past years, green is considered the standard PCB color. With the advent of technology and more innovation, the different PCB colors are also available now.
A printed circuit board, commonly known as PCB, is the base of every patched circuit. The crucial significant concept of electronics that forms the core is the PCB board.
People often forget to comment on this particular area. However, it is essential to understand the basics of PCB color.
This guide is going to help in understanding the basics of PCB board and solder mask colors.
1、PCB Color
1.1 Definition:
The color of PCB defines the color of the solder oil or solder mask. It consists of lacquer impregnated with pigments that are known for protecting the traces of bare copper. Made from glass – epoxy, the finishing color of PCB is representing the solder mask. One of the main applications of the solder mask is prevention against the short-circuiting of the circuit board.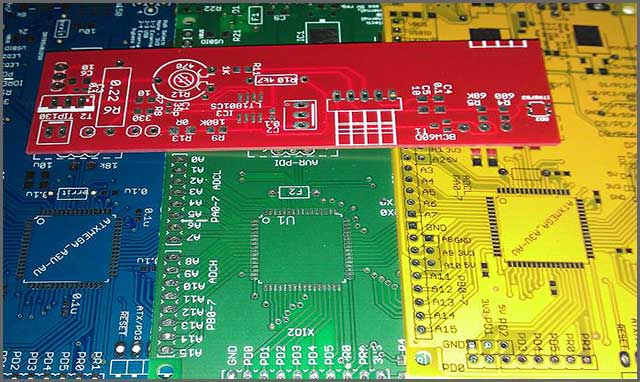 Image 1: PCB Color
1.2. Types of PCB colors:
There are different types of colors available for PCB boards. The standard color of printed circuit boards is the green solder mask. However, with the advent of much innovation and technological advancement, the color of PCBs is now changing. In recent years the use of other colors instead of green PCBs is on the increase was driven by most of the assemblers. The following are some reasons for choosing different colored PCB other than green: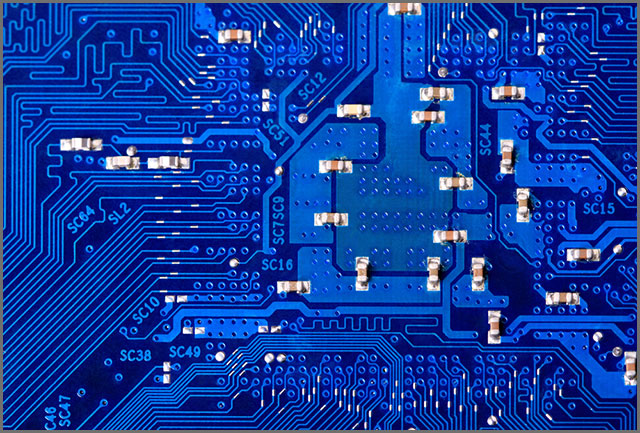 •Using different colors of PCB gives an obvious indicator of the revision changes to make users aware.
•Using colors other than green will produce brightness or contract. You need to note that assembly equipment is significant by transmission properties, absorbance, and light reflectance.
•Using different colors will help prevent various types of mistakes in a mixed assembly that may occur. The choice of contrasting color types also has the advantage of identifying meetings that are lead–free.
The variety of colors used for fabricating PCBs includes white, blue, black, yellow, red, etc. The colors of PCBs are commonly referred to as PCB color codes. Different modern PCB types have adopted specific colors. For example, the motherboards of PC are still fabricated in green epoxy.
The colors of solder masks do not create any impact or effect on the performance of PCB. However, with the use of different PCB colors, the board resolution will be other. For example, green PCB resolution is matched using red and blue colors like the yellow and black color with significantly less resolution. It is to be noted that solder masks with clear transparency tend to have high resolution.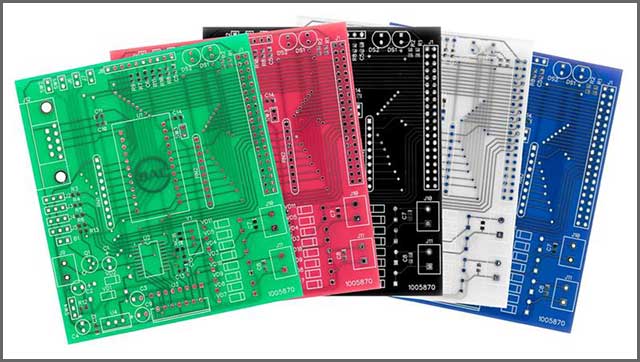 Image 2: PCB Colors
1.3 Solder mask colors:
It has been seen that there are different types of solder mask colors. Cobalt and carbon, when mixed, produce a black solder mask. This type of solder mask is conductive because of the presence of carbon. Conductive layers are formed across the traces of PCB, but it can be used as a protective shield for isolating the signals coming from different external noises.
Black solder mask made from cobalt mixture is expensive too. You will find white PCB color codes in most LED applications. You will see a blue solder mask generally used in LCDs. It is used to avoid any distraction caused within the system.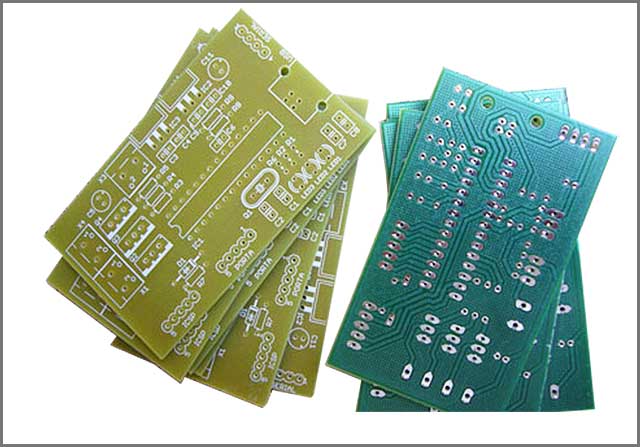 Image 3: PCB Colors
Red PCB color code is usually used for making the board look different from other boards. The primary purpose of using a red PCB color code is to identify any particular part present in group assembly. Red solder mask is typically used in precision devices, including an oscilloscope, analog resources, and bench multi-meter.
It has been seen from different resources that green is known as the most favorite color for printed circuit boards. It is because the performance of the green color is better as compared to other PCB colors. Green gives better results when it comes to the point of soldering the pitch of components. Green is often regarded as the default color being considered for printed circuit boards.
Japan is one of the top countries around the globe for innovation and engineering advanced technologies. It has been seen that the use of green printed circuit boards in Japan is on the highest percentage. In contrast, Germany has been reported to use non – standard PCB colors to a greater extent than many other countries and engineering industries.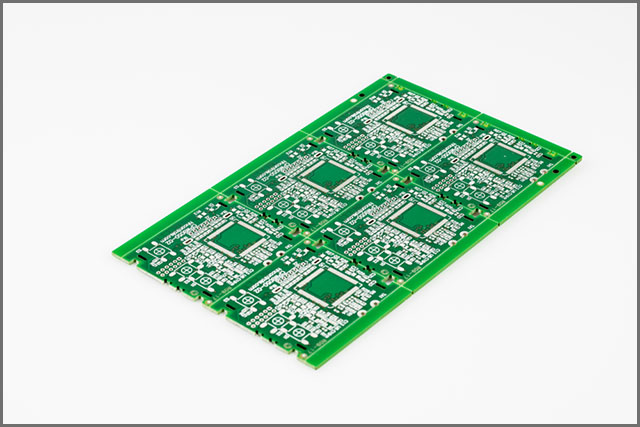 2、PCB Solder Mask Color
If you are up for selecting the printed boards, some parameters require to be taken into consideration. One of them is choosing the color of the PCB solder mask. Though green is the most traditional color being used, other colors like yellow, white, and black, which are also available, do not require any extra charges. As there is a wide range of colors available for the PCB solder mask, the problem is which color needs to be selected. Are there any advantages or disadvantages to choosing any color other than green? Given below is the small guide which is going to help you in choosing different solder mask color other than the standard green color:
♦ Red:
The red solder mask color tends to be bold and professional. The contrast present between planes, spaces, and traces is quite good.
On the contrary to the green printed circuit board, the contrast is lower. Any magnification is used for inspecting the board traces in case of defects. It is to be noted that silkscreen is known to stand against red background well as it cleans up the flux residues. Though red looks attractive, eye-catching and bold, green is still considered the best.

Image 4: Red Solder Mask
♦ Blue:
PCB color blue for the solder mask resembles the same Arduino blue color. Compared to red and green printed circuit boards, the contrast between empty spaces, planes, and traces is shallow. In blue solder mask color, magnification is considered necessary and is mandatory for inspecting manufacturing defects.
However, it is to be noted that the contrast between the solder mask and silkscreen is relatively high that is the plus point for using blue color. So, if you are using a board with the label – heavy, then the right choice, in this case, might be blue for you.
Remember that blue seems to be an excellent choice if you want to match the solder mask color with your Arduino, and you do not care about showing off-board traces.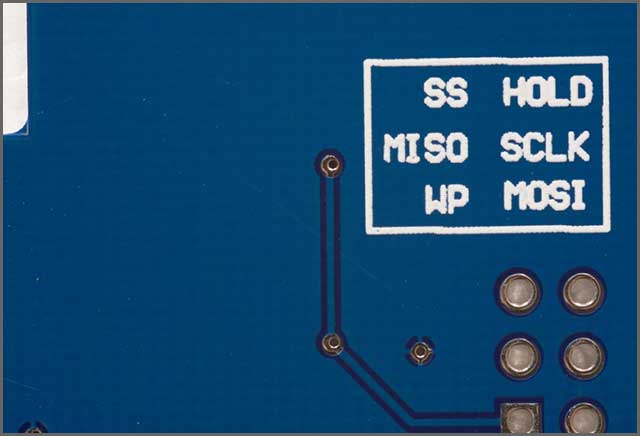 Image 5: Blue Solder Mask
♦ Black:
THE Black PCB color is tough to handle. The contrast between empty spaces, planes, and traces is lower than other solder mask colors, but it is non – existent. Very powerful magnification is required for the inspection of this board. Inspecting it is nothing more than a nightmare as it needs a tilted angle for casting a shadow to find traces.
Another problem with black PCB color is its heat absorption during the process of reflow. As far as cleanliness is concerned, the black solder mask needs hard efforts because the flux stains tend to be harder on the board and eventually require steps to get removed.
One of the advantages of a black solder mask is that it works well with the contrast of silkscreen. The difference between silkscreen and pads is pretty much okay. You do not need any lighting or optics to see the distinction as it is visible. Currently, only gloss black is available. Matte black solder mask color is still to be designed for prototypes.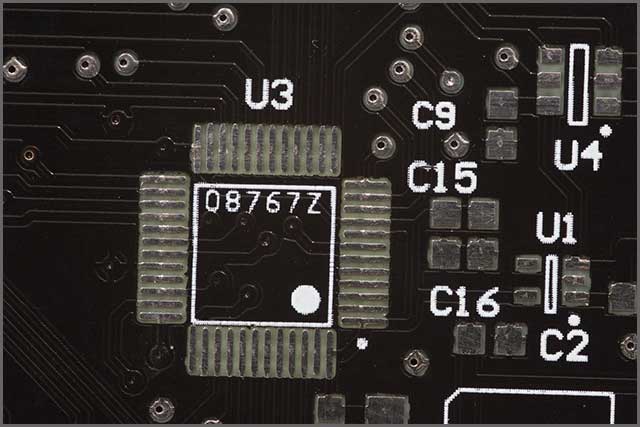 Image 6: Black Solder Mask
♦ White:
If you think that a black solder mask is the hardest to handle, you have not seen white yet. Experiments show that there is nothing good about a white solder mask. White PCB color exhibits contrast that is even lowest as compared to black. When it comes to inspecting, even tilting it to light does not help in its traces' appearance. Cleaning the white printed circuit board is too hard as hints are hard to be seen. However, the silkscreen contrasts in white solder masks are the same as those found in black color, which implies that they work very well. Keeping in view other parameters, we don't recommend the white solder mask.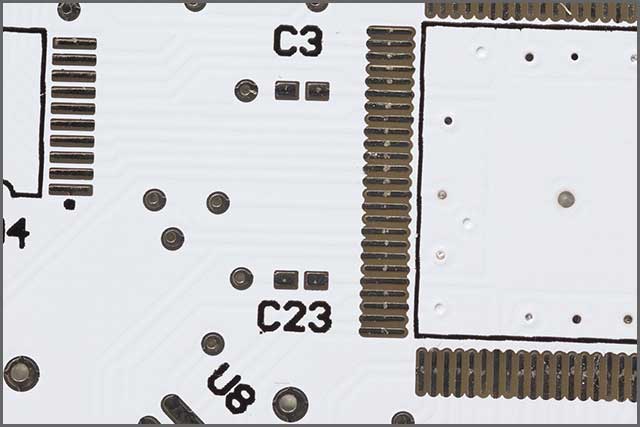 Image 7: White Solder Mask
♦ Yellow:
It is to the surprise of why designers and engineers do not pick yellow PCB color. The contrast between empty spaces, traces, and planes is too high in the yellow solder mask. It is almost as same as green. So if you have some fantastic routing and your printed circuit board is some hard work of art, then this dark and coppery colored yellow solder mask is the right choice for you.
As the white silkscreen is not contrasting well, you can use a black silkscreen with a yellow solder mask. It has been seen that it will create excellent results for your design and work. Also, you will see that the yellow solder mask does not cause any problems with cleanliness. Yellow should be considered along with green and red colors, depending upon its outstanding performance parameters.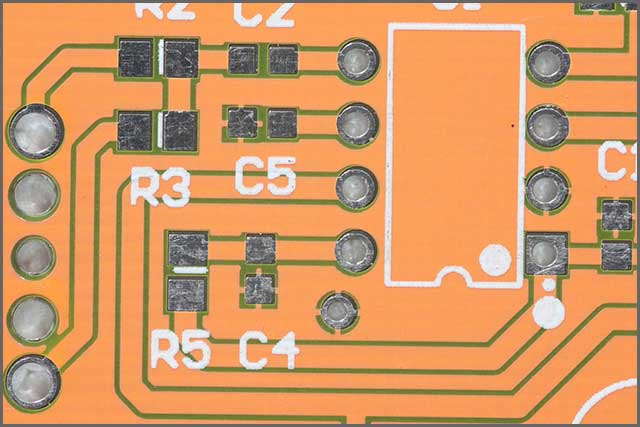 Image 8: Yellow Solder Mask
So, this is all about different solder mask colors. Depending on the guide discussed above, you will get more comfortable choosing the right color for your next project.
3、PCB SilkScreening – All You Need To Know
The application of ident layers during PCB color and manufacturing is referred to as silk screening. So what is PCB silkscreen? Silk screening is used as components for identifying their testing points, PCBA part numbers, company information, manufacturer notes, and so on. You can also define silk screening as the process of writing human-readable text-based information on the printed circuit board.
The process of silk screening requires the implementation of formulated conductive inks. Then standard colors typically used for the silk screening methods include yellow, white, and black. It is to be noted that you can request for non – traditional colors for the process, but they will cost you much time, money, and energy.
Another thing that is very important and requires to be considered during silk screening is font selection. There was a time when the only software used was for fonts was PCB CAD, but now there is a wide range of options available. Ensure that you are selecting a font that the readers easily understand. Some fonts may seem exciting but are hard to be recognized and give problems in reading.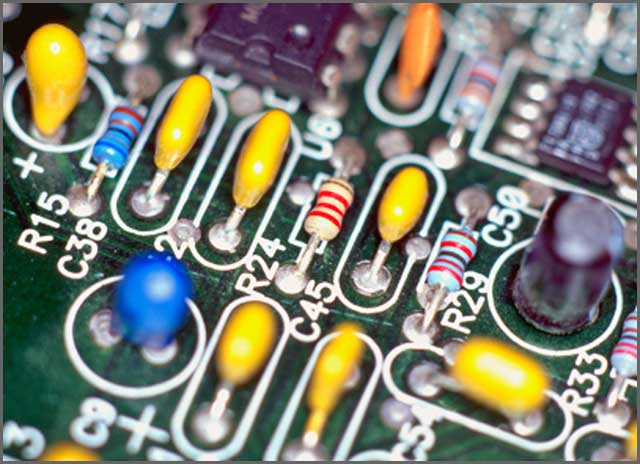 Image 9: Yellow Solder Mask
The silkscreening process today is still using traditional and conventional methods. The process of silk screening is performed by stretching polyester screens across the frames of aluminum. Before the step of imaging, the coating of screens is performed using solvent-resistant emulsions.
It is to be noted that there must be proper alignment between the screen and panel. While the equipment required by this silk screening process is a laser photoplotter, spray developer, and ultraviolet printer are known as UV printers. A laser photoplotter is therefore used for producing the initial film. Screens can be reclaimed and can be cleaned again. However, the reuse of screens is not recommended for high resolutions.
Several considerations are required to be taken into regard during the process of the silkscreening process:
1. To reduce the printing cost, the best thing you can do is restrict the silkscreening process only to one side like the top.
2. Make sure that the font you have used for the silkscreening process is easily readable. Use standard colors and standard formulated inks as such factors will eventually reduce the cost.
3. The standard printing errors can be minimized if you allow a specific amount of tolerance for measuring the distances. It can be a difference of a few miles. That will surely help you in foreseeing fewer problems and will eventually lead to fewer printing errors.
So, these are the considerations that need to be taken into regard during the silkscreening method.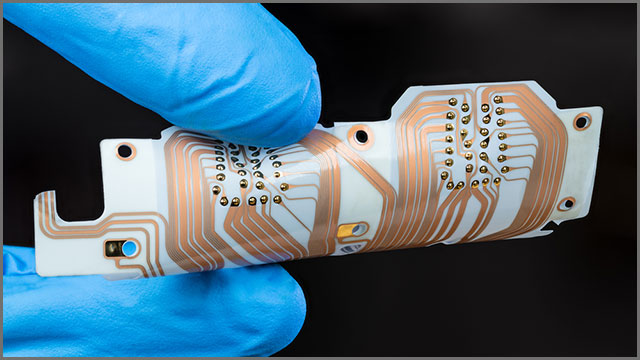 4、Solder Mask Differences
During manufacturing, it has been that PCB color does not create any difference on the point of whatever color you intend to use for the solder mask. However, it is to be noted that it makes a difference in electronic assembly production.
It has been seen that almost all the AOI machines and many other inspections are found with green solder resists. Some researches show that a change in PCB color can create many problems in the process of designing. For example, most of the manufacturers of printed circuit boards have resided in the United States of America. These manufacturers are known around the globe for using a single LPI machine.
So, if you are looking for any other color rather than green, it may cost you a lot of time, wastage, energy, and increased price. You need to note that there is no obligation to use different colors. You can still use other PCB color options. The problems mentioned in this chapter are just the common problems that may occur during solder mask selection.
5、why are circuit boards green
It is keeping in view that there are several different PCB color choices available, but why is green always considered the standard one? This chapter is going to make you understand the fact why it is still green!
Green PCB board can relieve fatigue regarding visuals. As green does not require enhanced efforts in inspection, workers prefer to use them. Less review of green printed circuit boards leads to a less tiring job. Also, it is reported that human eye sensors are sensitive to green color. It is mentioned prior that the PCB color of green has a higher contrast, making it suitable for identifying the board traces and residues quickly.
It has also been seen that the green solder mask is superior to other solder mask colors. The green solder mask consists of different excellent properties compared to additional solder masking colors. This color produces good results with solder mask dams and plays its role in manufacturing integrated circuits.
As mentioned prior, green printed circuit boards are standard ones and are developed with mass production; they can be preferred. If one wishes to go for other options, it will cost more time, money, and energy. It is not the case with green color.
Image 10: PCB Solder Mask Color
6、Conclusion
Selecting the color of the PCB with much consideration is essential. The printed circuit board is the base of every electronic project. If there is a problem with it, the whole system will be disturbed. You need to select PCB color carefully as it is essential to save cost by increasing the circuit's efficiency.
We are known in the market for providing the best PCB solutions as we are specialists in providing our customers with very high quality and efficient printed circuit boards. Our fabrication process is affordable, and we can go out of the way to meet our customer's requirements.