Welcome to the PADS PCB Design tutorial for beginners. The tutorial will effectively and efficiently help you explore the PADS PCB software- from the schematic capture right to the board layout and the different PADS types.
Possibly you are new to PCB design, or probably you are a seasoned designer. Perhaps recent changes in your workplace have introduced additional requirements and responsibilities, not forgetting the design and manufacture of quality PCBs. Or maybe you might be interested in learning the latest PCB design methods in the electronic world. Regardless of your intention, this tutorial will enlighten you on designing PCB PADS in a manner that instills confidence and accuracy.
1.  What is the PADS PCB?
PADS is a printed circuit board design software, which Mentor Graphics have developed. The software is available in three different versions: the Standard Version, the Standard Plus Version, and the Professional Version.
1.1 Key Features of PADS PCB
Super schematic and layout tools:
PADS PCB provides graded schematic capture with advanced component selection and authentication.
Scalability:
As technological specifications and layout complexities continue to grow, you can incorporate extra tasks to the application to ensure it synchronizes with your layout requirements.
Component data organization:
PADS PCB enables users to monitor component numbers, values, and others easily. The PADS starter library comes with over 11,000 components and numerous devices. 
Variant reprocesses and management:
This feature will enable you to use one schematic for numerous design rehearsals and layouts.
A programmed FPGA optimization feature creation process:
This feature will save you as much time as 30X than standard methods. This will minimize time-to-market and production costs.
Broad electrical rule check:
PADS PCB has a useful and accurate design rule screening feature. The feature checks and confirms complicated design rules, like Electromagnetic rules. 
Analog simulation:
PADS PCB comprises an advanced circuit model with detailed scrutiny. This will help you to simulate equivalent, mixed-signal, and technology circuits.
2. PADS PCB Versions
As mentioned earlier, the PADS PCB software is available in three versions. These versions have, unlike capacities. The Mentor Graphics developers have designed them for diverse target end-users. We will compare their capacities in a table format. Also, remember that for this tutorial, we will use the PADS Standard as an illustration.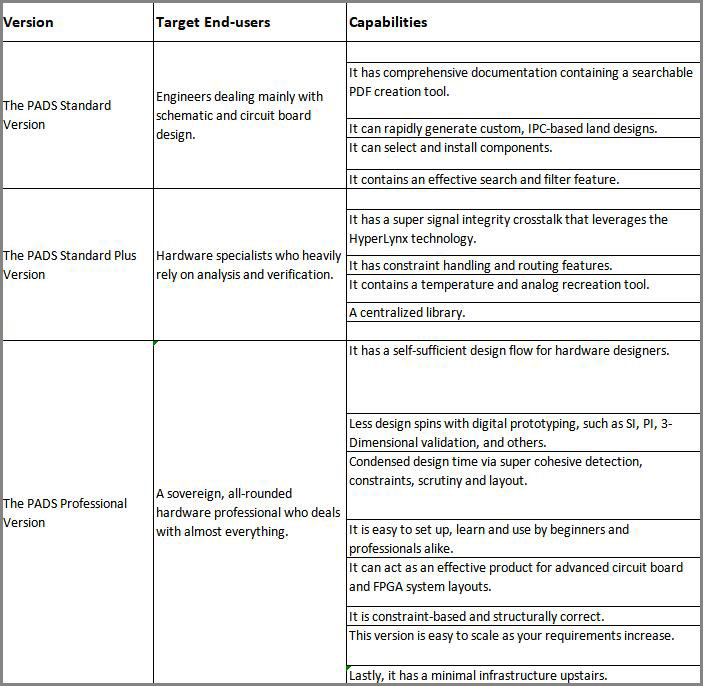 3.  Using the PADS PCB Design Software
Visit the PADS PCB website to download the latest version freely.
To guarantee that no physical damages occur when you place the board in an enclosure, your electrical and mechanical layout should consider the component permissions. Besides, you should take into account the mechanical aspects during design. Also, ensure proper communication between your electrical and mechanical movements to align your design appropriately for manufacturing. Consequently, you will prevent last-minute modifications, which consume more resources and time.  
Acknowledging that your PADS application can produce and handle all the content requires lay a firm foundation for building your design. PADS PCB presents a complete packaged front-to-back design flow. This enables you to balance rules and constraints in the right way, creating high-end systems that are profitable.
3.1 Capturing Schematics
Source: http://ohm.bu.edu/~pbohn/__Engineering_Reference/pcb_layout/pads_gs.pdf
The schematic is basically a graphical illustration of your design. It bears the connectivity, component characteristic data, and design rules. The schematic helps you extract information in numerous formats, like a connectivity netlist and BoM. It will also enable you to get the information you will feed into the simulators and design plots. Since it is a progressive design database, it carries the real component interconnection, component characteristics, values, and tolerances.
First, go to your PADS' start page, and press the Create tab to capture a schematic.
After that, set the features of all the components you select. The software provides a sample on the right-hand side. It is also important to realize that the toolbar on the upper part of the application has various features and displays. You can make good use of them to create customized designs.
After you have finished capturing your schematic, you can confirm if your circuit design functions accordingly. Navigate to the Libraries section, press Common and then select the Central Library Synchronization feature to view circuit parts with issues. Parts with issues always show yellow warnings.
3.2 The Management of Components
With PADS PCB Design component handling, you can access any component information from just one spreadsheet. You do not have to worry about data redundancy, numerous libraries, or time-consuming features overhead. Remember also that PADS PCB Design easily incorporates with other commercial parts and MRP databanks via industry-based ODBC. This allows physically distributed designers to access critical component data quickly. The software also synchronizes and updates the databases. This prevents expensive redesigns and other issues that may go unnoticed.       
Remember, you can use the PADS PCB Design component manager in various ways. If you want to find a unique component, you basically enter a search criterion, and the application will show all the available components. Still, you can narrow your search by keying additional information, like the tristate output. The software also shows the number of participants that accomplished the itemized criteria after every search.
If you want to review and choose a component, you check all participant components and their corresponding parameters in the parts administration spreadsheet. It is important to note that you can use direct spreadsheet links to access all component datasheets. This gives you comprehensive component information. Once you have chosen them, you will find it easy to instantiate your preferred parts directly into your schematic.
3.2.1 Adding Generic Components to Schematic
If you want to choose your circuit board manufacturer, pick the parts, and the software will automatically present all the available PCB manufacturers. The software will display information based on various parameters, such as lead time, cost, inventory level, and others. Once it makes the selection, you can interpret the parts' special aspects to the generic schematic parts.  
You can also use PADS to validate circuit design reliability. By doing so, you will ensure that every schematic information is in line with the business inventory. Additionally, the PADS part management will tell you the design components you have not branded exclusively. It will also interpret any misplaced property facts automatically.    
Again, you can explore for a particular reuse block with the help of PADS. The tool makes it easy for you to get and integrate the appropriate recyclable design in other schematics. 
3.3 PCB Layouts
It is essential to note that you can exploit PADS PCB design's innovative layout capacities to quickly and effectively make advanced PCBs, irrespective of the circuitry. It doesn't matter your design complexity; PADS PCB design can quickly and easily manage the entire design process. 
Create your design faster using the physical design re-claim, production prep, and enhanced 3D outline. With complete cross-examining between your schematic and layout, PADS will enable you to complete your project faster. Besides that, you will experience fewer re-spins and a final quality product. The other benefit that PADS Standard Plus provides is unconventional selections for chip-on-board backing, time-saving DFT reviews, and super-speed direction-finding.  
Remember, any PADS PCB Design version contains a PADS outline. However, the PADS Professional version has a dual-licensed layout, comprising advanced features from the Xpedition PCB. 
Complete 3-Dimensional circuit board visualization comprises parts, pads, traces, solder, mask, and other components. A photorealistic view will enable you to make precise PCB assessments before you produce the final product. Also, 3-Dimensional viewing offers a direct view of your PCB's inner layer stack-up. This gives you detailed information necessary to create custom boards competently and boldly. 
Lastly, you can estimate the object-to-object smallest distance to determine your closeness or farness from your objects. Likewise, you have the freedom to introduce things like covers, heatsinks, and other mechanical features into PADS and verify if they match well.
Creating a new design from scratch will require you to pay close attention to several considerations. It is common knowledge that designing a PCB is a continuous activity of forming design resolutions and trade-offs. In every step of the design process, you need to deliberate on various elements and design alternatives. 
4. Why Should You Choose PADS PCB?
Thermal assessment: PADS PCB integrates thermal assessment that will enable you to examine PCB-level temperature mapping and design issues.
Power integrity examination is a unique feature that will help you to recognize power circulation problems even before layout. Additionally, you can detect IP drops.
The PADS PCB Design Multi-Trace HSD integrates well with super-speed design capacities and program tasks to minimize design time.

PADS PCB offers an AMS Cloud simulation service that delivers precise results.
Final Thoughts on the PADS PCB Design Tutorial for Beginners
PADS PCB design meets most design technical issues and presents the tools and environment to address them. It assists you in completing demanding design schedules, putting you ahead of the rest. With PADS PCB, you are sure that you have the proper design software and tools to solve your current and future design requirements. Always keep in mind that making a PCB is a continuous activity of forming design resolutions and trade-offs   
As a global manufacturer with rich experience in PCB manufacturing and assembling, OurPCB can meet all your PCB demands. Do you have circuit board design documents ready for manufacturing? You can start by getting a free PCB quote from us today.