Soldering is an almost inevitable process while using electronic components. Thus, one of the most important choices in the soldering process you'll make is selecting the appropriate type of circuit board solder iron. There are numerous types of solder in the market, and we will help you make the right choice depending PCB board you are using. Therefore, check out our article for soldering iron tips and other essential knacks in your soldering session.
Circuit Board Solder Iron Buyer's Guide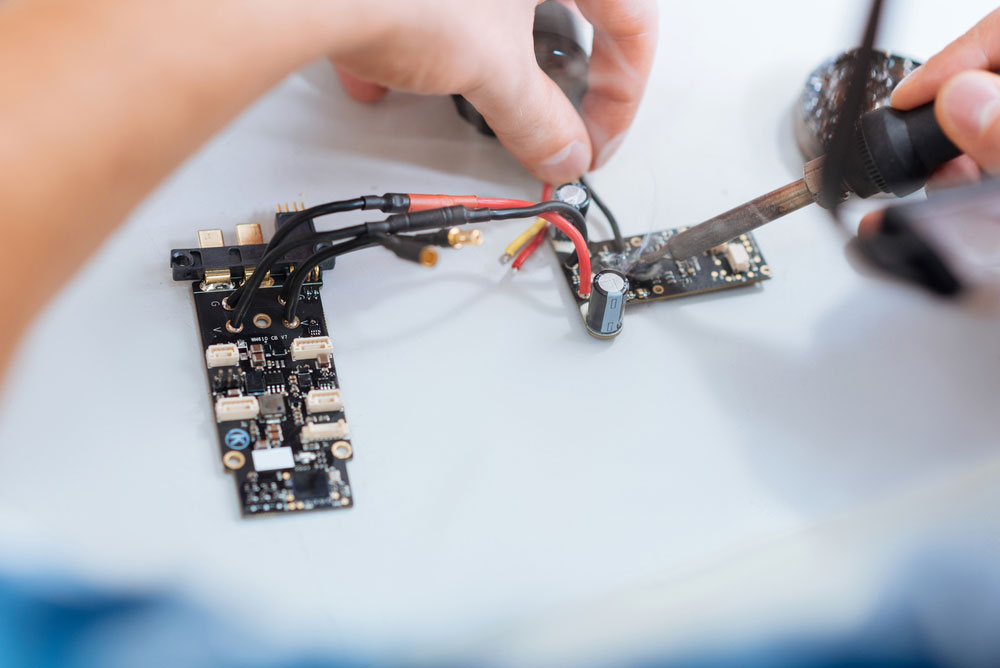 Soldering is significant in electronics repair.
When shopping for a soldering iron, you must make several key critical considerations which include the following:
Type of Soldering Iron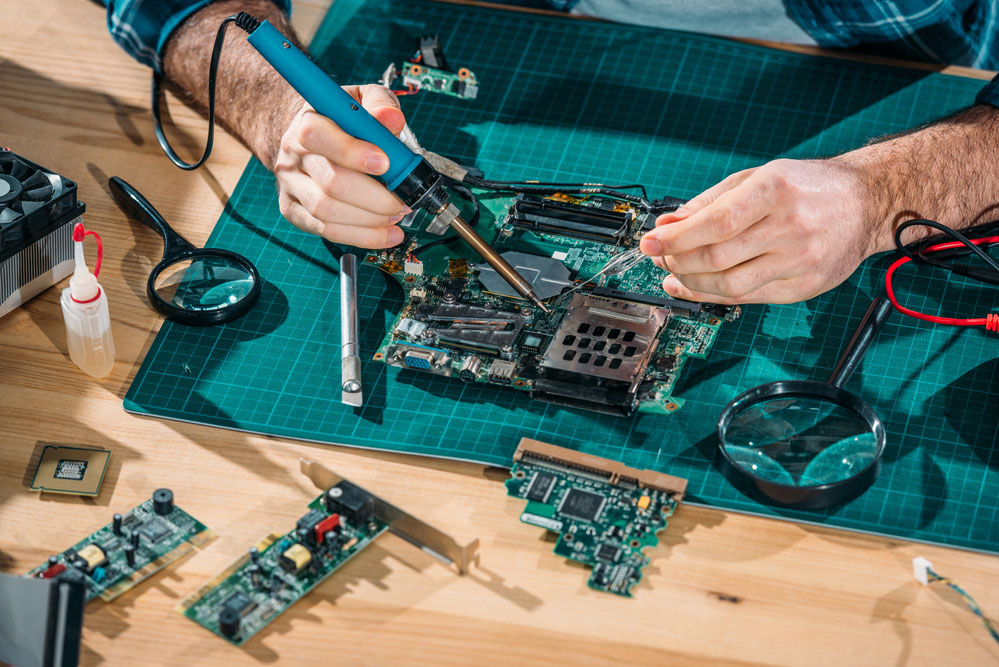 Choose the right soldering iron type.
There are three main types of soldering iron that include the following:
Basic air-cooled irons
As the name suggests, it's the most common solder type, and it lacks a temperature control setting. Instead, it banks on the air's cooling effect. Additionally, these solder irons are the most affordable and offer the versatility of use.
Temperature-controlled soldering iron
Unlike the former, these feature a thermostat to aid in temperature regulation. Hence, with this soldering iron, you can maintain a particular soldering temperature for the soldering circuit. Also, some soldiers of this kind have a temperature indicator.
Soldering iron workstations
Lastly, this kind mainly features a base and a soldering iron. Among the base components include:
Temperature dial
Holder
Cleaning wet sponge
Size
A small soldering iron is the best for delicate electronics projects.
Choose a relatively small soldering iron for a job on a circuit board since they are more accurate and precise. On the other hand, you can use larger soldering wire for soldering less delicate components.
Wattage
Go for the non-temperature-controlled irons if you intend to do a basic soldering job. Most of these solder irons have a 40Watts rating, but they may take time to heat correctly. Also, they are quite inconsistent regarding their temperature holding capacity.
Alternatively, you may opt for the temperature-controlled soldering irons with relatively higher wattages.
Tip Compatibility
Your soldering iron must feature a replaceable tip/head. Also, the tip must be compatible with a wide range of tips for more versatility; if it's replaceable with tips from other brands, the better.
Anti Static Protection
Electronic components are increasingly susceptible, making this a mandatory feature for a soldering iron. Hence, settle for a solder wire that guarantees static protection.
Holding Stand
The iron's temperature can rise as high as 300 degrees celsius, which can be dangerous to you and the circuit board. Therefore, a stable stand is significant in holding the hot iron rod while soldering a circuit board.
Maintenance
You want a wattage soldering irons whose spares are readily available. Often, soldering bits feature a short life span. However, the bigger part of the iron will remain for an extensive period. Hence, it's imperative to change the bits regularly.
Best Circuit Board Solder Irons
We have listed the top soldering wires below:
ANBES 60W Soldering Iron Kit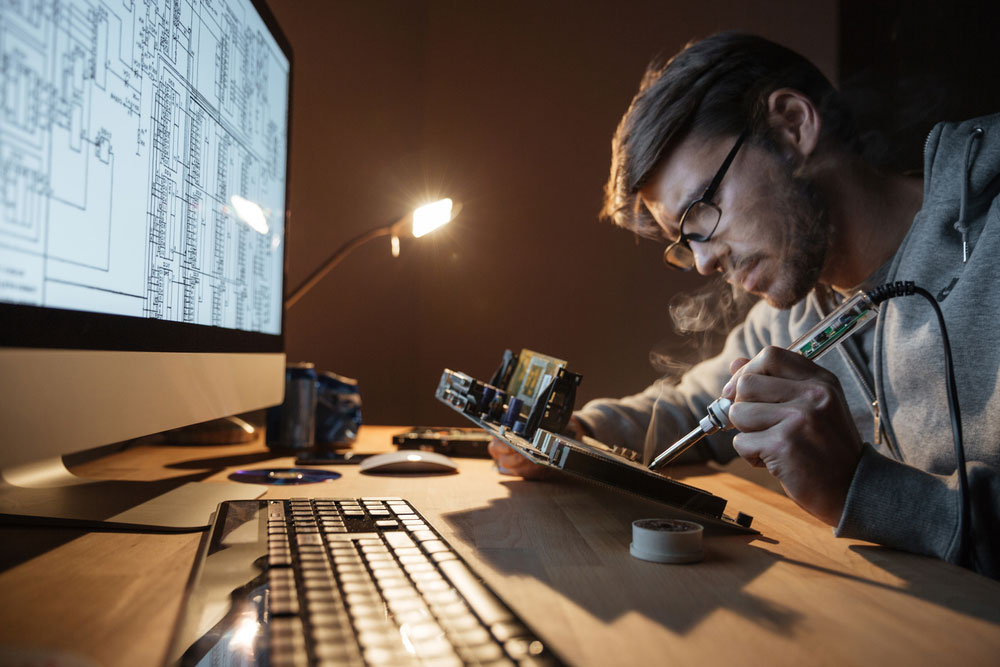 A Man soldering
It is handy for small projects and is also easily portable. Besides, it has efficient temperature management and excellent heat dissipation. Among its other remarkable features include the following:
It features a two-color temperature dial to facilitate easy selection of temperature. Also, the feature aids in selecting the ideal temperature for the particular material you are using.
The solder head's screw and handle are resistant to heat and thus ideal for safe extensive use.
Thirdly, it sports five extra soldering tips- some broad and some thin; to ensure versatility.
However, while soldering, you need to be extra careful as the iron cable can get in the way. Thus you can burn it accidentally.
Plusivo 60 Watts of Power Soldering Iron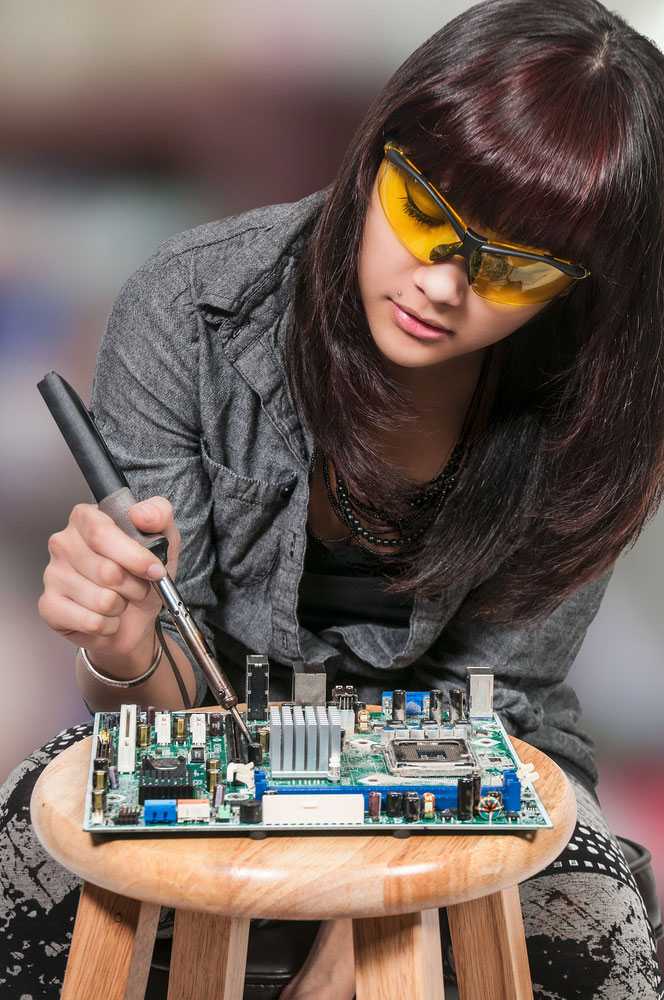 This soldering tip features a heat-resistant cap.
It is one of the best due to the following aspects.
It's a soldering package featuring essential tools such as a pen screwdriver and seven magnetic bits. Hence, it's handy in disassembling circuit boards.
Secondly, the storage bag has enough space, is durable, and is relatively small for easy carrying.
Further, its soldering tip has a heat-resistant cap. Hence, you can attach a tip even while the rod is still hot.
Thanks to its extra shrink tubing, it's also ideal for circuitry projects.
Lastly, it is easy to use even for beginners, as it comes with a free soldering ebook.
The only downside of these soldering guns is that they feature a relatively heavy soldering iron stand.
Hakko FX-888D-23BY
It's a top-quality soldering tool with adjustable temperature control and other outstanding features, including:
It has a Fahrenheit and Degrees Celsius digital display.
Also, its temperature control is password-protected, thus enhancing safety. Besides, it features a wide temperature range of 50 to 480 degrees Celsius.
The tool also has five preset temperature (s) and a wide range of soldering tips.
Lastly, it features a higher heater output, improved heat conductivity, and thermal recovery.
Weller WLC100 40W Soldering Station
Father and son soldering
It should be your go-to tool if you are a DIY enthusiast cutting your teeth at electronics soldering. Its excellent properties include the following:
It's lightweight, easy to carry around, and has a cushioned foam grip for comfort over extended use.
Also, it has a durable pencil iron tip made of copper alloy for prolonged use.
Besides, it has variable power controls to enhance power adjustment depending on your soldering needs.
The station is also renowned for its power indicator button at the base for easy use.
Further, it can reach a temperature high of 900 F.
Vastar Full Set 60W 110V Soldering Iron Kit
It is compatible with lead-free solder and also has easy-to-use temperature controls. The following are some of its key features:
It has a plastic tip that is resistant to melting even after extensive use.
Also, it grants you the liberty to control the heat intensity during the soldering process.
Lastly, it's an ideal soldering kit for sensitive circuit boards.
However, after extensive use, its handle can overheat more if you set it at the highest level.
Power-Probe-Butane Soldering Kit
The upsides of this kit include:
It has a waterproof case. Thus, you can carry it out in rainy weather without destroying the parts.
Secondly, its a highly precise kit made with high-quality components
Again, it is a full soldering kit with a wide range of necessary accessories.
Lastly, thanks to its efficient heat transfer properties, it's easy to heat.
While it's an excellent kit, it's not easy to know when its gas is exhausted. Thus, you risk running out of gas unknowingly.
Master Appliance Ultratorch UT-100SiK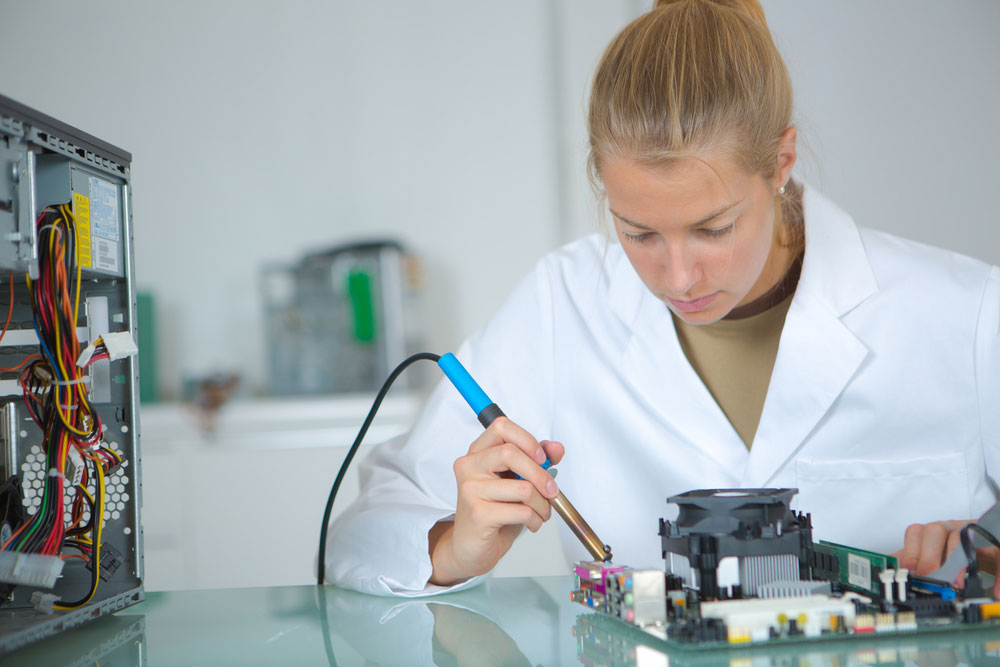 A young lady soldering in an electronics lab
It's ideal for a wireless soldering session since it features cordless soldering irons, among other features such as:
It has butane soldering irons, thus easy to access when required.
Secondly, it has a run time of at least two hours, and it's also easy to carry around since it's portable.
However, while it meets basic soldering requirements, its butane feature is sometimes a downside. If the ignitor doesn't heat the butane, you'll have to ignite the iron manually.
How to Use a Soldering Iron?
Preheating the iron is essential before soldering commences. 
The following are the important tips when using basic soldering iron:
First, preheating the iron via the tinning process is important. It's handy in improving heat transfer and guaranteeing the soldering iron tip protection.
Also, you must ensure that you've fixed the iron tip well before preheating to approximately 400 degrees celsius.
Next, clean the tip by wiping the tip on brass or a sponge.
Finally, hold the decent soldering iron on the one hand and the solder on the other. Next, connect the soldering wire's tip with the solder and prompt it to melt on the surface you're soldering.
How to Clean a Soldering Iron?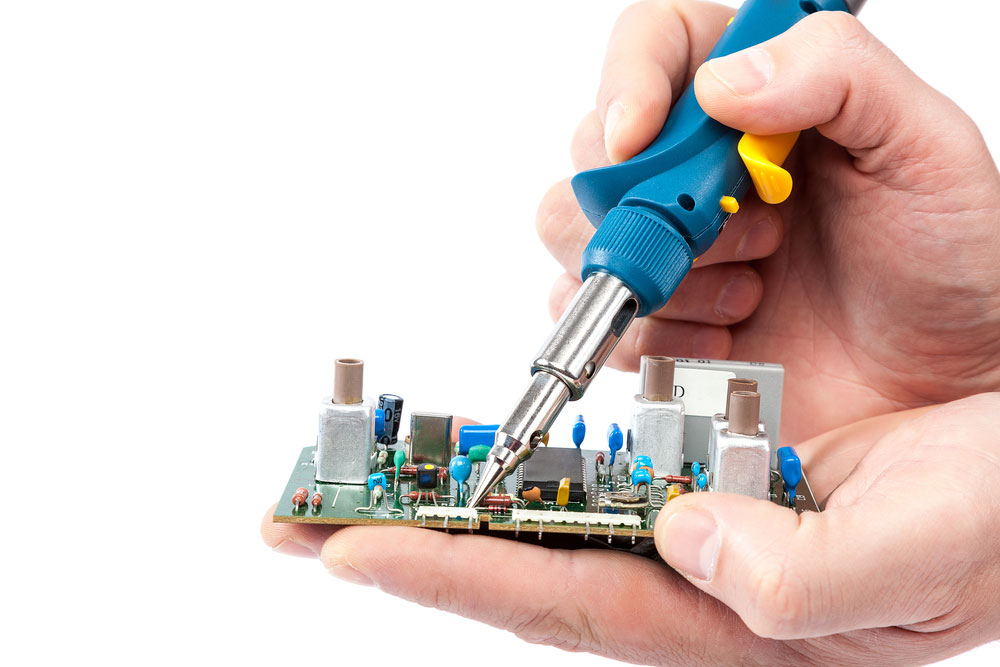 Clean the soldering iron after use
Most soldering stations have a sponge or, in some cases, a brass "brillo" pad for removing excess flux from the solder tip.
Hence, for the best sponge, choose a natural cellulose kind and use de-ionized water. Also, wet the tip gently as excess water will cause thermal stress.
You may want to clean a tip that has turned black because of extensive use. In this case, you need to use a tip tinner that comprises a cleaner and lead-free solder.
Lastly, you may opt for polishing bars, but these should be the last resort as even though they clean effectively, they remove iron.
Summary
Soldering doesn't have to be a strenuous process if you have all the tools available. We've highlighted all the essential tips for this process. Also, we have listed some of the top solders for DIY projects and sophisticated ones. For other queries, talk to us, and we'll respond immediately.