Gradually, the best breadboard simulator is becoming more prevalent. Web developers and electronics hobbyists design circuit diagrams and check them using circuit simulators. Their major benefit is that with an online simulator, there is no need to install them. Therefore, you only need to visit the best simulator software website and sign up for the account.
Nevertheless, the question is, which is the best simulator to use? This article lists the 11 best online simulators considering their library parts, special features, and popularity.  
Easy EDA
A cloud-based EDA device, Easy EDA is a zero-install assembly that is gaining much popularity progressively. It integrates a mix-mode circuit simulator, PCB editor layout, and potent schematic captures in a server-based browser setting for electrical hobbyists and developers.
Besides, EasyEDA is feature-rich, and it's free. Its other significant benefits include quite massive library parts and a powerful simulator, and easy for beginners. Furthermore, thanks to its enriched unique structures, its PCB design stimulation is perfect, making it easy for starters. While beginners might find its system hard to maneuver and complex, its guide has brilliant, helpful guidelines.  
Online EasyEDA Editor
PartSim
A trouble-free and powerful breadboard simulator, PartSim runs in the windows based browser. It consists of a visual waveform viewer, a cross-platform schematic capture device, and a jam-packed spice simulation engine. Besides, it contains large numbers of parts, making it a perfect choice for real-world use. Furthermore, it's pretty neat and completely free to use.  
Online PartSim Simulator
Breadboard Simulator
The breadboard is among the most powerful simulators for windows, with a friendly interface. Besides allowing you to design on a wide breadboard, it lets you simulate the breadboard.
Furthermore, it supports various virtual instruments and electronic modules, which you can add to the breadboard. Its toolbox features various digital components where you can choose the one you need and add it to the breadboard. Hence, you can create the expected output through stimulation after designing the electrical circuit. Its ability to support various devices makes it easy to add wires, resistors, transistors, ICs, LEDs, and diodes to the breadboard. Additionally, you can use this software from a USB drive since it's portable.
Note that the software doesn't allow circuit exportation as an image or PDF. Therefore, once you are through and happy with the stimulation outcomes, save the project to the software.
The electronic component connected with the breadboard
Fritzing
Fritzing offers all the essential components you need to design the electronic circuit on the wide breadboard. It's a special breadboard simulation software for Windows.
Besides, from its inclusive list of electrical modules, you can pick elements such as transistors, diodes, etc., and include them in the circuit boards. In addition, creating the circuit analysis is easy due to the drag-and-drop option availability. Once you have completed the pre-built circuit, you can export them in different layouts such as SVG, PNG, PDF, JPG, etc.
The major benefit of the Fritzing software is that you can design a virtual breadboard software. In addition, you can use it to make an electric diagram.
IC on Bread
As free installation software, users can use IC on Bread to design a digital circuit with LEDs and ICs. Newbie students can use this less complex software to create and simulate IC circuits on a breadboard. It features a number of basic ICs, which advanced users can link to the virtual breadboard.
Furthermore, no need for installation. Once you download it, you only need to run it, and it will unlock its graphical user interface displaying an extensive virtual breadboard. Afterward, connect the LEDs and ICs to the software tool taskbar. After fixing the wires and every essential, switch ON the power to examine and scrutinize the pre-designed circuit. Note that you need to transfer the image after designing. The software might crash your system since it is still in development mode.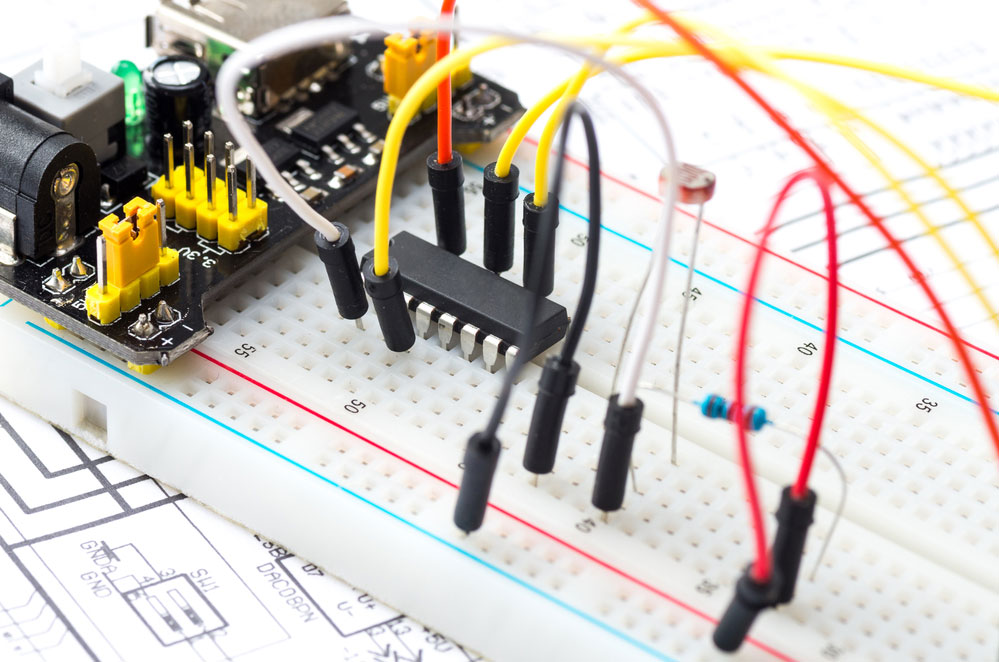 Breadboard
LTSpice Simulator
With many available tools for circuit simulation software, the LTSpice simulator is one of the most popular software simulations. Before you prepare a well-designed framework, you can use the multimedia platform to scheme and explore circuit board performance proficiently.
Besides, the MOSFET module features 200 operative amp models and MOSFET prototypes. Unlike other obtainable selections, the enhanced SPICE-based simulator is proficient and swift, especially its substituting controllers.
In addition, the basic open-source version is high-speed for real-world usage, and you can operate it on Windows OS.  
CIRCUIT LAB
Designing circuits in the Circuit lab is simple and easier for beginners. Besides, it features a pre-designed course. Its platform is appropriate for alchemists and learners, featuring an equitably broad and powerful library. CIRCUIT LAB is free to use but offers an inexpensive upgrade. However, it consists of a perfect digital/analog circuit simulator and an easily schematic editor. You can export your production result and replicate displays as a CSV folder for additional examination.  
CIRCUIT LAB online Simulator
TinaCloud
For experienced developers, TINA should be their first option. It's a refined circuit simulation tool with sophisticated capabilities. Besides, it's a PCB design software platform that designs and analyzes actual analysis of assorted MCU, HDL, digital, and analog automated circuit analysis.
While the software isn't free, its price is insignificant if you consider the performance. Starting with TinaCloud isn't simple for beginners as it might take some time to master. Most advanced users perform the simulation on the company's servers, providing excellent speed and accuracy.  
DC/AC Virtual Lab
Being an online simulator, DC/AC Virtual Lab has the capabilities of creating DC/AC circuits. Besides, intermediate users can create resistors, wires, and batteries, including further modules. It features real-looking modules and other nice-looking illustrations. Its modest UI makes it a suitable option for trainers and learners.
Nevertheless, it isn't among the five topmost due to the inadequate library parts and diagram circuits' powerlessness, limited capabilities, etc.  
DCAC Lab
EveryCircuit
Featuring a well-made graphical user interface, EveryCircuit will let you entrench interactive simulation into your internet site. Besides, it has a great electric design structure making it trouble-free. EveryCircuit also features a remarkable dynamic representation of different animated strictures. Furthermore, it offers a pre-designed circuit and plenty of illustrations, making it favorable for beginners.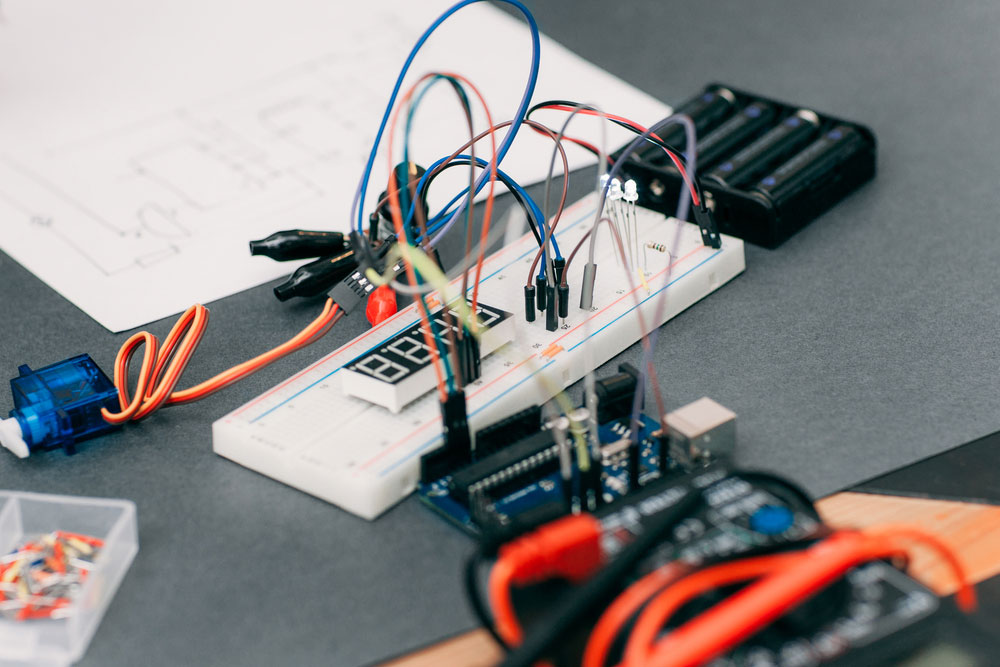 Electronic construction with wiring diagram
Autodesk Circuit
A highly straightforward online simple tool, Autodesk pre-built circuits enables electronic hobbyists to deliver amazing digital electronic projects.
Established by AutoDesk, you can use this simulant to configure the simple circuit using the legendary Arduino Uno system. Afterward, you can simulate the online circuit simulator and ultimately build the PCB. As a PCB/circuit developing device, it allows advanced users to design the Arduino from the platform simulation openly.
Furthermore, its output design is much more secure when it comes to interpretation; hence when assembling an actual linking, it makes a convenient reference. Finally, its library has numerous parts and stimulates Arduino Uno.  
Conclusion
If you wish to develop circuit design on a breadboard for experimental reasons or entertainment, your work will be simple once you have powerful breadboard simulator software. It will save you much time since it informs you if the design you want to create will deliver the anticipated outcomes. Any of the above stimulators will help you to design and simulate breadboard circuits. They will enable you to create cool projects for academic results or exceptional DIY projects.