Every printed circuit board has a specific function for different applications and electronic devices. Most of these electronic applications require high thermal expansion properties. One PCB that offers lesser signal loss and higher frequency distribution is the 10-layer PCB fabrication.
A 10-layer Pcb fabrication is done such that when all PCB layers are combined, the board thickness and size is 3.2mm at max. This method allows the board to offer better flexibility and signal integrity when used.
What is a 10-layer PCB?
The 10-layers PCB is a multi-layer printed circuit board made of conductive material. Generally, the 10-layer PCB is most common in electronic devices requiring high electromagnetic conductivity. It is essential in integrated circuits needing multiple close routing of high-speed signals.
 (The bottom of a 10-layer printed circuit board).
What is 10 Layer PCB Stack Up?
A 10-layer
is the insulator and copper layout arrangement before coupling the printed circuit board. Usually, the board layers comprise vital parameters such as signal layers, power planes, copper weights, pad spacing, drill hole sizes, trace widths, etc.
Getting your 10-layer stack-up gives you an idea of the PCB design and behavior before it is complete. Further, the stack-up board size helps determine the signal loss in the internal layers of the printed circuit board.
What are the Applications of a 10-layer PCB?
The main aim of a 10-layer printed circuit board is to cut down signal loss, as seen in ball grid arrays. Hence, the following industries are famous for their applications of this multi-layer PCB.
Computer and consumer electronics industry
Most computer electronics consist of the 10-layer printed circuit board. Meanwhile, some electronic devices use ball grid array technology for better thermal dissipation, frequency transmission, conductivity, etc.
(Some consumer electronics).
Telecommunications Industry
This industry also has a massive application for the 10-layer printed circuit board. It requires signal transmission over long distances. As a result, telecommunications need circuit boards with high thermal expansion and high-frequency information.
Industrial Processing Industry
Like the others, the 10-layer printed circuit board is important in industrial processing for its heat dissipation properties. Also, reduced signal loss is an essential quality of 10-layer boards in the processing industry.
Medical Equipment Industry
Digital medical equipment functions by transmitting low-frequency and high-frequency signals. Also, a low signal loss found using 10-layer PCBs is crucial for better readings.
(Most medical equipment utilizes 10-layer PCBs for accurate readings)
Military and Defense Industry:
To a considerable extent, the military sector makes the most use of 10-layer printed circuit boards. Since all military equipment, weapons, and machinery relies on accurate data and readings, these multi-layer boards have become more critical.
Automotive Industry
The automotive sector also needs multi-layer boards with optimal thermal expansion without signal loss. Therefore, 10-layer printed circuit boards are the best option in this case.
Aviation and Aerospace Industry
The primary PCBs used in the aviation and aerospace industry is 10-layer types. It is because they offer better signal transfer for satellite communications.
What is the 10-layer PCB manufacturing process?
The 10-layer PCB manufacturing steps are as follows:
Create the intended PCB design.
Transfer the prototype to a board.
Ensure the right copper thickness by carefully etching it to the sheet layer.
Apply the silkscreen and solder mask.
Couple the integrated circuit components.
Lastly, test the finished circuit board.
(A finished multi-layer printed circuit board).
5. Advantages and disadvantages of 10 Layer PCB
10-layer PCB Advantages
Here are some reasons 10-layer PCB stack-ups make an excellent choice.
It is lightweight.
The relative manufacturing cost is less than single-layer PCBs and two-layer PCBs.
There is better flexibility.
It guarantees better performance.
It delivers high-speed signals due to the many layers of conductive material.
There is increased power density.
10-Layer PCB disadvantages
On the other hand, 10-layer printed circuit boards are not perfect. Therefore, you should know the drawbacks before choosing to purchase one.
The cost is high.
It is not widely available.
There is a higher chance of manufacturing defects.
It requires specialized industrial control and handling.
Design time is longer.
Professionals with expertise in this design are required to build it.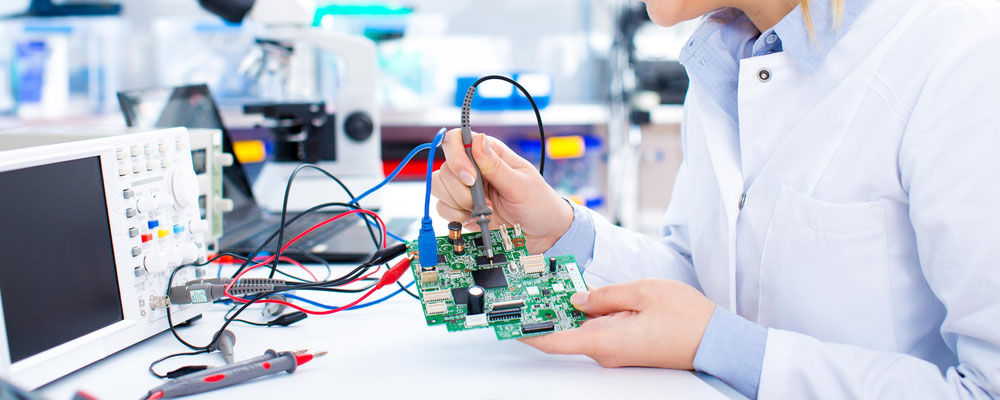 (A female engineer working on a PCB)
6. 10 Layer PCB materials
These materials contribute to the unique properties of a 10-layer printed circuit board. Some 10-layer PCB materials involved in the manufacturing process include:
FR-40 dielectric material
Copper layers
Outer layers
Ground layers
Ground planes
Silkscreen
Solder mask
(Copper Layer of a PCB)
How to select a 10-Layer PCB Manufacturer?
Before choosing the proper multi-layer PCB manufacturer for your project, here are things to consider.
Production costs
Ensure the manufacturer has extensive capacity to handle your project. To an extent, the production cost determines the quality of their product and services.
Design techniques
Knowing a company's PCB manufacturing capabilities through its PCB design is easy. However, ensure your manufacturer offers PCB prototype service as it helps you detect design issues beforehand.
Perfect production equipment
Top PCB manufacturing capabilities involve having the perfect production equipment and personnel. So, ensure you choose a credible PCB manufacturer.
Storage Condition Used
Storage conditions help determine how long a product lasts. So, watch out for the storage conditions of the product before buying.
The time of delivery
On-time delivery of electronics is a sure way to know a credible manufacturer. In addition, they should be able to offer flexible shipping methods to meet their client's deadlines.
Minimum order quantity
In the long run, low minimum order quantities are generally safer, allowing you to test the product. While higher MOQs may suggest better PCB manufacturing capabilities in a company, it is best to test-run the product before going big.
The price
Ensure you're getting high-quality PCBs at the right price. You don't need to overspend, as companies with good PCB manufacturing capabilities provide competitive rates for their products.
Customer service
Excellent customer service is another sign of complete PCB manufacturing capabilities. A highly responsive customer service channel indicates that the company is ready to service all your build requirements.
Conclusion
In summary, 10-layer printed circuit boards are among the best for many electronic applications. Among others, they have excellent thermal dissipation and low signal loss qualities.
Finding the proper multi-layer board manufacturer is often tricky. At Ourpcb, we are experts in the PCB industry and are well equipped to meet all your PCB Manufacturing needs; contact us today.