Creating a successful robotics project requires careful planning. In addition to creating diagrams, schematics, and other structural maps, you must research which parts suit the project the best. For instance, if you plan to create a wheeled mobile robot (WMR) such as the line follower robot, you need to ensure it has the right robot wheels. The following guide will describe all the available types of robot wheels. By the end of it, you should understand which wheels are best for your project.
What Are the Available Types of Robot Wheels?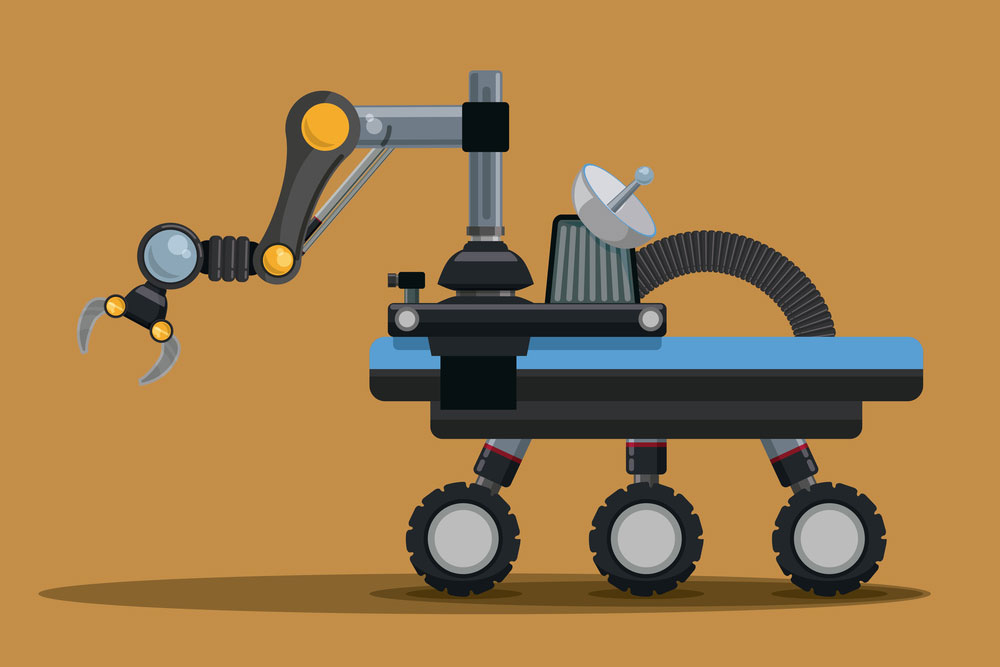 Robot digital design with wheels
Selecting the right wheel type is essential. It will determine your robot's mobility and degrees of movement. The types of robot wheels available to you are:
Standard Wheel
Standard wheels (or fixed wheels) are the most common robot wheels. They are simple bidirectional wheels that can move forwards or backward. As such, you can use them as either Drive or Idler wheels.
They come in a wide variety of sizes and mounts. Additionally, they feature a large selection of tire treads suitable for different surfaces. This feature allows you to use them indoors and outdoors. As their alternate name suggests (fixed wheels), you must affix them (typically using the center) to your robot's chassis.
Castor & Ball Wheels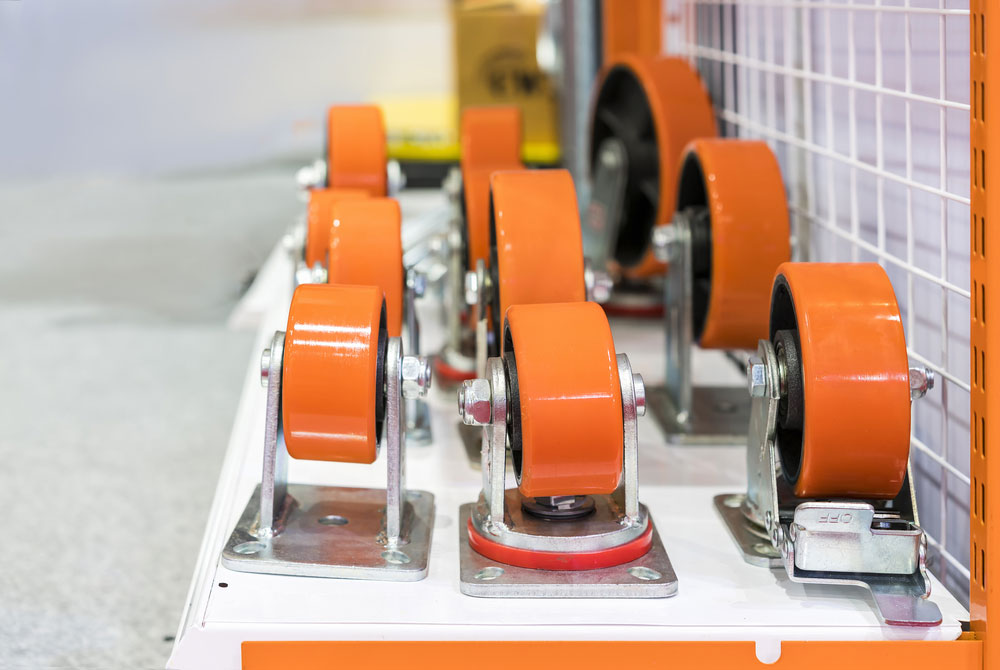 Collection of Castor wheels
Castor and ball wheels are orientable wheels. Consequently, you can use them for balance or as idler wheels. The most notable use of a castor wheel is the Bit Bot's construction. Nevertheless, these types of robot wheels are most suitable for in-door constructions. Ball wheels (or castor ball wheels) comprise a spherical ball consisting of a rigid material such as metal or nylon.
They have 360-degree mobility, which makes them ideal as orientable wheels. Unfortunately, they are not ideal for use as drive wheels as they have high traction. Additionally, they are unsuitable for rough, grainy, and uneven terrain.
Nonetheless, there are two types of traditional castor wheels:
Centered: The vertical shaft, pivot, axis, or spindle of the wheel connects and sits through the middle of the wheel.
Off-centred: The vertical shaft sits slightly off-centered. You can add additional flexibility to the design by including a swivel joint.
Mecanum Wheels
Mecanum wheels
Source: Wikipedia Commons
Mecanum wheels are multidirectional. Like the standard wheel, you can use them as either Drive or Idler wheels. Typically, they consist of several rollers that usually sit at a 45-degree angle. Furthermore, engineers require a plethora of different left and right wheels for their designs. Mecanum wheels have flexible use cases. As such, you can use them for indoor and outdoor designs.
Omni Wheels
Omni wheels have rollers that sit at a 90-degree angle, allowing them to have four dimensions of freedom. They can move forwards, backward, left, and right. This flexibility allows you to use them as either Drive or Idler wheels. However, they are only suitable for indoor use.
Other Robot Wheel Specifications to Consider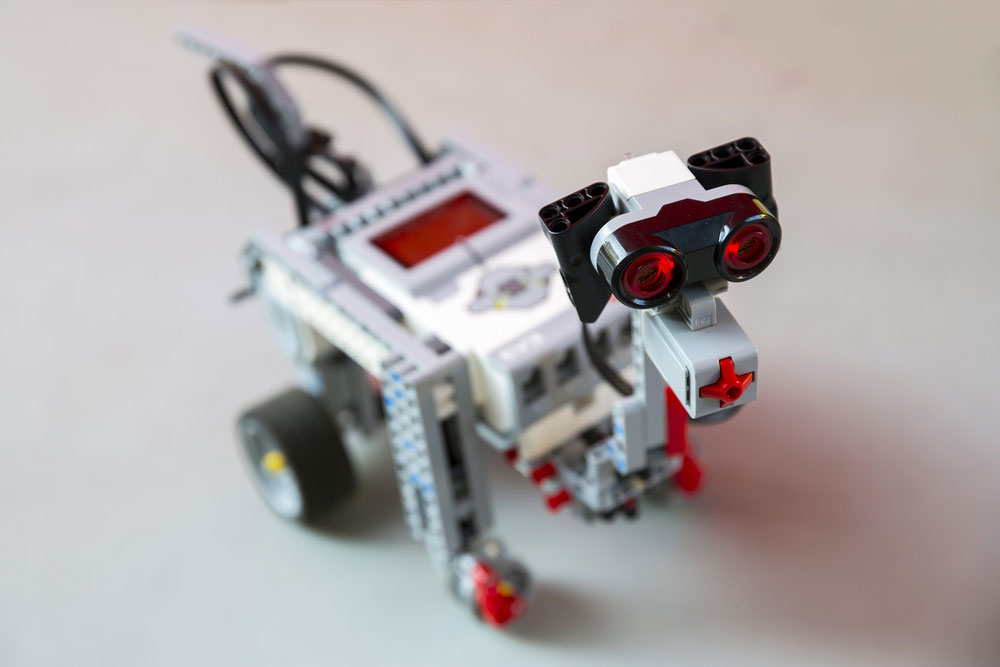 Robot dog with wheels
There are a few things hobbyists, designers, and engineers must consider when selecting robot wheels. This section of the guide will explore them.
Wheel Size (Diameter)
Wheel size is the first parameter you must consider when selecting your robot wheel. While it can affect various design elements related to your project, the two most important are speed and ground clearance. Indoor robots typically require less clearance than their outdoor counterparts.
Wheel Width
The width of your wheel will determine the amount of traction it has. Additionally, it will dictate the steering (for skid steering) and the maximum load it can handle. The wider the robot wheel, the more mass it can support because the greater the contact it will have with the ground.
Boy working on a remote-controlled car
Wheel Tread
The wheel (or tire) tread will dictate what surfaces the robot can traverse. Softer or rubberized treads offer more traction and grip. Thus, they are more suited to plain smooth surfaces. Inversely, harder, thicker, and patterned tracks are more appropriate for outdoor applications.
Mounting
One of the first things you need to consider when selecting a robot wheel for your project is mounting options. Simple axle mounts are the easiest for hobbyists. However, you may require a suspension if you build a robot for outdoor use.
Steering
Next, designers must consider the type of steering they want to include in their designs. Skid steering is best for simple designs. Robots achieve skid steering by altering the speed of the wheel. Therefore, it is essential to consider the width of your wheels when choosing this type of steering.
The greater the width of the wheel, the higher the accuracy of your skid steering. However, you may decide to use Rack and Pinion steering for your more advanced designs.
The Best Robot Wheels
RC Cars with wheels
Finding the right vendor or producer for robot wheels can be difficult. This section will cover which are the best robot wheels for each type.
Standard/Fixed Wheels: Tamiya Track Set
The Tamiya track set is ideal for hobbyists looking for a collection of standard wheels for their simple robot designs. The best thing about the Tamiya Track set is its affordability.
Castor Wheels: Colson Performa
The Colson Performa is arguably one of the best castor wheels on the market, mainly because of its quality. It consists of high-quality materials and can hold weights up to 110-kilograms.
Best Mecanum Wheels: Emozny Mecanum Kit
As the name indicates, the Emozny Mecanum Kit is a full Mecanum wheel kit. It features four omnidirectional holonomic wheels.  Their rigid hard plastic surfaces are ideal for rough terrain. In addition to the wheels, the kit features a separate motor for each wheel and a chassis. The Emozny Mecanum Kit is suitable for amateur and seasoned hobbyists alike.
Best Omni Wheels: Nexus Omni
If you are looking for a great example of an Omni robot wheel, look no further than the Nexus Omni. Its thermoplastic structure features a dual-row arrangement suitable for outdoor environments. The Nexus Omni is a versatile option. It comes with adapters to fit it to different axle sizes. In addition to this, it can handle a 2-kilogram load capacity and can work in powered and non-powered applications.
Conclusion
Once you learn how to build remote control circuits, you will need the right type of wheels to make them mobile. Robotics and electronics engineering are multifaceted disciplines that require patience and time. As such, you must take the time to research the materials and tools you will require for your projects. In this guide, we covered the various types of robot wheels and their specifications.