The market for electronics manufacturing is pretty dynamic. Hence, outsourced production services and electronics components are on the rise. PCB fabrications aren't left out.
Plus, a recent report showed that the EMS industry would rise to US$ 725 billion by 2025. And this figure is an evident 7.5% growth from 2018.
So, one thing is sure.
There's a rising demand for high tech and consumer electronics. Hence, this enables producers to leverage the current openings.
But that's not all.
Now, these producers may need to merge with solution providers. Also, they provide industry experience and expertise. So, it's due to the rising consumer needs and the ability to manage costs.
That's where EMS comes into the picture.
So, we've created this post to share a complete guide about EMS.
Let's jump right in!
What Is Electronics Manufacturing?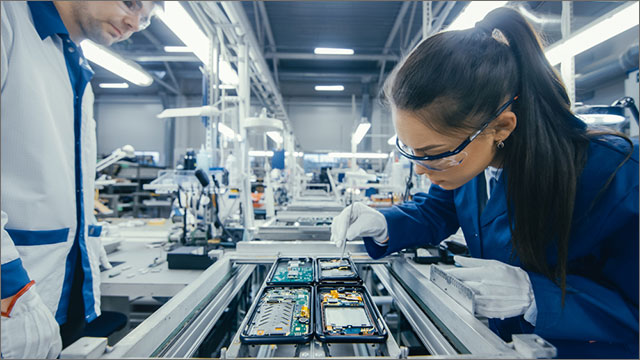 Electronics manufacturing comes from electronics production service. So, electronics production is a kind of subcontracting unit. Plus, it provides a broad collection of center assembling dimensions.
In other words, EMS specialists are majorly fabricators. So, these producers sign big contracts with big firms. Hence, it's to build electronic items for the firm's interest.
Therefore, EMS companies usually carry out the following functions:
They carry out aftermarket help. Normally they do it by building, designing, delivering, and testing electronics. Also, the EMS firms are always up to the task.
But there's more.
They give experts a steady hand. Hence, they guide you through your production process. That way, you can get an edge against your competitors in your industry.
So, we usually see a ton of EMS suppliers assuming big jobs. Plus, they are in the gadget esteem industry. That's why EMS firms distribute into tiers via their income. So, they have Tier 1, 2, 3, and 4.
But that's not all.
Electronics production services have various segments. So, these segments are as follows:
They are a major component and regional. Besides, there's vehicle type and the lines of its technology.
Also, EMS product segmentation comprises two major units. And they are electronic devices and electronic components. Asides from the two, there are other units.
The Driving Factors of the EMS Market
First off, there is advanced expertise. Plus, there's a focus on the principal competencies. Second, there is a rising demand for consumer electronics. Third, there's a wide distribution of mobile devices. Finally, there is a growing demand for automotive electronics.
The Key Restraining Factors Affecting the EMS Market
We'll discuss a few crucial restraining factors that affect the EMS industry.
Firstly, there's intense competition among industry key players.
Secondly, the factor is the environment and strict government policies.
Lastly, we have abuse of intellectual property rights.
What Are the Essential Opportunities of the EMS Industry?
There are two key opportunities in the EMS industry. First is State-of-the-art tech growths. Second is the Growing demand for consumer electronics. Plus, it's mainly for developing and developed countries.
What Are the Expected Services from an Electronics Production Firm?
EMS services vary for different service providers. Hence, any EMS firm may offer any of the following services:
Assembling of PCB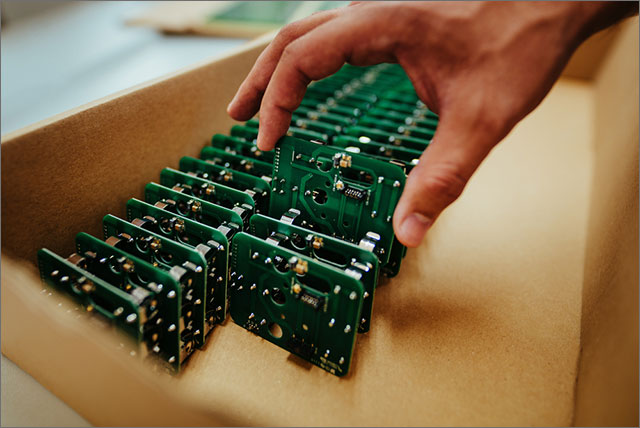 PCB assembly refers to using through-hole or mount tech. So, they use these methods to solder components on board. And these components are resistors, integrated circuits, and transistors. Also, you can route signals and power amidst physical parts. And all this happens on a complete PCB.
So, it takes longer to solder through-hole PCBs. And it's because it involves more human contact. In contrast, the surface-mount system is more advanced. Plus, it's what most new products use.
But there's more.
Usually, circuit board components are tiny. Thus, it's hard to know if you're getting it wrong until you test it.
That's where electronics production comes in. With it, you tend to get services on full-functional in-house testing.
Cable Assembly
There's more to cable assembling when it comes to services. Plus, there are other products linked to the services. So, some of the services are control panels or boxes. They also have panel wiring and assembly.
Other services are harsh-environment cable assemblies, harnesses, and mechanical subassemblies.
Furthermore, an experienced provider will do three things. And they are testing, producing, and engineering the products.
With cable assemblies, engineers design electronic devices with hand soldering. But before doing this, the engineer must get certified.
Also, engineers need to learn injection over molding expertise. So, it happens when an engineer creates a single part with multiple materials. Typically, the substrate/first material gets partially covered by over molds/subsequent materials during fabrication.
In short, most consumers tend to check if their vendor provides custom over-molding expertise. So, it's a skill worth getting. That's if you want to get more patronage from consumers.
Electromechanical Assembly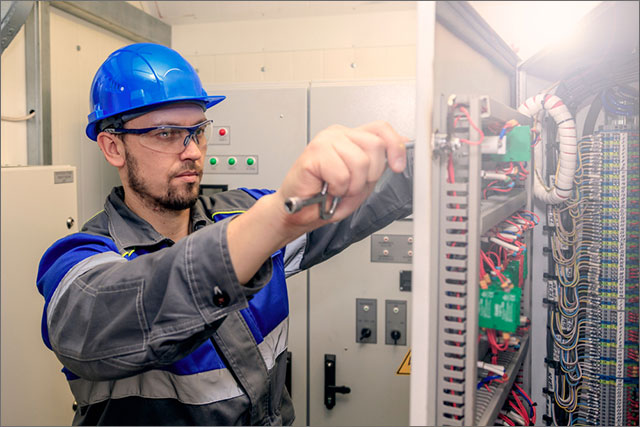 This service represents devices as box builds. Also, it has various enclosures.  But it all depends on the producer. Plus, they are aluminum, plastic, and steel.
But that's not all.
Robust electronics fabricators have a more dedicated final assembly team. Plus, this team handles the electromechanical assembly.
Besides, there are some of the services a vendor can offer. They are 3-D modeling, encapsulation, and functional testing. Also, it includes other services like custom shipment packaging. Plus, configuration management and potting are ideal. Furthermore, you can include heat shrink use.
Contract Design
Every so often, you require an expert. And most likely that the expert isn't in your company. It's fine. In such cases, you can outsource your design to expert engineers. Or you can even contract industry-specific production teams.
So, these experts should be able to generate DFX analysis. The analysis is cost-effective. Plus, they must embrace designing.
The experts should also be able to produce validation tests. Also, software & firmware should be part of the list. Plus, environmental tests are ideal for compliance.
While carrying out the following services, the experts must know. They should also provide documentation. Plus, they must offer it at every stage and approval meetings.
But that's not all.
EMS services should involve the material manager, engineers, etc. Also, it should include people that help to refine the contracted design.
Hence, these experts often run their contracted design. Plus, they do it via costing exercises. Circuit simulation & prototyping are also ideal. Also, it includes quality review and testing. Then, there are technical feasibility studies. Afterward, we have 3-D CAD & physical modeling.
Testing
Testing your circuit boards is essential. It's something you should do before assembly. While you're at it, you need a fully functional and assembled board. Anything short of this can affect your supply chain negatively.
Prototyping
It's painful to mess up an electronic component rollout. Hence, it would help if you took PCB prototyping seriously.
In short, PCB prototyping services often take up any form. So, we have services like working prototypes. Also, there is proof of concept. Besides, there are other forms like a functional prototype.  Visual modeling is also part of it.
Aftermarket Services
You'd be giving cutting costs with EMS. But it happens if you offer services like upgrading and repairing. Also, you can include refurbishing and calibration.
But that's not all.
The services can include working on other products. And these products should be by different firms. Hence, it can work for legacy products that need sustaining engineering.
Besides, EMS offers other aftermarket services. But that's not all. EMS also features inspections and troubleshooting.  Asides from that, cleaning and painting are other services handled by EMS.
Electronic Manufacturing (EMS) Applications
Telecom
Telecom and data processing are quite complex. Hence, it would help if you had a lot of support for different telecom devices. Plus, it would help if you considered the network setup behind the technology.
Aerospace and Defence
It would help if you had safety key solutions. Plus, it should be for high reliability and peak performance. And this applies, especially in harsh environments. Thus, there will be a high focus on aircrafts electrification.
Industrial
Industrial applications use various technologies in diverse industries. So, it covers a complete product lifecycle. Therefore, it goes from scope, specification, etc. Also, there is a prototyping, testing, and final assembling. In short, these services are crucial to introduce a new product.
Medical
Usually, Medical OEMs look to EMS providers. And it's because they provide the best processes. Plus, they look up to them for the highest quality standards.
But that's not all.
They also look out for industry experience and expertise. Plus, they check the guide to new product launches. Also, they ensure every development is seamless.
OEM vs. EMS
Here, we've created a table that shows the differences between OEM and EMS.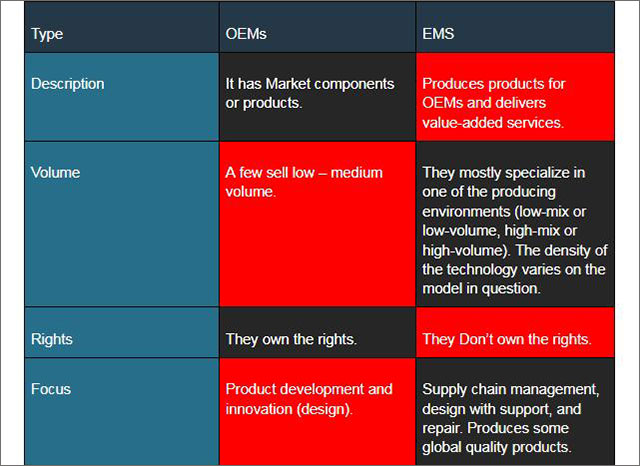 List of Electronic Manufacturing Companies
Here's a list of the top 10 electronic manufacturing companies in the world.
Universal Scientific Industrial Co. — Shanghai, China
Hon Hai Precision Industry (Foxconn) — Taiwan
New Kinpo Group — Taiwan
Integrated Micro-Electronics – Laguna, Philippines
Zollner Elektronik Group — Zandt, Germany
Asteelflash — Neuilly Plaisance, France
Celestica — Toronto, Canada
Ultra Electronics – Greenford, UK
Wong's International Holdings, Hong Kong, China
Sanmina – San Jose, CA
Electronics Manufacturing Jobs
There are several jobs in the electronics manufacturing market. So, there is a production process engineer. Plus, there is an electrical assembler and many others.
What Are the Challenges and Future of Electronic Contract Manufacturing Services?
The electronics contract production service is pretty sensitive. Hence, there are a handful of challenges facing it. However, you must know that this market has a future.
That's why we'd be talking extensively about its challenges. Also, we shall be talking about its future in the industry.
The Challenges of Electronic Contract Manufacturing Services
You must know one thing. These issues aren't new to the industry. Instead, they continue to grow over time.
Also, two factors enable the barrier to break. The first is integrating advanced technology. The second factor is the electronics value chain.
So, the first challenge is the cost of labor that keeps increasing. Second, there's a lot of competition globally. Third, the impact of the disposal of E-waste products on the environment.
Fourth is compliance and traceability issues. The fifth is a vital need for automation.
Sixth, infrastructure investment and managing support systems are complex. And it's primarily for highly regulated industries. Examples of such are aerospace, defense, and medical.
Lastly, there's a desperate need for one factor. And it's the more sophisticated product lifecycle. Plus, it has a management system. If it's missing, most producers will make the wrong choices. And these choices could affect a new device's production.
Future of Electronic Contract Manufacturing Services
No doubt, EMS poses to be a great booster of technology. Hence, it resonates with the advancement in the future. In short, NAM gained something in the past years.
Also, the body has gotten incredible growth in the last few decades. By doing so, it has helped producers. Now, we see more competition worldwide.
Also, the electronics segment designs are for two groups. The first is for production firms. The second is the consumer industry. Plus, the semiconductor sector has risen. So, today it's worth over $400 billion worldwide. And it has gained this figure since 2017.
But that's not all.
This fast-growing EMS industry leads to ample opportunities. So, here are a few:
The Future Points
Firstly, it will continually cause engineers to seek one thing. And it's the innovative automation solutions.
And these novel solutions are affecting the robotic market positively. Also, they make the industry simple to access and affordable.
Secondly, the growth of the EMS industry supports eco-friendly solutions. Hence, the continuous development of the sector means "Greener technology."
Thirdly, EMS services result in new tech developments. These developments require less energy.
Pannam Imaging said one thing. They said the decrease in energy consumption cuts costs. In other words, with EMS, the industry will gain many users. They will also see big firms opt for certain devices. And these devices will be energy-efficient.
But that's not all.
There will also be a lot of pressure on producers. So, this pressure will make them adopt Eco reforms. As a result, one thing will lead to another. And it will become hard for producers to produce expensive electronics. And this will be because of the lower energy demands.
Fourthly, there will be a sudden surge in consumer electronics. So, we'll see this in developing and developed nations.
Plus, the demand for smart devices will be on the increase.
Closing Words
We can't overstate the effect of electronics manufacturing. We can see its impact on engineering.
No doubt, it will bring a lot of tech advances. Also, we'll see excellent progress in the industry. Hence, now is the right time to exploit the industry as much as you can.
That's why we created this post to give you a wider view of the topic. And we're confident that you'll be at the forefront. But that's if you make excellent use of this information.
PS:
So, we want to hear from you. Do you have any thoughts to share concerning the EMS topic? Feel free to contact us. We'll be glad to furnish you with answers.