BMP280 is absolute pressure and altitude measuring chip. It is a small SMD that fits well with mobile devices and microcontrollers. In addition, digital barometers use the Bocsh 280 chip in weather forecasting.
In this article, we'll look at the BMP280 in more detail.
What is BMP280?
BMP280 is a next-generation precision sensor and an upgrade to the BMP180/BMP085. The sensor accurately measures barometric pressure and temperature. Furthermore, it serves as an altimeter with a±1 meter accuracy.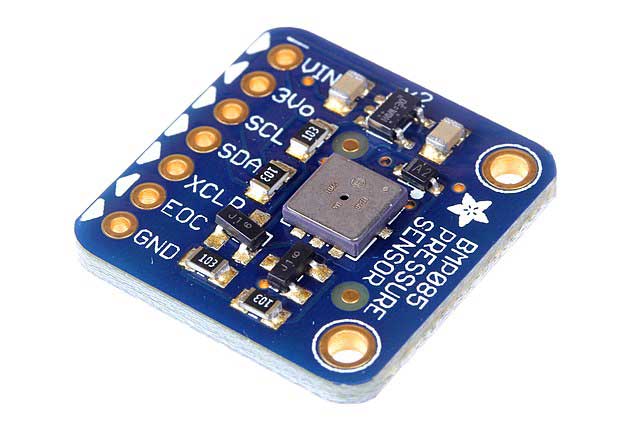 Adafruit BMP085 pressure sensor module
Source: Wikimedia Commons
The module has a small device outline measuring 2.0mm x 2.5mm. As a result, it is compatible with mobile applications. Besides, it has a low power consumption, suitable for battery-powered devices such as GPS modules.
The Bosch Sensortec sensor uses piezo-resistive pressure sensor technology. It accounts for linearity and high accuracy values.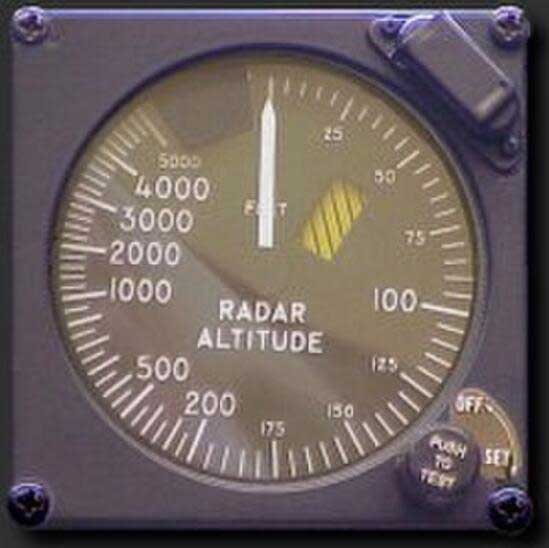 Altimeter
Source: Wikimedia Commons
BMP280 Technical Data
The BPM280 module has a pressure range of 300hPa to 1100hPa. Similarly, it has a temperature operating range of -40 to 85 °C with a ±1 absolute accuracy.
It requires a power supply voltage of 3V/3.3V DC. Its peak current is 1.12mA. The current consumption of sensor BMP280 is 2.7µA @ 1 Hz sampling rate.
Further, the BPM280 is compatible with two digital interfaces — The I²C (up to 3.4 MHz) and SPI (3 and 4 wire, up to 10 MHz). Also, it has a mixed-signal ASIC. It performs fast A/D conversions, which provide a quick conversion time.
In addition, the BMP280 has a built-in IIR filter. It reduces short-term disturbances in the output data. It accounts for real-time values.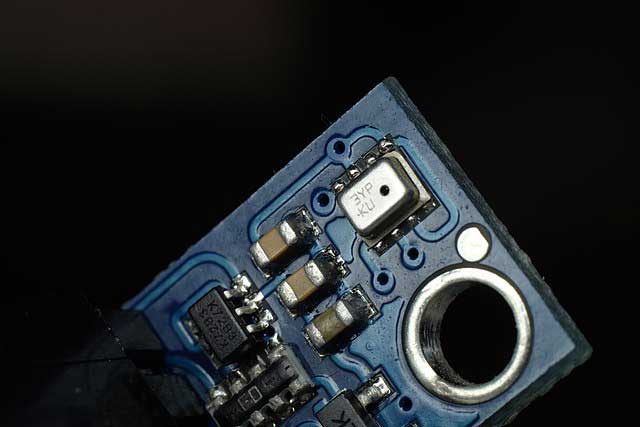 BMP280 Temperature/Air pressure sensor
Source: Wikimedia Commons
BMP 280 Interfacing with Arduino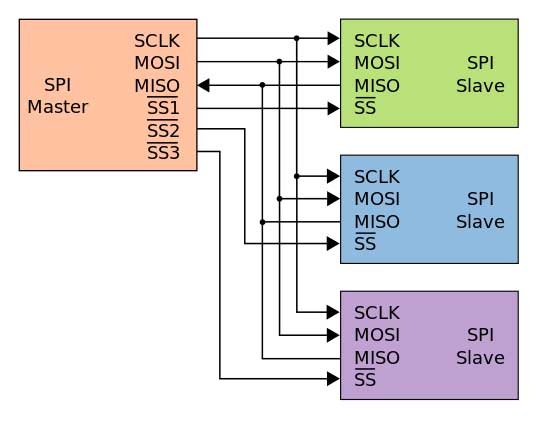 SPI three enslaved people
Source: Wikimedia Commons
For the hardware, connect the Grove-Barometer Sensor-BME280 to port I2C of Grove-Base Shield. Plug in the Grove–Base Shield into Seeeduino, which connects to a PC via a compatible cable.
The software requirement entails downloading the Adafrut BMP280 library from Github. Follow the installation procedure for Arduino and install the library. You can then create a new Arduino sketch and paste the codes below.
Arduino Board
Source: Wikimedia Commons
What is the Difference Between BMP180 and BMP 280?
Notably, the BMP280 is the successor to the former BMP180. With it comes a greater pressure resolution of 0.16 Pa. In addition, the BMP180 has a lower pressure resolution of 1Pa.
Temperature resolution also varies between the two. The BMP280 has a 0.01°C resolution. It also has a scale running from -40 to 85ºC. However, BMP180 has a 0.1°C resolution with a temperature scale of 0 to 65ºC.
Consequently, the new Bosch BMP280 chip has a lower power consumption of 2.7µA. In contrast, the BMP180 has a 12µA power consumption rate.
Likewise, their sizes vary. The BMP280 has a footprint that is smaller (2.0*2.5mm), which compares to the BMP180 footprint of (3.6*3.8mm).
Another key point is that BMP280 is compatible with two digital interfaces, I2C and SPI. BMP180 uses the I2C Module only.
The BMP280 has more measuring modes. Equally, it has the new IIR filters built-in. The two make atmospheric pressure values more accurate. The BMP180 lacks the new IIR filters.
Conclusion
In conclusion, the BMP280 is a superior model sensor. Please contact us on our page if you have any questions.