Are you a PCB engineer interested in learning about Rogers PCB? Or you're a newbie that came across it and wants to learn more?
So, if you face any of these situations, you're in the right place.
Also, if you're interested in PCBs with high thermal performance, this post is for you.
Do you already know Rogers PCB? But you're finding it hard to make the right choice? You don't have to worry. We've got you covered.
This article aims solely to create in-depth and comprehensive knowledge about the topic. So, if you're ready to learn about Rogers PCB, let's kick-off!
1. What Is Rogers PCB?
Rogers PCB refers to any PCB produced by the Rogers Corporation. Hence, the Rogers Corporation ensures that the PCB comes from high-frequency PCB material.
But that's not all.
In case you don't know, Rogers Corp is one of the world's best tech firms. So, they are leaders in ground-breaking tech solutions. But most importantly, they produce quality high-frequency PCBs.
Also, Rogers Corp is the industry's best for advanced PCB components. Hence, they produce materials aimed at connecting our world, protecting, and helping power.
After all, the company has been in existence for over 185 years. And at this time, they have focused on delivering critical solutions that meet their customers' demands.
Also, the company has its headquarters in Chandler, Arizona, USA.
But there's more.
Rogers Corp produces their products in different countries. So, asides from the US, they are present in China, Korea, Japan, Hungary, Belgium, and Germany.
What Makes Rogers PCB Stand Out?
Source: Rogerscorp
So, here's the kicker.
Three things make Rogers Corp unique. And they are as follows:
First, they commit to market-focused innovation. Second, the company leads in mission-critical situations. And lastly, they have a passion for offering fantastic value to their customers' success.
Plus, the firm offers a lot of products that help to solve issues in different sectors.
So, it's not a surprise that Rogers PCB comes with high-quality features. These features are temperature constancy and exceptional dielectric constant.
But there's more.
Rogers PCB's factor of thermal expansion of dielectric constant is quite unswerving with copper foil. Hence, you can use Roger PCB to boost the deficiency of the PTFE substrate.
Also, it's super suitable for high-frequency and high-speed circuits. Plus, it comes in handy for the application of RF and microwave devices.
Furthermore, Roger PCBs have low water absorption. So, they are ideal for applications with high humidity.
2. What Are the Different Types of Rogers PCB?
Rogers PCB has various types with different resistance for harsh conditions. Plus, the Rogers PCB has two main categories. They are Thermostat and PTFE-based materials. So, we're going to list the three major types.
2.1   Laminates
Woven Glass Reinforced Modified Epoxy IMS
PTFE Ceramic
Ceramic/Woven Glass UL 94 V-0 laminates/Hydrocarbon
Cross-Plied Woven Glass-Reinforced PTFE
PTFE Random Glass Fiber
Woven Glass/Ceramic/Hydrocarbon
Woven Glass Reinforced Modified Epoxy Laminates
Filled PTFE Composite
Woven Glass Reinforced PTFE Antenna Grade Laminates
2.2   Bonding Materials
Woven Glass / Prepreg / Hydrocarbon / Ceramic
Thermoset Thermally & Electrically Conductive Adhesive (TECA) Film
Ceramic PTFE Bondply
2.3   Metal Claddings
Electrodeposited Reverse Treated
Resistive Foil
Electrodeposited
Rolled
3. Rogers PCB Materials
3.1   RO3000
The Rogers RO300 series are high-frequency circuit materials and ceramic-filled PTFE composites. Hence, they come in handy for RF and commercial microwave applications.
Also, the series of high-level laminates deliver stability. And the steadiness is both in electrical and mechanical characteristics.
But that's not all.
Regardless of its dielectric constant, the RO3000 series has consistent mechanical features. Hence, it enables engineers to produce multi-layer board designs. And these board designs use various dielectric stable materials for single layers. Also, they can't encounter reliability or war-page problems.
Furthermore, the dielectric constant of the RO3000 series is steady over high temperature.
The Benefits of RO3000 Series
They are available in a DK range of (from 3.0 to 10.2).
They have the lowest loss of commercial laminates.
3.2   RO4000
The Rogers RO4000 series are industry leaders for prepregs and hydrocarbon ceramic laminates. Thus, they are ideal for millimeter-wave and microwave frequencies. Plus, their materials are low-loss in nature.
But that's not all.
They are also ideal for circuit fabrication. Plus, this series also comes in handy in streamlined features over old PTFE materials.
The Benefits of RO4000 Series
It has an above-average thermal conductivity (0.6 – 0.8).
The RO4000 series has low Z-Axis CTE, which is ideal for through-hole technology.
It has an outstanding RF/Microwave performance.
Optimized cost.
The series has a wide range of Dk (2.55 – 6.15).
It's compatible with FR-4 production processes.
4. What Are the Applications of Rogers PCB?
Since Rogers PCBs are performance-driven, you'll find them in so many industries. Examples of the sectors are telecommunication, military, automotive, defense, etc. With that said, you'll find the application of Rogers PCB in the following:
4.1   Power Amplifiers
4.2 RFID (RF Identification) tags
4.3 Direct Broadcast Satellites
4.4 Cellular Base Station Antennas
4.5 Automotive Radar and Sensors
4.6 ADAS (Advanced Driver Assistance Systems)
4.7 DAS/ Small Cells
4.8 Communication Systems
4.9 Licensed Assisted Access/ Carrier-Grade Wi-Fi
4.10 IP Infrastructure
4.11 ATE (Automated Test Equipment)
4.12 Backhaul Radios
4.13 Microwave Equipment
4.14 5G Station
5. Reasons Why You Should Use Rogers PCB?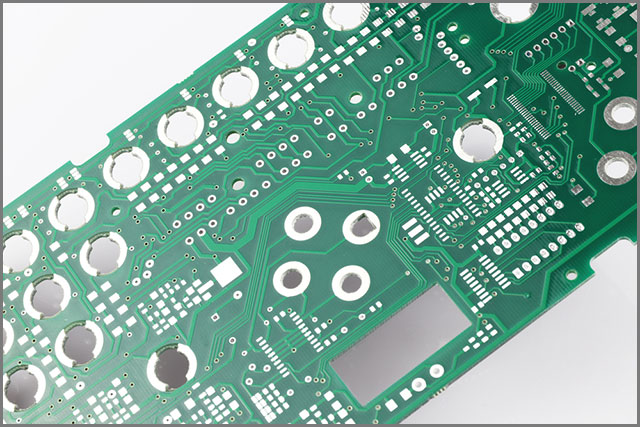 5.1   Compatible
Rogers's PCBs are quite compatible with other substrates. And it's because you can fabricate it as thin as 0.1mm. Consequently, you can use this PCB alongside other substrates like FR-4.
5.2 Enhances Impedance Control
The Rogers PCBs improve impedance control. In other words, this PCB can match the trace dimensions and locations with the substrate material properties.
And it does this to maintain the impedance of a trace signal within a particular value (usually expressed in percentage). That way, the Rogers PCBs offer a regular high-frequency performance.
5.3 It Has Good Thermal Management
Most circuitry and electronic devices produce a lot of heat. So, it's best to use Rogers PCB since it has good thermal management. That is, it balances the amount of heat input and output. As a result, it averts premature failure and boosts reliability.
5.4 The PCB Has Low Moisture Absorption
When a PCB has low moisture absorption, it means one thing. The PCB has dimensional stability. So, despite varying environmental conditions, it will maintain its size. And it also means that the Rogers PCB has a low thermal expansion.
5.5 Roger PCB Has Low Outgassing for Space Applications
Outgassing is an essential factor in the spacecraft industry. And it happens when a particular material has a vacuum of space.
So, outgassing is a big problem that spacecraft engineers face. And it's because it subjects their creations to excess temperature fluctuation. But, with Roger PCBs, engineers experience low outgassing.
6. What Are the Differences Between Rogers PCB and Other Materials
No doubt, Rogers PCBs play a massive role in high-frequency applications. But, we'll compare it with other materials. That way, it will be simple to make the right choice based on your project.
Rogers Vs. Fr4 / Rogers PCB Stackup Vs. Fr4 PCB
The significant differences between Rogers and FR4 are:
Rogers is more expensive than the FR4 PCB.
When it comes to dielectric constant, Rogers has a higher value compared to FR4. That is, Rogers has between 2.5 to 11. In comparison, the FR4 PCB has about 4.5. Also, it means that Rogers PCB stores more electric charge than the FR4.
In terms of impedance stability, Rogers PCB wins. And it's because the FR4 PCB has a lower range of Dk (Dielectric constant) values than Rogers PCB.
FR4 has a higher variation than the Rogers PCB in terms of temperature management.
The Rogers PCB has a lower dissipation factor compared to FR4. In other words, Rogers PCB suffers less signal loss compared to FR4.
Rogers Vs. Ceramic PCB
Ceramic PCB has a heat-conducting ceramic powder. But, Rogers PCB has no ceramic powder.
The ceramic PCB has a ceramic base. In contrast, Rogers PCB has a copper foil base.
Ceramic PCB is less expensive when compared to Rogers PCB.
Rogers Vs. RF PCB (Rf Circuit)
The RF PCB is usually more complex than Rogers's PCB.
RF PCB frequency operates around 100MHz – 2GHz. In contrast, Rogers PCB has +6GHz frequency.
Rogers Vs. Teflon PCB
Both Teflon PCB and Roger PCB have high frequencies. But, Teflon PCBs have a frequency of +5GHz. In comparison, Rogers PCB has a high frequency of +6GHz.
Teflon PCB is ideal for low-cost applications. But, the Roger PCB is best for high-cost applications.
Final Words
When it comes to Roger PCB, one thing is sure. You can rely on its high performance. Plus, it has low moisture absorption. So, it can thrive in unstable environments and challenging conditions.
Also, the Roger PCB is ideal if you're in industries like mobile networking, space technology, etc. But, it's vital to weigh your options when it comes to PCBs. That way, you can quickly determine which is best for your project.
Do you have questions about the Roger PCB? Or you need some help with picking the right PCB for your project? Please feel free to contact us.