If you are into the printed circuit board (PCB) industry, you probably understand why PCBs have copper finishes on their surface. When it is left uncovered, it oxidizes and deteriorates, rendering the PCB useless. While there are many types of surface finish forms, you need to understand how they impact the interface between the component and the PCB.
Surface finishing plays two significant roles: to protect the copper circuitry and allow for soldering when combining the PCB components. For you to understand how surface finishing for PCBs works, this article compares the differences between ENIG plating and HASL finish in terms of solderability, shelf-life, operation steps to cost.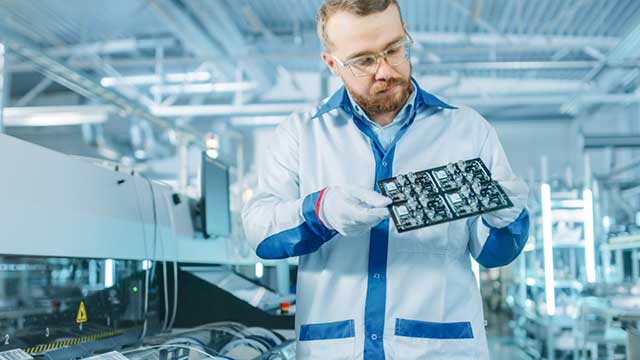 (A technician inspecting a HASL finished board)
1. The Advantages of HASL
If you have been in the industry long enough, you may have noticed that most PCBs have a Hot Air Solder Leveling (HASL) finish. Here are some of the reasons why it is predominant:
1.Budget-Friendly:
The HASL process exposes the PCB to temperatures up to 265 degrees. It allows you to detect any potential surface cover issues before assembling any other component to the board. In the end, it will save your repair costs and defective PCBs.
2.Durable:
HASL finish involves a series of compressed hot-air knives to get rid of excess solder and streamlines the surface finish before the solder cools or solidifies. The result is a durable coating that prevents the copper from deteriorating through corrosion. The hot air solder leveling explains why it is one of the best finish options with excellent shelf-life.
3. Easy-to-work with:
HASL surface finish is uncomplicated to run, allowing you to conduct a visual inspection. Also, assembling and soldering components is easy because it presents a perfecting wetting throughout the process.
4. Easily accessible:
HASL finish comes in many variants, giving you a wide range of options worth choosing.
(a great factor to consider with HASL ENIG plating finished PCBs is the ease in workability)
2.The Advantages of ENIG
Electroless Nickel Immersion Gold (ENIG) consists of two layers of metallic coating:
The gold which protects the nickel when it comes to storing it.
Here are some of the reasons why ENIG is the best surface finish for PCBs:
1.Flat surface- since the ENIG PCB finish process is compliant with most industry trends, including lead-free requirements and the surge in complex surface components that need flat surfaces.
2.ENIG's ability to withstand tight tolerance makes it suitable for Plated through Holes (PTH).
3. Durable: Thanks to the hot air solder leveling technology, ENIG offers an excellent storage life.
4.Lead-free: ENIG's coating doesn't contain lead and other toxic chemicals, making it suitable for users working in a poorly-controlled environment.
5. Excellent electrical ability, making it perfect for solderability and other electrical functions
(With ENIG PCBs, rest assured of durable PCBs with a good shelf life)
HASL Vs. ENIG
When analyzing HASL vs. ENIG, factors such as cost, operation steps, shelf-life, surface finish, and exposure to lead and missions must count. Here are the significant differences between the two:
3.Cost Difference Between HASL and ENIG
HASL may have been a popular surface finish choice for most applications, thanks to its low cost and robust structure. As a predominant surface finish, HASL is readily available in a wide range of variants. Its process also exposes the PCB to temperatures up to 265 degrees, making it easier to detect any assembling issues before you attach any components with the board. It may appeal to users who are looking to cut down costs.
ENIG, on the other hand, seems a bit pricier than HASL because it undergoes the gold immersion processes and comes with more layer boards. Unlike HASL, ENIG PCB has perfect corrosion resistance. With this, it becomes perfect for wire bonding aluminum, fine-pitch technology, and advanced solder-ability. If you are looking to get value for your money, go for ENIG since it offers an excellent shelf-life.
(It costs relatively cheaper produce a HASL finish PCB as compared to an ENIG PCB)
4.HASL and ENIG Have Different Operation Steps
During the HASL process, you insert copper into a container filled with molten solder. A series of compressed hot-air knives eliminates any excess solder and streamlines the surface finish before the solder condenses and solidifies. The result is a reliable and durable coating that prevents corrosion in copper, making it suitable for users who want to go through a less-complicated assembly process.
On the other hand, the ENIG process is an immersion gold plating process that can only be conducted by PCB manufacturers. The result is a flatter surface that allows large ball-grid array packages to hold on properly. Because ENIG doesn't need an air knife process, its boards have improved thermal durability. ENIG plating may be too complicated for users who lack a deep understanding of how the manufacturing process works.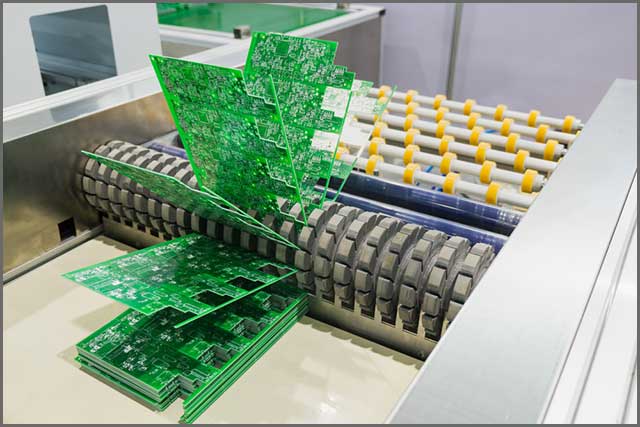 (An operation plant that conducts HASL finish to PCB)
5.HASL and ENIG Service Life
HASL may be popular among users looking to cut on costs. However, technology has forced manufacturers to realize that it isn't a durable as it should be. The cumbersome process it goes through when soldering other PCB components makes it unsuitable for applications requiring minimal shock or bending.
But with ENIG, it has a robust and durable layer metal coating with nickel. You use a layer of gold to protect the nickel for more accessible storage. Though it is more expensive than HASL, it has an excellent electric performance, a trait that allows it to have a longer shelf life than other coating options.
(An ENIG finish PCB has a more extended service and shelf life compared to HASL finish)
6. Differences in Surface Treatment Between HASL and ENIG
To be successful for the HASL process, all the solder coating layers must be smooth, uniform, and bright with minimal defects. It means that the HASL's coating features poor smoothness and only relies on extremely high temperatures that may interfere with your PCB performance. Unfortunately, HASL features an uneven finish during its production. In return, it limits the usability of PCBs that have excellent pitch components in their structure.
With ENIG, the surface finish is always smooth thanks to its double-layer metallic coating with nickel. It also sums up a protective barrier to the copper circuits and the surfaces on which you solder the components. The layer of gold always protects the nickel during storage.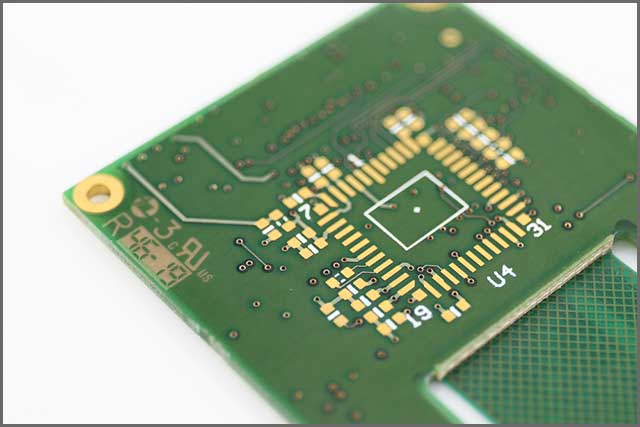 (With ENIG PCBs, you enjoy a smooth and bright finish as compared to HASL finish)
7.Selection of Thin and Thick Plates
HASL has board thickness up to 200 mils. Because the process is dependent on the board technology, plates may be slower during electric conductions. Also, it is challenging to maintain hole-size tolerance along the plated edges.
ENIG's plate has a typical thickness of 5-15 in minimum gold, making it easy to solder. It, therefore, makes it a good connecter for electricity. Also, it has excellent wear resistance for surface rotary switches during on-off contacts and edge connectors.
(A conveyer belt with HASL finished PCBs)
8.The Difference Between Unleaded and Leaded
HASL exists in several variants that fall into two major categories: lead and lead-free. Unfortunately, most of them have lead and other toxic chemicals. These chemicals may pose potential health and safety concerns for designers working in an environment without proper protection and air supply.
ENIG also exists in different variants, which may suit both high and low-quality electricians. Sometimes, low-quality ENIG products may have a little amount of nickel or gold plating, which may lead to unexpected corrosion or "black pad." But with high-quality ENIG plate boards, enough nickel and gold are used to coat the surface as a way of combating harmful effects caused by lead and emission.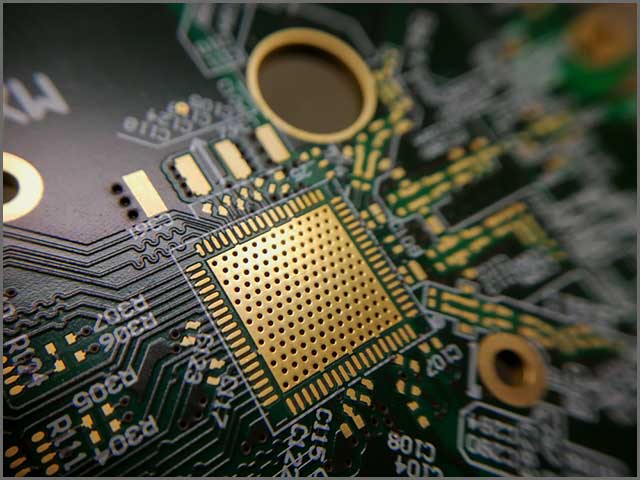 (ENIG finish PCBs have no point, making its use more human friendly)
9.Differences in Bonding Strength Between HASL and ENIG Plating
HASL works best with hand soldering because the joints form quickly by themselves. If the soldering alloy is closer to HASL alloy, the adhesion needs to be strong because the materials will interact at a molecular level. Its bonding strength makes it highly reliable for smooth finish applications.
ENIG plating boards underdo even coating using nickel and gold to achieve a proper bond. The new nickel coating solution developed has properties that allow it to control the solution's stability and decrease the brittleness of the nickel layer to allow more flexibility. The new type of immersion PCB immersion gold solution's PH value is neutral, leading to low cost and corrosion.
(With ENIG PCBs, we have a more muscular bonding strength as compared to HASL finish)
10.Solderability and Corrosion Resistance
HASL finish provides the PCB with the highest level of solderability. Thanks to its robustness for multi-step assembly, the user can solder and assemble PCB with ease. Unfortunately, the HASL process requires submerging of the entire PCB in liquid solder. It may cause an extra thermal load on the PCB.
For ENIG, you create the solder joint between the solder and the Nickel layer of the surface. It would help if you were keen not to surpass it to the underlying copper. It would help if you dissolved the gold into the solder joint completely. The new immersion gold solution has an excellent oxidation resistance that protects the copper from corrosion.
(With HASL finish, you get a high level of solderability with your PCB)
Summary
When looking for a high-quality PCB surface finish, comparing the differences between HASL and ENIG is crucial. If you are looking for a low-cost finish that is less complicated to work with, HASL seems like the best option for you. However, for some applications, including keypads, wire bonding, and lead-free coating that offer a PTH solution, ENIG fits the package.
If you are looking to buy surface coating from HASL or ENIG, OURPCB got you covered. We don't supply products for the sake of making profits. But we want you to get value for our money. Through our customized solutions, we can provide a wide range of technologies to meet your requirements. Contact us today for all PCB surface treatment requirements.