Like water in the ocean, the atmosphere exerts pressure on every object on land or water. This pressure varies depending on several factors, such as altitude and temperature. There are several devices for measuring air pressure, but the absolute pressure sensor is among the best. We will look at this device in detail below, including how it works and incorporate it into a circuit in your PCB. Let's get right into it!  
What Is an Absolute Pressure Sensor?
  An absolute pressure sensor is a device used to measure vacuum/altimeter pressure with zero as its reference point (vacuum reference). It gives a reading equal to the gauge pressure plus atmospheric pressure.  
An absolute pressure sensor diagram
  In contrast, gauge pressure sensors use ambient pressure as their zero reference point. So their reading is equal to the absolute pressure minus atmospheric pressure. This design is ideal for measuring things like blood and tire pressure.  
How Absolute Pressure Sensors Work
  A sealed vacuum chamber is necessary to get a zero reference point. Once set up, you can use different sensor technologies to measure absolute pressure.
Available Sensor Technologies
Piezoelectric
  Piezoelectric pressure sensors take advantage of the fact that materials like quartz generate a varying voltage depending on the applied pressure. This mechanism gives them a wide range and high thermal resistance. But they are less accurate than piezoresistive sensors, and their output signal is weak.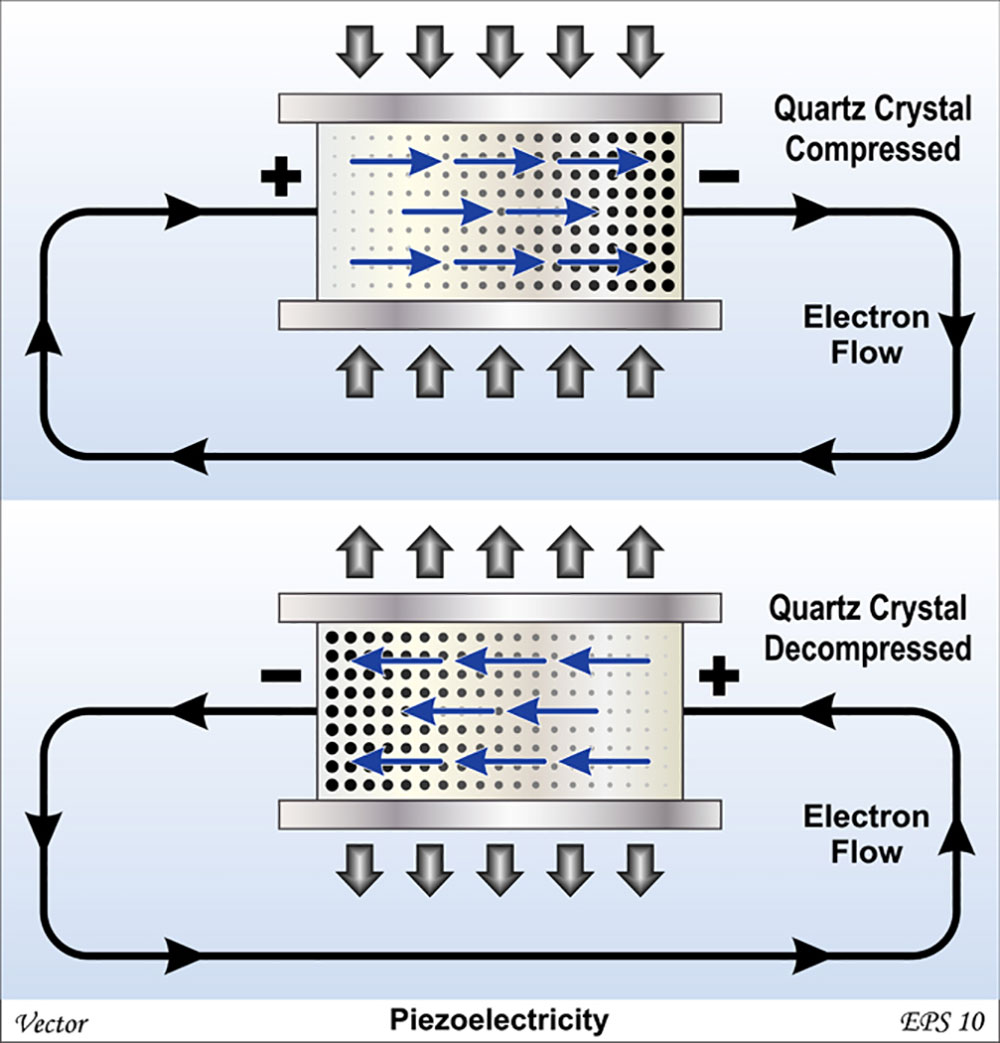 The operation mechanism of piezoelectric pressure sensors
Capacitive
With capacitive pressure sensors, the membrane is a capacitor plate. This membrane deforms under pressure, which varies the capacitance. The mechanism provides accurate measurement and sensitivity, enabling capacitive pressure sensors to measure low pressure in the mbar range. But they don't work well under vibrations because the measurements will be unstable.  
A vector illustration of a capacitive pressure sensor
Piezoresistive
  Piezoresistive pressure sensors are more typical. They contain a resistor embedded in a material like polysilicon, silicon, metal foil, or sputtered metal on a thin film. Pressure exerting a force on the sensitive element varies its resistance. These devices are robust, sensitive, and have remarkable thermal resistance. However, their output signal is weak. So they usually use four resistors in a Wheatstone bridge configuration to minimize errors and amplify the output signal.  
A Wheatstone bridge configuration
With high integration levels, it is typical to have this piezoresistive pressure sensor integrated with compensation circuitry (like resistors) in one substrate.  
The Wheatstone bridge structure of an absolute pressure sensor
How To Incorporate an Absolute Pressure Sensor Into a Circuit
You can integrate the absolute piezoresistive pressure sensor into a circuit in two ways.  
For Analog Signal Output
Sensors offering access to the Wheatstone bridge to use the analog output require significant amplification. Using op-amps (as shown below) creates a voltage output large enough for a microcontroller's ADC (Analog-to-Digital Converter) to measure. The stronger signal is usually 0-5V or 4-20mA.  
A circuit that accesses analog outputs from a Wheatstone bridge with span and offset adjustments
It might be necessary to design such circuit boards carefully with other processes like screening and low noise to create a stable and reliable output signal (for pressure accuracy).
Additionally, each board might need customized calibration due to component tolerance and process variation. And consider temperature compensation, as well.  
For Digital Signal Output
Digital signal output sensors are easier to integrate with microcontrollers because they include the following.
Signal conditioning
Temperature compensation
Amplification
These absolute pressure measurements get converted into digital values, then go into the internal register for storage.  
The integrated circuit in a censor for providing a digital signal output
The interfaces to the microcontroller can use several digital protocols, which differ in speed, noise immunity, distance, and interconnectivity. They include the following.
USB
I2C
SPI
HDMI
Parallel
TTL
RS232
RS422
The typical ones are I2C or SPI, but some sensors support both. I2C is ideal when you need high transmission speeds, and noise is not a sensitive issue. Such sensors can read data and control power on/off to minimize power consumption via microprocessor operation.
SPI operates similarly to an I2C interface but at a shorter distance since it has slower speeds. However, both protocols support a specific bandwidth. So you might experience a drop in the data transmission speed per second if you have several devices in the network.
Piezoresistive silicon pressure sensors
  Therefore, digital signal output sensors are not ideal for measuring pressure with quick variations. The analog type is better for such applications.  
Can I Use an Absolute Pressure Sensor in My Design?
  Most absolute pressure sensors come in tiny packages for easy fixing via thru-holes or surface mounting on a PCB. Such types are known as board-level sensors and are ideal for sports watches or altimeters. But these sensors are not suitable for use under high temperatures in liquids or gasses. Also, they don't feature moisture, dust, or chemical protection. So they are unsuitable for industrial processes.  
A group of pressure sensors
  Industrial pressure sensors have robust water-resistant packages with non-corrosive surfaces, such as stainless steel. And they usually have a threaded end for fitting into pipes or storage tanks. And in industrial applications, engineers prefer complete packages instead of building custom circuitry to handle sensor output. Therefore, most of them fall into the following categories.
Sensor: These devices feature incomplete packages with legs or pads for cabling or soldering to a PCB. The sensor's output depends on its supply voltage. So a sensor outputting 10mV/V will generate 0-50mV for a 5V DC supply voltage.
Absolute pressure transducer: Absolute pressure transducers are complete sensors with signal conditioning for direct fitting into industrial applications. The output voltage from this transducer changes according to the pressure range and usually varies from 0-10V. But some produce an alternating signal in the 1-6kHz range.
A pressure transducer for measuring gas line or hydraulic pressure
Absolute pressure transmitter: Most transmitters have a 2-wire interface (ground and supply). They generate a current flow signal (4-20mA) instead of an analog voltage output proportional to the applied pressure. Also, these absolute pressure transmitters offer reliable immunity from electrical noise (EMI and RFI).
Why Choose an Absolute Pressure Sensor?
  This device is the only one capable of measuring atmospheric pressure (the pressure difference between absolute pressure and gauge pressure). This pressure can vary by about 30 mbar from the absolute vacuum due to weather changes and 200 mbar due to altitude.  
An absolute pressure sensor
  So gauge or relative pressure sensors can have measurement errors caused by weather or altitude. And the error is more significant when measuring low pressure. So absolute units are better.  
Absolute Pressure Sensor Applications
An intake manifold absolute pressure sensor
Wrap Up
  In conclusion, absolute pressure sensors are critical in applications that require pressure measurement from a perfect vacuum. They give the pressure difference between absolute vacuum and ambient pressure, or the absolute units in short. The sensors are vital for barometric pressure measurement, automotive applications, etc., and you can integrate these devices into your circuits for analog or digital output, as shown above. Contact us if you need further assistance with PCB or PCBA for your projects, and we'll get back to you asap.