With the best 3D printer, you can create almost anything. Whether it's a product model, toy, or prototype you plan to start using a BOM, it's achievable.
The pandemic magnified the use of 3D printing. We saw loads of people build protective gear from home. And a large percentage of them used 3D printers.
It's clear. 3D printers are gradually becoming standard household equipment.
And engineers aren't left out. Because of its flexible nature, it's a great tool in an engineering lab. How? Engineers use it to build prototypes or mock designs.
So, we can't deny it. It's a powerful tool in the hands of an engineer that builds projects.
The issue is finding the best 3D printer that's best suited for your needs.
And that's what we'll be discussing in this article. So, we have put out a detailed guide to help your buying decision in 2020.
If you're ready, let's dive in.
1. What is a 3D Printer?
It's a device that produces substantial three-dimensional items. And a digital file is the source.
In other words
You can print out a solid 3D object from a digital file on your computer. And the digital file could be a 3D drawing, a designed model, etc.
Thus, the production of a 3D object is possible because of the additive processes.
So, how does an additive process work?
The answer is simple. In an additive process, the printer does one vital thing.
And the vital thing is:
The printer makes a solid object add successive layers of materials. So, this process continues until the object's form is complete.
Also, another thing happens during 3D printing.
Each layer takes the form of the thinly-sliced horizontal cross-section of the final object.
So, some people try to relate 3D printing with subtractive manufacturing. But they are two opposite processes.
How?
It's because subtractive manufacturing involves carving out a piece of metal /plastic. And the process occurs with the aid of a milling machine.
But it's a different ball game with 3D printing. The process is relatively more comfortable and cheaper than traditional methods of manufacturing. And with 3D printing, you use less material to produce very complex shapes.
2. What Should You Consider Before Buying a 3D Printer?
To make your buying decision easy, you need to consider these factors.
2.1 The 3D Printer Price that fits Your Budget
Price is a crucial factor when it comes to picking a 3D printer. So, most people believe that a pricey 3D printer translates to quality. It's not always true. Of course, there are a few expensive ones that are worth the buck.
Hence, the essential thing is for you to have a budget first. Then, you can take it from there.
Moreover, we have to be frank with you. Some 3D printers will cause you to break the bank. Hence, creators and expert designers are the ones that use such 3D printers. And these models are expensive because of the massive volumes they produce.
For example;
You can see 3D printers like Formlabs Form 3 and Ultimaker 3 range from $3000 and above.
Nonetheless, you can get reliable and sturdy 3D printers for $1000 or less.
And the price reduces for devices targeted at the following:
Beginners
Home printing buffs
Teachers
So, if you're looking for an entry-level 3D printer, you may be lucky to see one below $300. But they will be fundamental.
When you're shopping for a 3D printer, you'll notice something.
Big Online retailers like eBay and Amazon market various 3D printer brands. Hence, these brands are usually cheaper and low-end. But the 3D printers you find on a manufacturer's website may be pricier and more high-end.
So, in the end, everything depends on your choice.
2.2 What Type of Print Material Does the 3D Printer Use?
This factor is essential when you're trying to make a choice. Thus, you should know the type of material the 3D printer uses to print.
Moreover, the type of materials a 3D printer uses mostly depends on the kind of printer.
For example;
FFF printers use filament material. And this material consists of various components.
The materials are as follows:
ABS (The exact plastic used for Lego toys)
HDPE (A light, sturdy polystyrene)
PLA (A biodegradable, brittle substance)
TPE (A fluffy, rubberlike component)
The materials listed above are available in a vast range of colors. ABS and PLS have the highest number of colors.
But that's not all.
Filaments have two significant sizes: 3mm and 1.75mm. Hence, you can't swap them.
SLA printers come with fewer options when compared to FFF. But printers made by Formlabs can make rubbery, rigid, and flexible product models.
So, the best 3D printers use a broader range of materials. And each of the print materials has its advantages and limitations. For instance, HDPE is rigid and light. So, it's not ideal for food use. But nylon is safe for food use.
Another thing to note is:
Some particular printers don't use materials from other manufacturers.
But here's the kicker.
These kinds of printers ONLY use their approved stock-materials. And they are like traditional paper printers, which makes them affordable.
But that's not all.
The producers of the printers sell the printers cheap and get their margin from the printer consumables.
For example, da Vinci Mini is a budget 3D printer. But it only works with XYZprinting's PLA filament. And the good thing is XYZ's filament material is affordable.
2.3 What Volume can the 3D printer produce?
The answer to the above question is relative, even though 3D printers have a print size limit.
And two things define the size limit:
First, it is the size of the print bed. And second, the distance the printhead can cover.
But there's more. You can measure the print volume in cubic inches. And it's ideal also for taking note of the printer's dimensions.
Moreover, knowing the dimensions of the 3D printer will help you achieve one thing.
You'll be able to determine the maximum size your 3D printer can produce.
2.4 The Type of 3D Printer that best fits your need
There are two types of 3D printers:
So, the FFF printers cover two other types, namely:
FFM (fused filament manufacturing)
FDM (fused deposition modeling) devices
But there's more.
The FFF forms a model by melting plastic filament in a moving printhead.
On the other hand:
SLA printers form a model by using an ultraviolet laser to strengthen a resin. Consequently, they focus on the laser to produce a tangible item.
When compared, FFF printers are usually more comfortable to use and cheaper than SLAs. However, a few SLA models have reasonable prices. XYZprinting Nobel 1.0 and Peopoly Moai are great examples of affordable SLA models. And they are worth S1,000 and $1,999 respectively.
Apart from 3D printers, there are 3D pens. Thus, DIYers or hobbyists use it to create models. Why? It produces models with a plastic filament. 3D pens usually cost less than 3D printers. Plus, they are handheld. So, they are another way to achieve 3D printing at less cost and stress.
Moreover, you can consider the PCB component of the 3D printer if you're an engineer.
2.5 What is the Print and Speed Quality of the 3D Printer?
3D printing could be relatively slow. Unfortunately, there is no current solution to that predicament.
So, what should you expect?
To print a 3-4-inch model, you'll spend about 6 – 12 hours.
But that's not all.
The timing largely depends on the quality of the print you choose.
Why is this so?
Everything boils down to the way a 3D printer works. And each 3D printing has constructed layers that make up the final product. When you have thicker layers, you get faster printing. But the printing quality is lower when the layers are thinner.
But here's the thing.
You'd have to choose between two things: print and speed quality. And getting the best 3D printers means you'd go for what matters most to you.
But here's the kicker.
The 3D printer gives a prompt asking if you want:
Quick prints with lower quality
Slower prints with higher quality
And an excellent printer will provide a wide range of quality settings.
2.6 How is the Resolution and Multiple Colors Quality of the 3D Printer?
Usually, 3D printers produce successive thin layers of molten plastic. And this happens following the instructions coded. Plus, you'll find these codes in the digital file of the printed object.
Moreover
In 3D printing, the resolution is equal to layer height. Hence, "microns" is the metric measurement for resolution. And a micron equals 0.0001mm.
So, the lower the number of microns, the higher the resolution.
How is this possible?
When a 3D printer has thinner layers, you'd need more layers to print a solid object. And you'll get more delicate details.
But here's the deal.
A higher resolution doesn't necessarily equal high print quality. But it's essential for getting quality print.
So, we recommend you go for a 3D printer with at least 100 microns. This kind of printer will cost you more.
But there's downtime with high-resolution printers. They take extra time to print an object, which typically takes a shorter time. Hence, if you're a professional that's keen about a high quality, this shouldn't be an issue.
2.7 What is the Mode of Connection?
Most 3D printers initiate printing from a computer using a USB connection.
You can also find 3D printers that come with internal memory. This kind of printer can store your printing job. And it eases the process of continuing your printing even if the USB cable gets disconnected.
Thus, you can find some 3D printers offering wireless connection. And this feature encourages peer to peer.
One of the cons of using a 3D printer with a wireless connection is:
It takes a long time to print solid objects.
Generally, most 3D printers come with SD card slots. Hence, they have a significant edge over the other means of connection listed above in this section.
Why?
Well, it allows you to sprint directly from the memory card to the 3D printer. Thus, you don't need a computer to print.
2.8 The Required Software for Operating the 3D Printer
3D printers, these days, come with software. The software is either downloadable or on a disk.
Plus, most of these 3D printers are compatible with Windows. And a few can work with Linux and macOS.
Hence, we recommend you select software that's compatible with Windows, Mac, and Linux.
Plus, you can check if the software is user-friendly and works seamlessly.
2.9 Is the Printer for Beginners or Experts?
It's ideal to have the answer to this question before making your buying decision.
Why?
You don't want to burn dollars to get a thoroughly professional 3D printer if you're a hobbyist who needs something easy-to-use. Instead, it would help if you opt for an easy to use beginner 3D printer. By doing that, you'd be avoiding any form of waste. And you'll be working with the ideal 3D printer for your level.
2.10 3D Printer Reviews
Before making a move to buy a 3D printer, do your due diligence.
But that's not all.
You can also check online to see the existing reviews on the product. That way, you may find genuine and unbiased views about the 3D printer you intend to buy.
So, have you ticked all the features your 3D printer should have? And you still feel stuck?
You're not alone because we've got good news for you.
We listed some 3D printers that may be ideal. Or better still, guide your decision.
3. Best 3D Printer for Beginners
Creality Ender 3 Pro
Source: Creality3dofficial.com
The Ender 3 Pro gets a lot of praise.
Why?
The model has three vital features. Its upgradeability, print quality, and competitive price.
But there's more.
You can count on the Ender 3 Pro for a fantastic experience. Plus, it has a lot of print possibilities because of its flexible build plate and builds volume.
What's more?
You can also enhance the machine with several upgrades and mods. So, it's the perfect tool for:
Beginners
Makers
Tinkerers
Hobbyists
But there's more.
Creality Ender 3 Pro is compatible with third-party material. Also, it uses an SD card offline.
But that's not all.
It has a maximum Hot End Temperature of 250oC.
Build volume (mm)
220 x 220 x 250
Highest Resolution
400 microns
Materials Supported
ABS
Wood
PLA
Carbon fiber
Gradient color
Market Price
$239
Pros
It has promising results on the Autodesk Kickstarter tests
Quite affordable
Compact design
Easy to setup
Upgradeable and hackable
High-quality prints
Tight filament path
Cons
The brittle filament may have problems
You may need additional adhesion materials
Print bed leveling is difficult.
Prusa Mini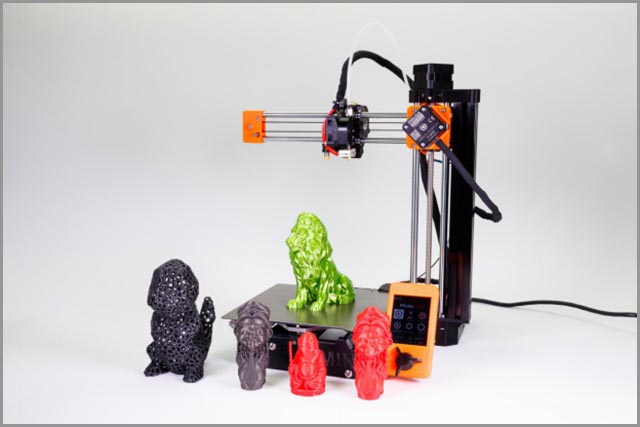 Source: Prusa3d.com
Prusa Mini is a more affordable version of its predecessor—Prusa i3 MK3S.
So, the Mini comes with PEI-coated spring steel sheets.
But there's more.
The Prusa Mini comes with a removable magnetic build plate. But that's not all. Both features of the Mini ease the removal of completed models.
Also, its colorful LCD screen is impressive. Plus, the model doesn't have Wi-Fi connectivity.
But, it offers an Ethernet port for its users. And the seaport helps to streamline workflows.
So it's clear—this model is ideal for users that love a smaller footprint.
But there's more.
The Prusa Mini has an automatic bed leveling. And this feature is fantastic for beginners.
Why?
It's because the feature makes setup and installation easy.
So, with this model, you'll enjoy its Bowden system.
But that's not all.
The system reduces the wobble of the extruder light. Hence, the extruder light can zip around the print bed.
Build volume (mm)
180 x 180 x 180
Highest Resolution
350 microns
Materials Supported
Market Price
$349
Pros
It's easy to setup
Color LCD screen
Open-source
Remarkable print results
Automatic bed leveling
It has a significant online community
Affordable
Cons
Lacks power recovery
Limited build space
Optional filament sensor upgrade
Dremel DigiLab 3D40 Flex 3D Printer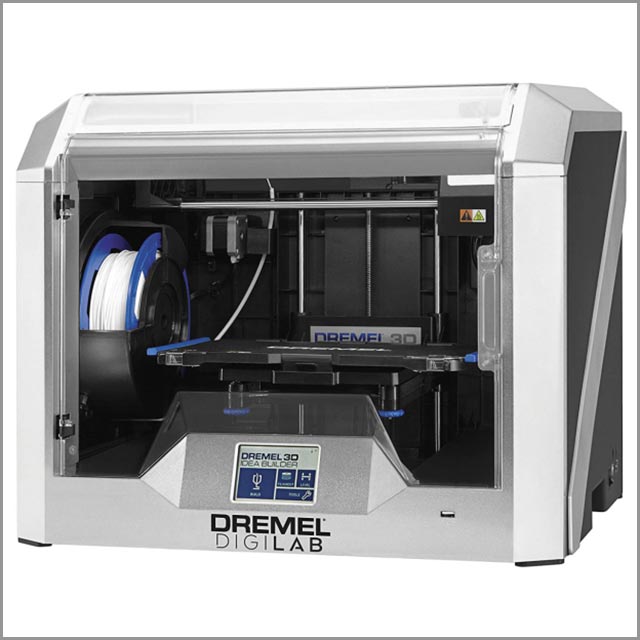 Source: Tobuya3dprinter.com
The 3D40 Flex comes with a flexible plate. After all, the name already says it all.
So, what does that mean for you?
Of course, it means two things. First, this feature helps to preserve the calibration and keep the print bed leveled. And Second, it permits easy and quick removal of finished prints.
But what about the speed?
It's quite remarkable. And this 3D printer comes with "high-speed mode." This mode allows the printer model to print 30% faster than its predecessor. But even if you have complicated projects, the machine still offers maximum precision. The Dremel 3D40 Flex comes fully setup. So, you need to do two things.
Load the filament
Level the print bed
Who is this model suitable? Of course, teachers are the primary target.
But that's not all.
The machine is pretty simple to set up and operate. Plus, Dremel uses its 3D printers in schools. Also, on their website, you'll find a modest collection of prepared lesson plans.
But there's more.
You can even become a Dremel-Certified Instructor.
How?
You can enroll for its 4-hour self-paced online class.
Build volume (mm)
255 x 155 x 170
Highest Resolution
50 microns
Materials Supported
Market Price
$1,299
Pros
It prints via Wi-Fi
Low operating sound
It publishes high-quality on PLA
Easy and safe to use
Cons
Monoprice Voxel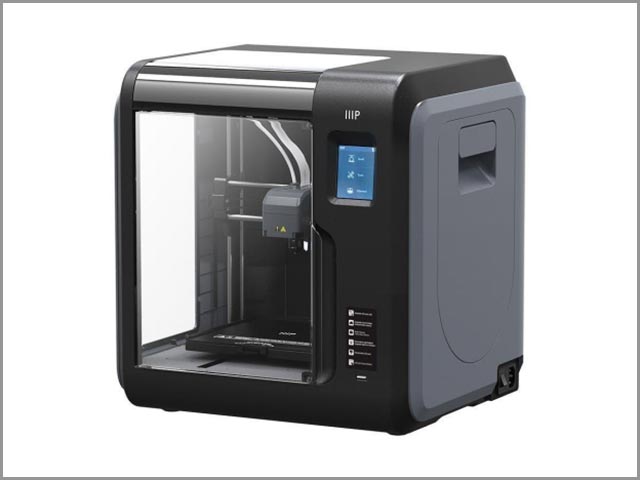 Source: Monoprice.com
Monoprice Voxel is ideal for newbies. Also, the model delivers high-quality prints at a reasonable price.
So, if you're a beginner, you'll appreciate Voxel's heated print base.
Why?
It's because the feature means more reliable prints—mostly when you use ABS. The top of the print bed is bendable and slides out. So, it's easy to remove marks.
But wait!
Are you planning on using a 3D printer in a home or classroom?
Then, Voxel is an ideal buy. Why? The reason is simple. The printer comes with an encasement. And the speed of this machine is impressive. So, you can compare its rate to more expensive devices.
Moreover...
When it comes to its prints, you can expect three things.
They have:
Natural capture
Precise recreated details
And smooth curves.
But that's not all.
This machine has a small LCD screen. You can use it to access on-device controls.
Build volume (mm)
150 x 150 x 150
Highest Resolution
400 microns
Materials Supported
Wood fill
Bronze fill
ABS
Copper fill
ABS
Steel fill
Market Price
$399.99
Pros
It has a heated print bed
Impressive print quality
Fast print speed
Cons
It has some Wi-Fi connection issues.
Lackluster software
MakerBot Replicator+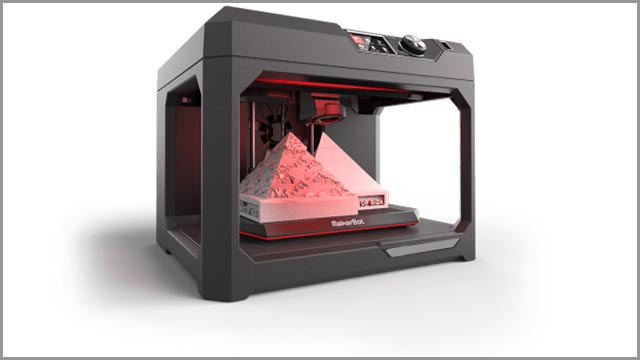 Source: MarkerBot.com
MakerBot Replicator+ has improved hardware. Thus, the feature is responsible for the printer's reliability and precision.
But there's more!
This model offers a 25% larger build volume. Plus, it prints 30% faster than its predecessor.
But that's not all.
This 3D printer is cloud-enabled. So, you can control it remotely.
How?
You can use the MakerBot Mobile app or MakerBot Print.
The Replicator+ has flexible connectivity. So, you can send print files to your 3D printer through these options:
USB drive
USB
Ethernet
Wi-Fi
But still, other things to know about this model.
The 3D printer also comes with advanced software. So, with the software, you can control multiple printers. And you can do all this from MakerBot Print. That way, you can print on various build plates serially.
But that's not all.
You can store, arrange, and access a lot of 3D design files in your cloud-enabled library. And It's free to download the MakerBot Print software. Plus, it's compatible with Windows and Mac computers.
The Replicator+ has a smart Extruder. And you can rest assured that you'll enjoy comfortable and accessible 3D printing. Other features that this model has is an on-board camera and LCD.
Build volume (mm)
295 x 193 x 165
Highest Resolution
100 microns
Materials Supported
Bronze fill
Wood fill
PLA
Copper fill
Market Price
$1,999
Pros
It has excellent print quality
Easy to use
Prints via Wi-Fi, USB, and Ethernet
User-friendly software
Cons
Expensive filament
Setup through its mobile app could be tricky.
Formlabs Form 3
Source: Formlabs.com
Formlabs Form 3 is a high-end design printer. Hence, it works with LFS (Low Force Stereolithography).
But there's more.
The printer has a 5.5-inch touchscreen on its user interface panel.
So, what does that mean?
It means that this machine won't have issues interfacing with the panel. And beginners can work with this printer. After all, it's easy to set up. If you have any challenges, you can rely on the videos on the website to help.
Moreover...
It's so easy to remove and plug in the material—without mess cartridges. While you're at it, you can only use Formlabs materials. Plus, it's easy to replace a set of parts like a build plate, resin cartridge, etc.
Build volume (mm)
145 x 145 x 185
Highest Resolution
300 microns
Materials Supported
Third-Party resins
Resins
Market Price
$3499
Pros
It has good quality prints
The price is reasonable
It has an improved surface quality
The machine uses advanced SLA technology
It's safe
You can do controlled monitoring
One-click printing
The print speed is fast compared to its predecessor.
Cons
It requires post-processing
There's no "off" button
The printer needs support for prints
Resin cartridges are quite wasteful.
LulzBot Mini 2
Source: lulzbot.com
But there's more.
The Mini 2 has an LCD and GLCD controller. Hence, the features provide a kind of freedom that wasn't in the Mini.
With this model, you can insert an SD card. Afterward, you can start printing and controlling the settings. You'll perform all these functions from a simple user interface.
This model is a workhorse. Plus, it's easy to use and reliable. And it's ideal for small businesses, designers, and engineers that need a dependable printer.
But you should know this:
The Mini 2 is an affordable printer that has a lot of hardware under its hood.
Build volume (mm)
160 x 160 x 180
Highest Resolution
400 microns
Materials Supported
Natural and Metal PLA blends
Nylon
PLA
PC
TPU
ABS
HIPS
nGen
PETG
Polyamide
Polycarbonate
Market Price
$1500
Pros
Quiet operation
It's easy to use and setup
Works with Linux, MacOS X, and Windows
LCD with SD card slot
It supports a lot of filament types
Self-leveling print bed
Ready-to-print right out of the box
Cons
Its open frame isn't safe.
Relatively sparse connectivity
The print quality could be inconsistent.
No bundled filament
Limited build volume
4. How We Tested The 3D Printers
Testing 3D printers are time-consuming and tedious. But when we look at the result, it's worth the while.
So how did we start?
First, we took note of the time spent to set up and calibrate the printer. Then, we read through the producer's instructions. While we were at it, we saw the materials the 3D printer supports.
We started the test to check the detail and quality of each reliable object product. The speed of the 3D printer was important to us too. So, we tested the printers at various speeds and compared the results.
But that's not all.
We checked the software of each printer and saw the various ways to restructure the prints.
5. DIY 3D printer
The DIY 3D printer is the way to go if you're looking for a budget option. Plus, It's an excellent way to understand the mechanics of 3D printing. We've written comprehensively about this topic. Check out our article on "DIY 3D Printer: The Ultimate Guide for Beginners in 2020."
6. 3D Printer Software
For your 3D printing to come out fine, you need to pay attention to the workflow. And your 3D Printer software plays a huge role.
In Conclusion
Your quest to find the best 3D printer has to come to an end. Plus, you've seen an extensive buying-guide that can make your decision easy.
So, we can say that you've got everything you need to succeed. The next step is to TAKE ACTION!
PS:
Which of the 3D printers caught your fancy the most? Are there others you love that you didn't see here?
We would be happy to hear all you've got to say. So, you're welcome to share your thoughts and suggestions in the comments section.
If you're still interested in knowing more about this topic, contact us.