The Internet of Things (IoT) allows us to control nearly every aspect of our lives.  This is all possible due to the power of wireless internet. Likewise, pairing your LEDs with a Wi-Fi controller can translate into new decorative options as well as savings on your energy bill.
Learning, understanding, and traversing new technology can be a daunting task. Consequently, if you are trying to learn how to utilize Wi-Fi LEDs, then you have come to the right place. Your friends here at OurPCB have decided to compile a guide to teach you about everything you need to know about Wi-Fi LEDs. Without further delay
What are Wi-Fi LEDs?
Wi-Fi is a wireless network protocol that uses radio signals to achieve or provide network connectivity. Incidentally, this allows devices to communicate with each other through a high-speed connection. 
Essentially, Wi-Fi LEDs are LED lighting connected to a wireless LAN driver, receiver, or adaptor. Wi-Fi LEDs commonly come in the form of smart LED strips or smart Wi-Fi LED light bulbs. However, converting a standard LED strip into a Wi-Fi strip is quite possible by purchasing and connecting a separate Wi-Fi LED driver or receiver.
Wi-Fi LED Uses
Wi-Fi LEDs allow you to control them via a smart or Wi-Fi-enabled device. Naturally, this can be a smartphone, tablet, computer, smart TV, etc. Smart Wi-Fi LEDs usually require you to operate them using a smart app of some sort. However, some of them may be Amazon Alexa or Google Assistant-enabled.
The main advantage of WI-Fi LEDs is that you can control them remotely. Consequently, you can switch them on/off, set schedules, dim them and change the colors. However, this depends on whether or not they innately come with some of these capabilities. For instance, you cannot control the color of a white light LED strip.
Some smart Wi-Fi LEDs allow you to synchronize them with music. Indeed, this makes them great for intimate parties and celebrations. Furthermore, you can also incorporate them into stage lighting and effects. Nevertheless, smart Wi-Fi LED lighting is essential for a modern smart home.
If you are looking for general uses of LEDs, visit our guide on LED applications. 
Benefits of Using Wi-Fi LEDs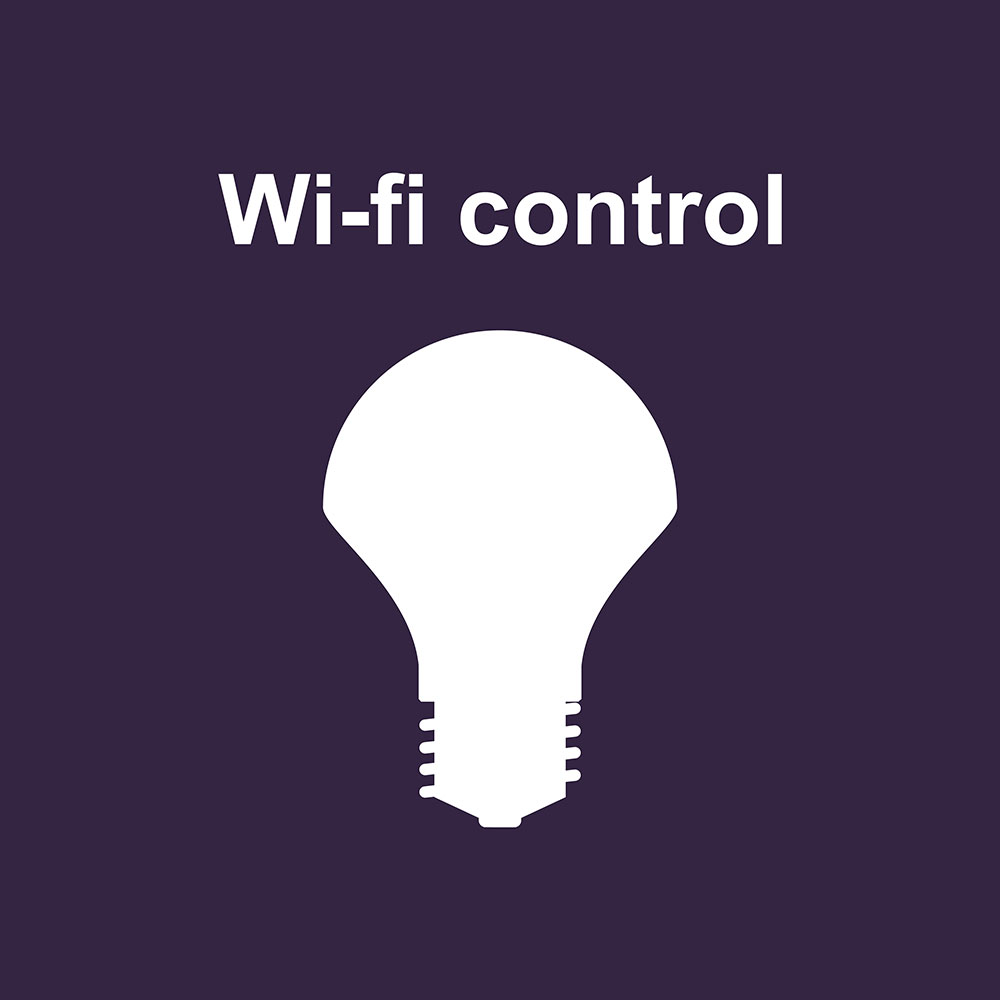 Once again, the benefits of using Wi-Fi lighting are not just cosmetic. They can be efficient. Here is a shortlist of some of them. 
In most cases, you can install the Wi-Fi controller app on multiple devices. Some RF-controlled LED lights have dedicated remotes. Disappointingly, these remotes can break or get lost. However, this is not the same for smart applications. If your smartphone dies or gets lost, you can purchase a new one and install the Wi-Fi LED app on it. Furthermore, you can synchronize your Wi-Fi LEDs with the other smart devices in your home. Wi-Fi apps are seemingly easy to use. They are also far more flexible than IR-remotes.
Depending on your Wi-Fi LEDs' capabilities, you can use Apple's Siri, Google Assistant (or Google Home), or Amazon's Alexa to control your LEDs. Accordingly, you can do this through custom voice commands. Indeed, this is another feature that makes Wi-Fi LEDs superior to infrared-based LEDs.
You can save yourself time and money by using the schedule feature of some WI-Fi led lights. Of course, depending on the sophistication of the Wi-Fi application you are using, you can set timers for how long LED lights must be on. Furthermore, you can set at what times your WI-Fi LEDs must turn on/off or dim.
Types of Wi-Fi LED Technology
In this section, we cover a few examples of Wi-Fi LED technology. Indeed, you can use some of these examples with LEDs that you have already installed.
Wi-Fi LED Extensions
Wi-Fi LED extensions or extension kits usually come in the form of Wi-Fi LED light strips. They allow you to connect or extend a LED light strip. Consequently, this LED strip can either be Wi-Fi enabled or not. Essentially, a Wi-Fi LED strip can offer Wi-Fi capabilities to a LED strip without any. Wi-Fi strip lights and extensions are great for all types of LED projects.    
Wi-Fi lights/Wi-Fi LED Strip
The Wi-Fi lights can come in all types of forms and kits. You can find them in the form of light bulbs, recessed downlights, wall washers, led spotlights, and most famously strips. In fact, Wi-Fi LED strips to seem to be the most popular because of their flexibility and usability. 
Wi-Fi LED strips are essentially a thin band of evenly separated LED chips. Furthermore, they come with a Wi-Fi driver or receiver. This is what gives them their Wi-Fi capabilities. Incidentally, some of them come with an additional dedicated Wi-Fi remote. If you want to learn more about all the different kinds of LEDs available to you, visit our LED Types guide.  
Wi-Fi LED Controller/Wi-Fi LED Driver
Wi-Fi LED controllers or drivers allow you to give Wi-Fi capabilities to LED strips and lights in a serial connection. Furthermore, the driver can be either single-color or multi-color. 
Most Wi-Fi controllers allow you to dim the LED lights through pulse width modulation. Even some of the cheapest Wi-Fi controllers allow you to save lighting presets as well as timers.  
Wi-Fi Controller App
Wi-Fi LED lights and Wi-Fi controllers are not much without a remote or an app to tell them what to do. Most Wi-Fi controller manufacturers have application options for devices running Android, iOS, and Microsoft Windows operating systems. Additionally, they have themes, presets, and tutorials to make using them even easier. They can also interface with voice command systems such as Apple HomeKit and Microsoft Cortana.
Conclusion
Wi-Fi LED lights are the next logical evolution in electroluminescence. Even if you do not have a smart home, you can perceive this as the first step into creating one. In the above text, we provided you with a short guide that will hopefully inspire you to invest in Wi-Fi LED lights. Furthermore, we hope that you have found it to be helpful. As always, thank you for reading.