Technology can be confusing because it evolves quickly, and there are complex acronyms for almost everything. If you are thinking of building a monitor or want to learn about the technology, you will encounter the term TFT Monitor at some point.
A lot goes on behind the glass surface, and we will look at this in comparison to other technologies to paint a clear picture of what TFT is and how it evolved.
What is a TFT Monitor?
TFT is an acronym for Thin Film Transistor, and it is a technology used in Liquid Crystal Display screens. It came about as an improvement to passive-matrix LCDs because it introduced a tiny, separate transistor for each pixel. The result? Such displays could keep up with quick-moving images, which passive-matrix LCDs could not do.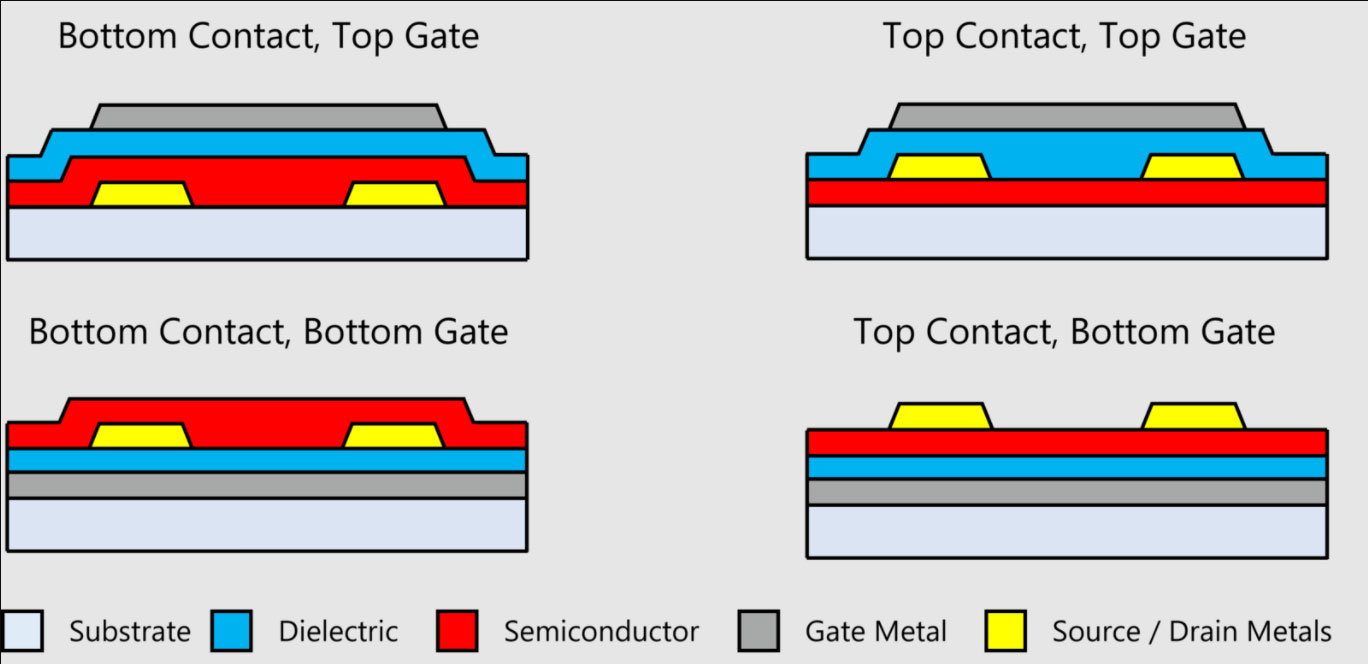 Thin Film Transistor architecture
Source: Wikimedia Commons.
Also, because the transistors are tiny, they have a low power consumption and require a small charge to control each one. Therefore, it is easy to maintain a high refresh rate, resulting in quick image repainting, making a TFT screen the ideal gaming monitor.
What is an IPS Display?
IPS is also an acronym (In-Plane Switching), and it leverages parallel-aligned liquid crystals to produce rich colors.
LG IPS monitors
Source: Wikimedia Commons.
The technology improved on the TN (Twisted Nematic) LCD monitor because the shifting pattern of the parallel, horizontal liquid crystals gives wide viewing angles. Therefore, IPS delivers color accuracy and consistency when viewed at different angles.
TFT vs. IPS Display
Both TFT and IPS monitors are active-matrix displays and utilize liquid crystals to paint the images. Technically, the two are intertwined because IPS is a type of TFT LCD. IPS is an improvement of the old TFT model (Twisted Nematic) and was a product of Hitachi displays, which introduced the technology in 1990.
The monitors can create several colors using the different brightness levels and on/off switches. But unlike OLED, both TFT and IPS do not emit light, so most have bright fluorescent lamps or LED backlights to illuminate the picture. Also, neither of them can produce color, so they have an RGB color filter layer.
To understand the difference between the two, we need to look at the unique features that each technology provides.
TFT
Easy to Integrate and Update

: By combining large-scale semiconductor IC and light source technology, TFTs have the potential for easy integration and updating/development.

Wide Application Range: TFTs are suitable for mobile, desktop screens, and large-screen TVs. Additionally, the technology can operate at a temperature range of -20°C to +50°C, while the temperature-hardened design can remain functional at temperatures not exceeding -80°C.
Impressive Display Effect

: TFT displays use flat glass plates that create an effect of flat right angles. Combine this with the ability of LCDs to achieve high resolutions on small screen types, and you get a refreshing display quality.

High Resolution

: The technology combines high brightness, color fidelity, contrast, response speed, and refresh rate to ensure you get a high resolution.
Refresh rate comparison
Source: Wikimedia Commons.
Good Environmental Protection

: The raw materials used to make TFT displays produce zero radiation and scintillation. Thus, the technology does not harm the user or the environment.

Mature Manufacturing Technology

: TFT technology came into existence in the 60s. Over time, its manufacturing technology has matured to have a high degree of automation, leading to cheaper, large-scale industrial production.
Pros
Low energy consumption

Creates sharp images

Low production costs with affordable, environmentally-friendly raw materials

Attractive appearance/ physical design
Cons
Poor viewing angles

Low contrast ratio

Slower response time
IPS
Since IPS is a type of TFT, it builds on the above features to have the following:
Quick and Stable Response Time

: TFTs have a fast response time, but IPS technology offers a faster, more stable, and more consistent response time.

Wide View Angle

: One of the main advantages of IPS screens is their wide viewing angle due to the horizontal liquid crystals. They do not create halo effects, grayscale, or blurriness, but these are common flaws with TFTs.

Better Color Reproduction and Representation

: The pixels in TFTs function perpendicularly after activation with the help of electrodes. However, IPS technology makes the pixels function while parallel horizontally. Thus, they reflect light better and create a more original and pristine image color.

Faster Frequency Transmittance

: Compared to TFT, IPS screens transmit frequencies at about 25ms, which is 25x faster. This high speed is necessary to achieve wide viewing angles.
Pros
Wider viewing angles

Quick, stable response time

More accurate color reproduction
Cons
High manufacturing cost

Higher power consumption
Comparison Summary

LCD vs. TFT vs. LED
Liquid Crystal Display (LCD) is a front panel display that utilizes liquid crystals held between two layers of polarized glass to adjust the amount of blocked light. The technology does not produce light on its own, so it needs fluorescent lamps or white LEDs.
A 4K LCD monitor
LCDs produce color based on two techniques: passive and active matrix. Passive matrix is the older and cheaper technique, while active LCD is TFT.
As explained earlier, TFT improved on the passive-matrix LCD design because it introduces a thin film transistor for each pixel. The technology reduces crosstalk between the pixels because each one is independent and does not affect the adjacent pixels.
Super AMOLED vs. TFT
Source: Wikimedia Commons.
LED screens are like the new kids on the block in the display market, and they operate very differently from LCDs. Instead of blocking light, LEDs emit light and are thinner, provide a faster response rate, and are more energy-efficient.
The detail of an LED monitor
Source: Wikimedia Commons.
Also, the display technology has a longer lifespan and delivers better color quality & contrast to create sharper images.
Since the technology is relatively new, continued research has led to the emergence of different variations, such as OLED, QLED, AMOLED, and MicroLED.
A Samsung OLED TV
Source: Wikimedia Commons.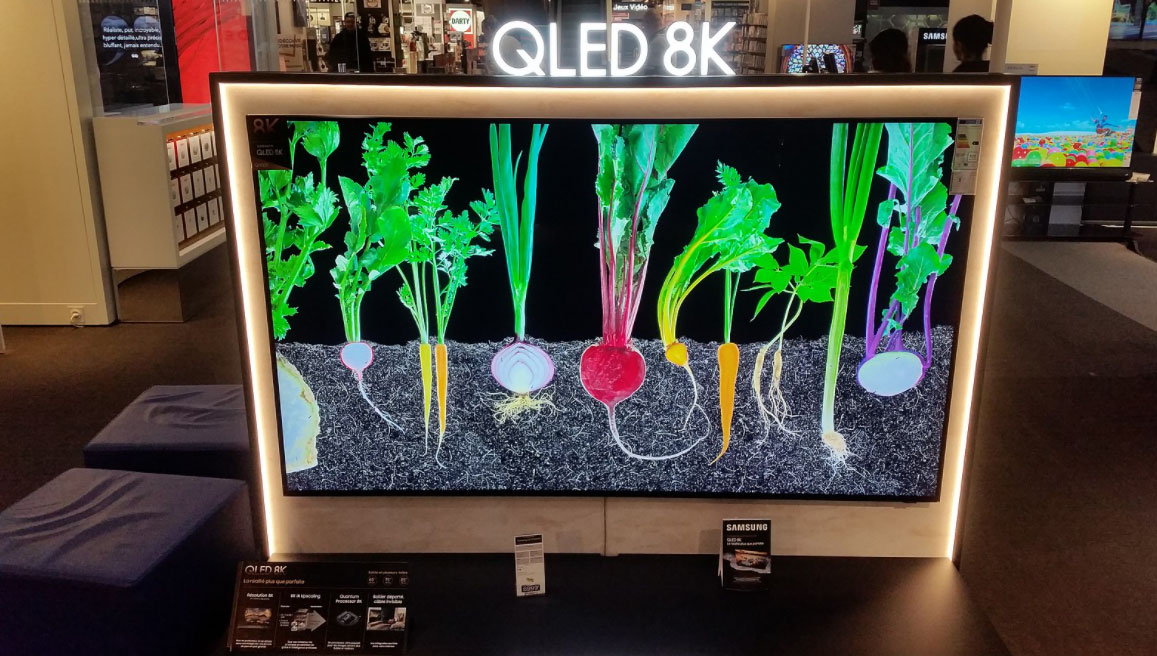 A Samsung QLED TV
Source: Wikimedia Commons.
Best TFT Monitors
There are many TFT monitors in the display market, but these are the top five.
Samsung CF391 (LC32F397FWNXZA)

Coca TSM15

Eyoyo EYJ0130ZB

ANGEL POS 1006017

Longruner LR711-US
Summary
Since IPS is a type of TFT, when comparing the two, we are essentially looking at the old Thin-Film Transistor technology (Twisted Nematic) vs. the new (IPS). Even though TN is relatively old, this digital display type has its advantages, a vital one being the fast refresh rate. This feature makes such screens the preferred option by competitive gamers. If you have any inquiries about the technology, contact us for more information.