Wireless communication using radio waves is not something new. But new technologies build on the communication frequencies by using software and hardware for specific applications. One such technology is RAIN RFID, which all started with RFID, a critical technology for IoT. RAIN RFID builds on RFIDs, using a narrow frequency range in its spectrum to enable communication between a tag and a reader. We will analyze this technology to explain how it works and its unique technological advantages. Let's get right into it!
What Is RAIN RFID?
RAIN is short for RAdio frequency IdentificatioN, the same thing as RFID (Radio Frequency Identification). So why use two terms to refer to the same thing? We'll get to that in a short while. First, let's define the term.
RAIN RFID is a wireless technology that connects multiple everyday items to the internet, enabling consumers and businesses to locate, identify, authenticate, and engage each item.
A summary of RFID technology. It is almost similar to the certified RAIN RFIDs technology.
So RAIN refers to the cloud-based infrastructure that stores, manages, and shares RFID-based data across the internet. It acts as the nod to acknowledge the link between the UHF RFIDs and the internet cloud (clouds are synonymous with rain, get it?).
RAIN RFID Components
A RAIN RFID solution uses a reader to read and write tagged items, manage data, and take action. So it has these two primary components.
Tags
Attach or embed to items
Store and send information
Do not have to be visible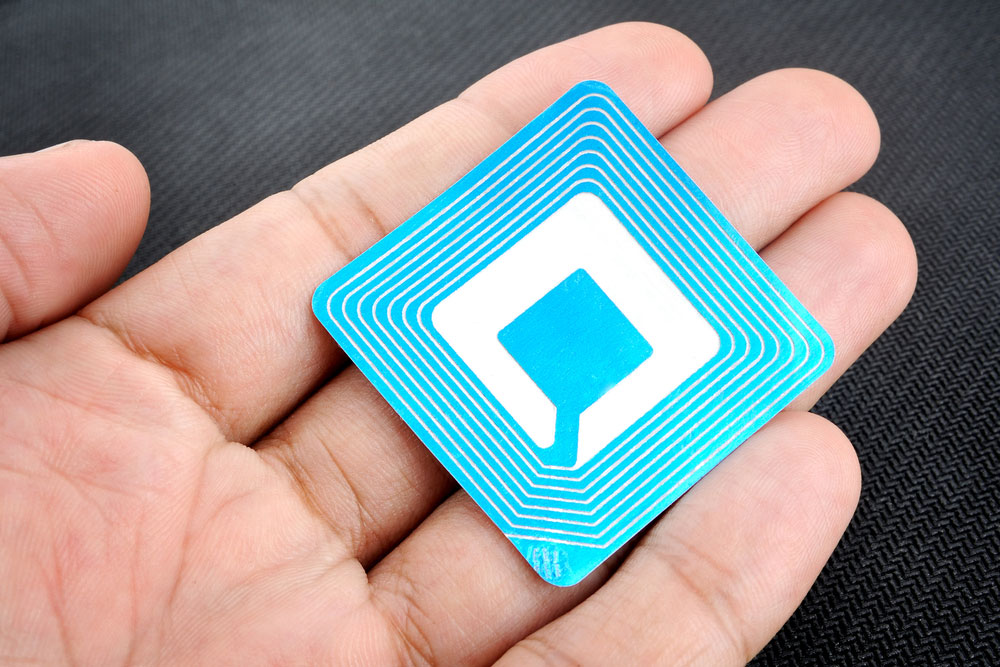 A wireless RFID tag
Readers
Feature antennas for short or long-range communication
They can be tiny/portable or large (embedded in other devices)
Can detect thousands of RFID tags simultaneously
An RFID reader at a parking lot
How RAIN Is Different From Other RFID Types
RFID technology operates using five common frequency ranges, which include the following.
Low frequency (125-134 kHz)
NFC and high frequency (13.56 MHz)
Active UHF (433 MHz)
Passive UHF (860-960 MHz)
Microwave (2.45-5.8 GHz)
The passive UHF (Ultra-High Frequency) is one of the broadest standardized frequency ranges, and RAIN technology uses the passive UHF range.
RFID technology used for logistics tracking
RAIN was originally the brainchild of a group of companies with one common interest; to promote widespread adoption and use of passive UHF RFID. Later, these companies branded the name RAIN and became the RAIN alliance. The original members were Intel, Google, Impinj, Aim, and Smartrac, but the group currently has slightly over 150 members and continues to grow.
What Is the Difference Between RAIN and Passive UHF RFID?
Frequency-wise, there is no difference between RAIN RFID and conventional passive UHF RFID. Both use the 860-890 MHz frequency range.
However, there is one primary difference; certification. RAIN RFID is passive UHF RFID certified and branded by the RAIN alliance. It is similar to other branded technologies by organizations like the Bluetooth SIG, WiFi alliance, and NFC Forum.
RFID UHF tag wet inlay
Also, it is vital to note that RAIN links the dots to create a complete system using the reader communication interface. Passive UHF RFID provides connectivity between objects to create a network without software to run the services RAIN provides.
Why Use Rain RFID?
The software controlling the RAIN system varies depending on the application. Small standalone units can detect, read, and store data from RFID tags, while complex systems can collect and analyze data from large internet cloud databases. And the technology gives longer RFID ranges because the ultra-high frequency band can connect to devices up to 15 meters away.
Other than that, the technology can uniquely identify each item, not just the product type. So it can tell you what the object is, where it is, and its condition.
A store clerk using RFID to read data from clothes for stocktaking or inventory management
So businesses can use this information to boost sales, increase operational efficiencies, and enhance customer experience. Some RAIN RFID solutions include supply chain management, asset tracking, and identifying counterfeit products.
The technology can also identify up to 1,000 items per second and locates these items without a direct line of sight. So RAIN RFID can connect almost everything in everyday life, including shipping pallets, shoes, socks, fruits, etc. In a nutshell, this tech digitizes the physical world in several industries.
Rain RFID vs. NFC
RAIN primarily helps with object identification and tracking, while NFC is more human-centric. And it is ideal for functions requiring enhanced security because it needs to be close to the reader. Such functions include paying for items or entry access to buildings.
Mobile payment using NFC. The smartphone has an NFC chip.
In a nutshell, NFC is more secure because it is intentional. The connection is not automatic, so you have to create the link. For instance, you have to touch the reader to activate it. This operating mechanism creates an extra security layer for the user, making the technology ideal for mobile payments and providing entry access.
 Applications/Use Cases
Most organizations use RAIN RFID to identify, track, locate, authenticate, and safeguard containers or individual items as they move through the supply chain. So their typical applications include the following.
Automating inventory management
Asset tracking systems
Identifying product sources, enabling intelligent recalls of dangerous or defective items (expired medication, contaminated food, etc.)
Detecting and eliminating counterfeit products from the supply chain
Making the supply chain more visible to minimize business costs and create more efficient distribution channels
Minimizing losses caused by inaccurate stock accounting or theft
Allowing omnichannel fulfillment to enable businesses to keep up with changing consumer requirements, expectations, and demands
RFID hard tags fitted on clothing to help combat shoplifting
Wrap Up
In conclusion, RAIN RFID is a vital technology for identifying products individually for tracking or management purposes. And it requires a cloud database to store and check data for accurate follow-ups. The hardware needed to set up the solution is relatively affordable, and you can contact us if you have any questions.