PCB Material Types-Quickly To Know More
Abstract
Selecting PCB material types is an important part to ensure successful performance and functionality of PCB. The requirement for PCB base material types depends on the application, like commercial, industrial or consumer items. For the superior performance of PCB, the quality of PCB base material shouldn't be compromised. But it is crucial to make sure that select PCB material types should be strong enough to hold itself together in case PCB gets dropped or knocked down.
Content
1.PCB Board Material Types
2.FR4 Circuit Board
3.PCB Base Material  Types
4.Types  Of PCB Laminate Material
1.PCB Board Material Types
Here are some most commonly used and rigid PCB material types.
Fire retardant (FR) materials
Composite Epoxy Materials (CEM)
Metal
Polyimide
2.FR4 Circuit Board
FR4 is the most common and cheapest among the types of PCB board materials. Not only FR4 provide good strength to PCB, it offers good electrical insulator qualities in humid as well as dry environmental conditions. And there are other fire retardant materials as well like FR1, FR2 and FR3. While FR4 circuit board is usually used for single-sided to multi-layers PCBs, FR1 and FR2 are recommended to use for single layer PCB.
3.PCB Base Material  Types
Composite Epoxy Materials: Phenol compounds, epoxy resin along with paper make the core of these PCB material types. So the CM-1 material is highly recommended to use in single sides PCB rather than FR4 due to its excellent flexibility and electrical and mechanical characteristics. Also CEM-3 is the new PCB base material type based on FR4 and hence, it's a perfect replacement for FR4. It can use for making single, double-sided and multilayer PCBs.
Metal: Unlike materials in FR1-4 and CEM1-3, metals like copper and aluminum are use for as a PCB base material types and make an aluminum or copper metal core PCB. And they are still usethese traditional metals , especially in surface mount technology boards for mechanical durability and their excellent ability to dissipate heat away from component efficiently. Not only this, these qualities also make PCB life longer.
Polyimide: One of the types of PCB base material is polyimide which is commonly use in flexible circuit boards. Materials like rogers, kepton, and dupont are use for  making this PCB base material.
Polyimide offers excellent resistance to chemical, electrical properties over a wide temperature range that is between -200 degrees C to 300 degrees C.  And polyimide can use for single, double-sided, multi-layer, plate through and high temperature circuit boards.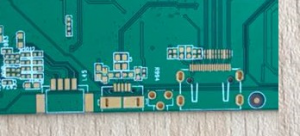 4.Types  Of PCB Laminate Material
When the PCB base material selection is done, PCB lamentation process can commence. So choose a laminate which offers stability, optimum performance, and less power loss. So take following points into consideration for making a right choice of a PCB laminate.
For surface mount assembly, use FR4 laminate. Not only it offers excellent electrical properties, but it provides mechanical and physical support as well at elevate temperature. And the best of all, its flame resistant quality makes it reliable among all PCB laminate.
So for multilayer PCB, use high Tg epoxy PCB laminate. But flame retardant, excellent electrical insulation, superior thermal performance and chemical resistance are its outstanding features of this versatile and economical PCB laminate material.
So for a multi-layer lead-free PCB manufacturing, use BT epoxy. And it has versatile mechanical an electrical properties. Its features include high thermal resistance and insulation resistance. So along with maintaining the strength of bonds at high temperatures.
While for the high density and flexible multi-layer PCB to function at extreme environmental stability, use polyimide PCB laminate.Since it is an ideal material for the PCB use in military, aerospace. And consumer product due it's excellent mechanical, chemical and thermal properties.